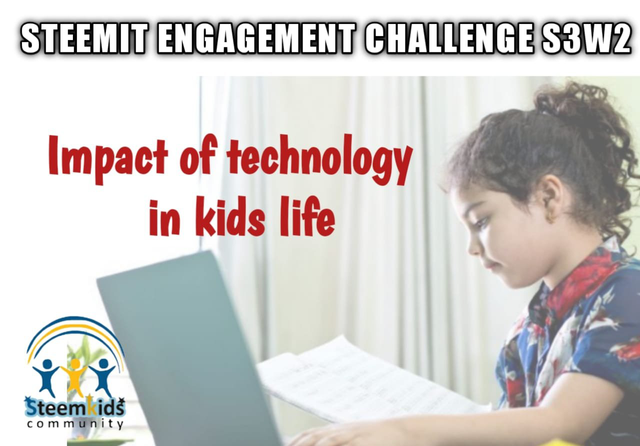 source
Hello my great friends. Hope we all had a great weekend. I did too. It is time for another steemit engagement in this great community. This week the topic is The impact of technology in kids life.

This topic is very timely and crucial considering the fact that we are living in a jet age and technological advancement is the main thing. Thus there is need to assess its impact on our lives and that of the children, in order to make the needed adjustment in extreme areas.

Write an overview of how technology has impacted the world as a whole.
Technology cuts across all spheres of life. Everything we do in life today has a technological contribution to it. If we go back to the middle ages and compare it with today, any who lived then and is brought back to life will be amazed at the transformation the world as whole have undergone due to technology.
Technology can be seen playing its role in sectors like
° Financial
° Industrial
° Engineering
° Educational
° Agricultural
° Commerce
° Family life
° Health
just to mention a few. Technology have played a major role in man history even in warfare. The world in general cannot do without technology anymore. Information are gotten online real-time. People interact and see each other despite being thousands of miles away. It has made commerce very easy, and sometimes with the help of technology natural laws are bent to an extent.
So we can say that technology have simplified the way we do things and how they are done. Despite all these great benefits mentioned, it also has its disadvantages.
These points will further be discussed as we continued reading this article.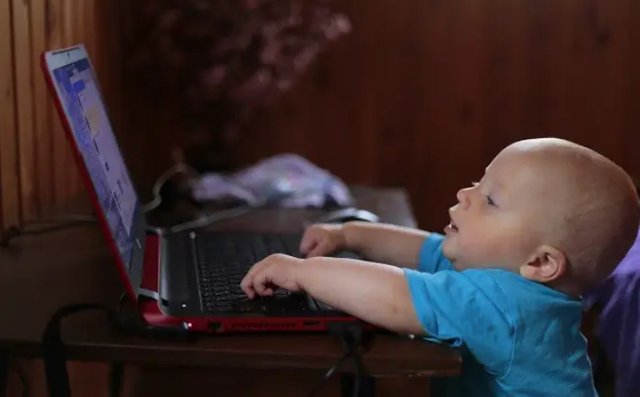 link
Share with us some of the positivity and negativity of technology in kids' lives.
Like I earlier mentioned, Technology have both positive and negative effect. However, we are going to concentrate on its effect on children for the purpose of this contest
Positive Effects
One of the important positive impact on children is Education. Technology have been able to make schooling and access to Educational materials very easy and handy.
We all remembered what happened during COVID-19 era. All the schools were locked down, but our children were still schooling through video conferencing and the internet. This advancement have even caused some parents to choose home schooling in some places recently.
Additionally, in those days,we need to go to
a physical library to access research books, which is normally tiresome and cumbersome. But with technology, such can be done from the comfort of our homes. No wonder such physical structures are phasing out.
Technology also reduces the amount of money spent on purchase of textbooks. Saving more money in the process by parents.
Technology helps the young to get easily acquainted with news from all around the world real time.
It also provides an easy avenue of making money by young ones through use of social media and learning about cryptos online.
Negative effects
The use of technology by children have caused serious social media addiction to our children.
It has totally eliminated communication between some children and other family members. This has caused friction in the family. The life blood of every is in communication.
Some young ones have been influenced by negative information in the internet like pornography, excessive violence, lack of value for life as is depicted there.
So many kids who always use the internet becomes antisocial in nature and very self-centered.
Due to much time spent on the internet, kids do not engage in physical exercise which is important for their physical development.
These are some of the negative impact of technology on them.

How would you rate the impact of technology in kids' life? Highly positive or negative? Explain.
I would say that whether the impact is highly positive or negative is dependent on the environment an individual finds himself. However, from my perspective, I will rate the the positivity higher than the negativity.
But this is all dependent on the control method adopted by parents on their kids with regards technology.

Can you have control over the exposure of kids to certain technological products? How?"*
For a certainty, parents can have control over their kids with respect to technological exposure.
This they can done by ensuring that the computer is kept at an open space visible to all in the house, so one can see whatever you are doing on the system.
Another way of control is by setting time limits on their use of such technology and be firm with such decision.
The computer, laptop or mobile phones used by the child, should have settings for parental guidance activated. Restricting viewing or downloading of inappropriate contents by the children.
Parents should ensure that normal family communication is maintained at all times thus making time for such. This will help the children also to control the use of these technology.

Technology is just part of life. Nearly all we do is dependent on technology. So there is need to teach and train our children on its usage. While doing so, we should adopt good parental control methods to ensure that they are not exposed to inappropriate contents.
Thank you steemkids community for organizing this beautiful contest.
I invite @madilyn02, @benson6 and @chiomzy810 to join in this contest.