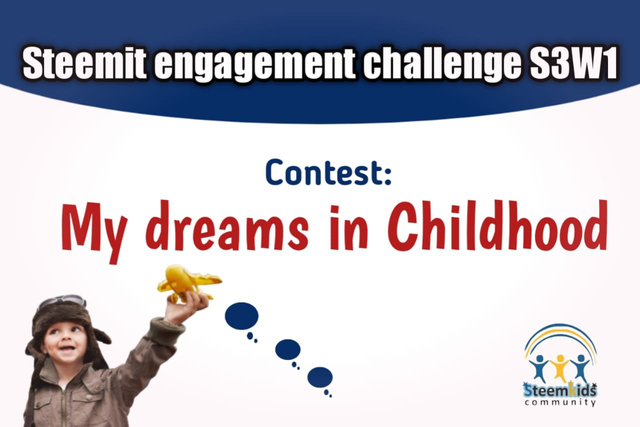 Source
Hello friends, how are we all doing? Hope great. How pleasant it is to relate with you all after through this contest.
I will be engaging in the contest held by steemkids for the week entitled Your childhood dreams.
This topic is so interesting since most of us had dreams of what will want to be or how we want our future to be as a child. Thus it is a good way of reminding us of our aspirations, where we are now and what to do to get there.

What were the dreams you had in childhood for the future?
As a child, one of my major childhood dreams was to live a comfortable life with no much hazzles. .
I also had this dream of being self employed, establishing and running my own business and not waiting till month end to receive a stipend
The next dream was that of taking care of my parents during their old age. As a young child I saw their sacrifices towards providing for me and my siblings, that impressed in my mind the desire to ensure their comfortability as they age.

Who supported you in that dreams
My parents have been the source of my support and strength in my bid to actualize my dreams. My wife too since we got married have been very supportive towards achieving my goals. I also have some older friends of mine who proved to be a moral support to me as I aspire to achieve these dreams.

Which one of those dreams have you achieved
I can say categorically that none of those dreams have been achieved. This is because, early in my life I had to work for someone and still depended on the stipend refered to as salaries with which they enslave employees making you feel you cannot survive out their on your own.
Secondly, there was no financial support coming from anyone, since my parents have done the best they can.
With the first and second dream not achieved, the third one is entirely not possible. I need to be comfortable to be able to provide such comfort for my aged parents.

Which one did you not achieve, What do you think went wrong?
Like I said earlier, none of them have been achieved. There are several factors that have led to my not achieving these dreams.
° The economic condition of the country is really bad, making it really difficult for businesses to thrive especially new businesses.
° No financial support from anyone including government supports.
° Fiscal policies eastablished by the authorities.
There are many other reasons but all cannot be mentioned here.

Conclusion
Dreams are good but will be much better if they are achieved. However. As far as life still exist, I will continue to push forward, expecting to make my dreams a reality
I invite @eliany, @goodybest and @benson6 to join in this contest
Thank you so much steemkids for such opportunity to express myself.