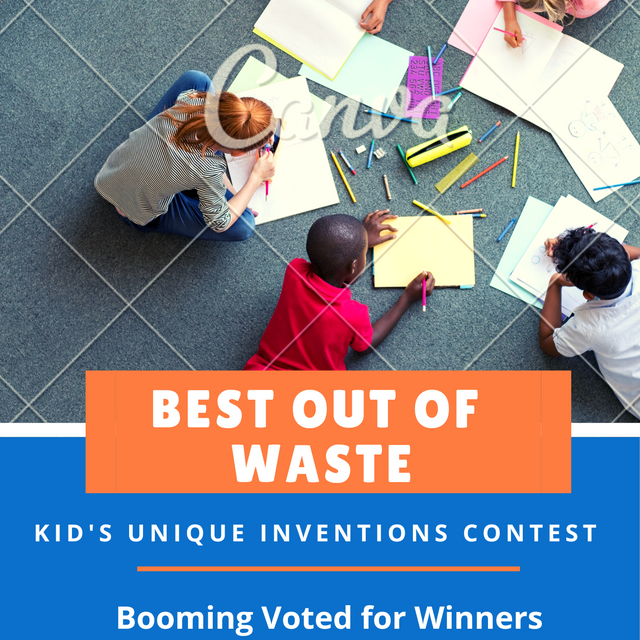 Greetings dear kids, hope you all are well. I am here to organize my first contest in the Steemkids community which is Best out of Waste.
We used so many things in our daily routine and most of the items we can't reuse. Most of the time we used plastic bags, toys, and many more things which we throw away after one-time use. These things are harmful to our environment as they contain many harmful chemicals which can be health hazardous for us.
The Best out of Waste merely denotes creating or constructing inventive and extraordinary things from the substance we do not use anymore.
Kids have the most creative ideas in their minds. So, why not use their creativity in making unique inventions by recycling their waste products e.g books, pages, toys, etc? So, for this contest, you have shared any unique inventions by your kids by using waste products.

Contest Theme
---
So, the contest theme is you have created something unique through your broken toys, used books, used pages, colors, and many more. Share step-by-step images of making the new product from reused things.
Pictures must be clear and try to elaborate on each step of making your new inventions. Use your most creative ideas and show us your unique inventions.

Contest Rules
---
The post title should be Best out of Waste | Kids Unique Inventions by @username"

Your post should be a minimum of 300 words or above it. But not less than 300 words otherwise your entry will not be considered.

Your post should be in our community Steemkids community. If you still are verified here. First, complete your process of verification and then share your contest post. For verification visit This post and get verified label.

Your post should be plagiarism free and images should be copyright free. Preferably images should belong to you and original images. Plagiarism is strictly prohibited.

Upvote and resteem this post so that other users can also participate in this contest and share your post link under the comment section of this post.

Must invite your 3 friends for participation and mention my username @ashkhan so that I can find your post easily.

The tags which you can use related to the contest theme are #steemkids-recycling, #creativewriting, and #creativity.

It would be great if you follow at least #club5050 for participating in this contest. Use your club status as one of your contest tags in your post.

Contest Prize
---
The contest prize will be the booming votes for best publications and unique inventions. I will choose winners on the base of several entries, the more entries, and more users will get a chance to win this week.
Winners will be chosen based on the quality of their posts, picture quality, and the uniqueness of your inventions. Make sure to use copyright-free images and plagiarism-free content.
Contest deadline is until the payout of this contest post.

Wish you the best of luck to all the Steemkids community kids and other communities too. Excited to see your interesting entries for this week's contest. Start making creative ideas to win this contest.