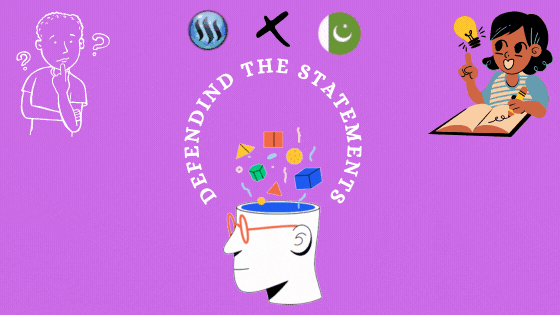 There were 5 sentences, and sentence number 5 is compulsory. I will be talking about sentences 2,3 and 5, of course. I can write in all but the three sentences would be enough.
A woman's place is in the kitchen.
You will stay happier if you are unmarried.
Punishment never has a good effect.
Money is more important than love
Votes are not guaranteed
VOTES ARE NOT GUARENTEED
Votes can not be guaranteed until you are buying them. Why? Because steemit is a decentralized network, and if you expect a single person to vote for you daily, you are centralizing it. Steemit is a decentralized network, and we all know that. A decentralized network is a network that divides the authorities among all. You can regularly make a post and start building your steem power to solve this. That's why we all emphasize you power up because steemcurator01 wants you to become self-sufficient, and then you can support the quality creators. This is a chain, and that's how we all are connected to it.
Steemcurator is not responsible for giving you a vote. Always remember that. There was a time when I was so peeved that why am I not getting votes and all before realizing the fact. The problem of our is we expect so much. Indeed it is good too but not all the time. Votes are never guaranteed, and they cant be. Steemit team are trying their best to widen the range of support, but still, because of the large number of people, it becomes difficult to cover all the steemians.

PUNISHMENT NEVER HAS A GOOD EFFECT
Let's take an example. A child has made some mistake, and you have given him a punishment. Then, whenever he tries to make the same mistake, he thinks of that punishment you gave him and stops doing it. Now consider a bit about why the child has stopped? Not because he knew he was doing wrong but because of the fear of punishment. Punishment always gives anxiety but instead if we tell him, why the act is wrong and why we should not do it. Sentence never has a good effect as it leaves the fear of rejection, discipline, and an obstinate personality.

YOU WILL STAY HAPPIER IF YOU ARE UNMARRIED
The definition of happiness varies from person to person. But the fact is humans can't be happy all time. People nowadays run from the responsibilities, and in married life, you must be mature enough to handle the duties. And if you marry in a similar state, you will end up unhappy. So I am completing the sentence, you will stay happier if you are unmarried and an irresponsible person. So for all the dudes, don't marry. Live your life until you become responsible.
These are my opinion, and you can surely disagree and leave your constructive feedback in the comment section. Thank you for reading till the end.
20% of the payout to @pak-charity.
With Best regards,
vvarishayy