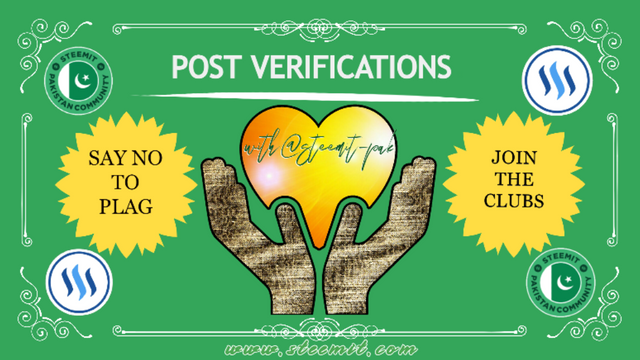 Hello Everyone, This is Steemit-Pak. The Official Country Curation Account Of Pakistan. We have been looking for plans and ideas to improve working in the Steemit Pakistan Community and we found a great hint from the Steemit Team which we have been applying for the past 2-3 days. We hope you have seen the new change. Here is where we found the hint following the guide from steemcurator01:

Following the Comment from the Steemit Team and looking at the working in the community by @papi.mati, we initially started doing comments with some details and the Check & Action table.
In the Table, we are currently focused upon 5 things that matter while writing the post in the Steemit Pakistan Community. These aspects help us to recognize how strongly a member is connected to Steemit Platform and Steemit Pakistan Commuity.
They are:
| Serial No | Check |
| --- | --- |
| 1 | Plagiarism |
| 2 | Club Status |
| 3 | SteemExclusive |
| 4 | Use of Bid-Bots |
| 5 | Prime Member |
These are the 5 main aspects that the Steemit Pakistan would be looking in each and every post from now onwards and there will be a comment from steemit-pak account on every incoming post checking for these 5 aspects.
We expect that you all know how these aspects work but here are a few details so as to remind you all about them before you make any complains.

Every post shall be read by the Admin and Moderators of the Community where there will be a manual plagiarism check as well as the post will be inspected by multiple plagiarism checker tools. We advise you to not copy-paste instead write your own work and use copyright-free images where required. Otherwise use images that are your own! Steemit Pakistan and Steemit Team both stand tall against Plagiarism!

The Steemit Pakistan Team has been very focused upon following the Club5050 - Club75 - and Club100 criteria and has been writing multiple posts to help you understand the requirements to join the above mentioned clubs.
New Clubs Introduced || Club5050 - Club75 - Club100 || FAQs || Steemit Pakistan Offers!
Read the above post if you still have confusions while joining the clubs or following them. We will be keeping a strict check on all the members and this is the second aspect of the Check and Action Table!

All the posts that are published in the Steemit Pakistan Community shall be #steemexclusive. It doesn't only mean to use the #steemexclusive tag but also to make sure that this post isn't anywhere else whether on the same platform or on any other platform. If a user is found doing cross-posting regularly, he/she may face some trouble!

Using Bid-Bots in the Steemit Pakistan Community is strictly prohibited. If anyone is found using bid-bots in the community, he/she may not be able to get the coting support from community whether it comes from the booming accounts or from the steemcurator! There will be a proper check on all these activities!

There has been a proper check going on in the Community regarding the Prime and dedicated members of the Community. We have been working hard to gather delegations and build the Steem Power of Steemit-pak Account. And all of you have truly done wonders by helping us achieve our goals! We will keep looking for our prime members and giving our full support to them today and in the future too.

Here's how a perfect Check and Action Table Looks
| Check | Action |
| --- | --- |
| Plagiarism | No |
| Club | #Club5050 |
| Verification | Yes |
| Bid-Bots | No |
| Steemexclusive | Yes |
| Prime Member | Yes |

We are going to implement this system of working in the community and looking to revive pak-charity to try and follow some regular activities of charity through the help of community members! Let us know about your views in the comment section. All the best and Happy Steeming!
Cc:
@haidermehdi
@hassanabid
@vvarishayy
@event-horizon
@salmanwains
@aniqamashkoor