Assalam o Alikum everyone
Hello everyone hope you all are doing well and enjoying your life I'm also good Alhamdulillah back again with another Diary this is my birthday diary my birthday was on 19th of August , with time birthdays are giving the vibes of getting older but I always try to cheer my mood on this day ,I have less expectations from life I believe in God plans and I have a strong faith on him Alhamdulillah.

The best thing I always enjoyed received so many best wishes 💟 on WhatsApp insta , my friend always remember my birthday because I remember Thier birthday so it's obvious, they wished me ,my family my sister my in-law and other friends and family members wished me and it's really cherish my mood.
---

Husband bought cake from kabab-jees bakers my favorite German fudge it's super yummy he bought on 18th 12:00am but we cut it on next day evening.
---
---
Next morning, I made breakfast for us I made half fry egg with Bread for husband, and I just took rusk with tea and then I slept for some hours , my friends did vtieo call for bothering me🙄 but we talked after so long friends is such a blessing of Allah but loyal friends.
---
---
Then i did homechores as usual and finished all the work and relax, husband came as usual late, we had to go early for dinner but he came late from work and I already prepared dinner for my mother and husband helper, we go out for dinner 11pm , we went "Ghosia" hussainabad food street because in Karachi you will found everything open there so we just went there he was tired that's why. We order bbq items "seekh-kababs" , "malai-boti", "gola-kabab".
---
---
---
---
After dinner we went for long drive , it's not long by the way,🙄 a short drive and back to home and enjoyed the cake it's was my fav 💞
---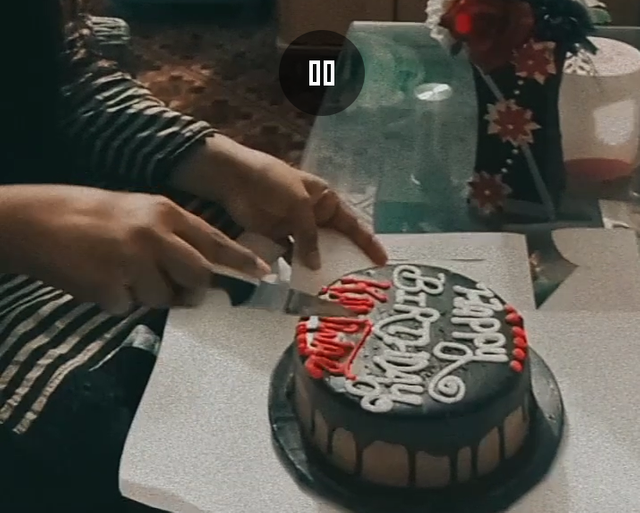 The day is not ended without tea ☕ I made tea for both of us then slept Alhamdulillah it was a blessed day and I hope you all like my post thank you for your time to read this one ,see you soon take care all💞
---

Kind regards: @kunwal
Special mention to @steemit-pak @event-horizon @vvarishayy @aniqamashqoor @suboohi @haidermehdi @hassanabid for thier support and guidance.
---