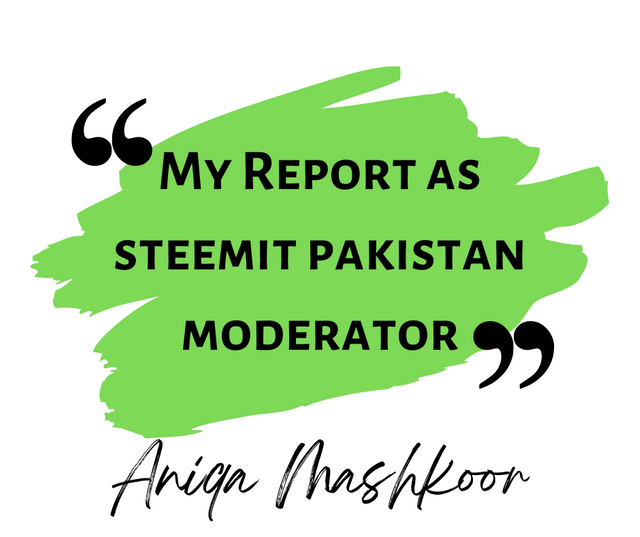 Assalamualaikum Everyone.
This is Aniqa mashkoor. Reporting as a Steemit Pakistan's Moderator. Hope you all will be fine and in the best of your health. Through this report, I would like to present my weekly activities and new initiatives for the betterment and the growth of the community and besides this, I would love to hear suggestions from you people for weekly engagement topics.
I always try to bring such a topic that is easy and interesting to write about but still I want you people to pour in your ideas.
Now let's move forward towards my working in the community as a mod
I have been trying my best to interact with all the users in the community. The Steemit Pakistan Team members are quite helpful in terms of distributing roles and handing over the responsibilities. So far, I haven't faced any difficulty in understanding my job as a Moderator.
---
I would like to share some of the responsibilities that I am being assigned. They include:
Keeping check for any sort of plagiarism in the community.
Arrange the weekly Engagement Contest.
Keep a check on the entries in the contest.
Upvote the participation post and do my best to judge who the winners are. Then discuss with the team and announce results.
Be active in the team discussions and try to give my input on the ongoing discussions.
---
This is one of my posts that I made earlier about different markdowns ad their syntax. Anyone who is new and looking forward to how to make their post presentable can take help from it.
A quick and easy guide | DIFFERENT MARKDOWN STYLES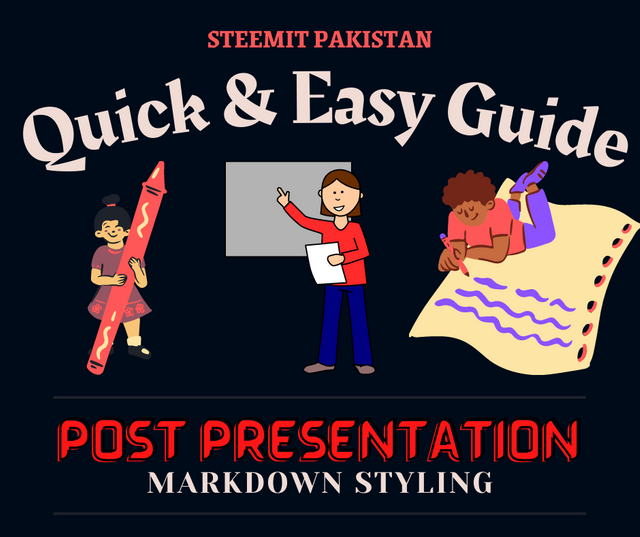 Besides this, we have started a new plan about checkmarks on each and every post of the community. This is very helpful it keeps an updated track about the clubs and plagiarism of the user. And with the help of this, we can reach each and every post of the community on daily basis. It helps in observing the activities of different members of the community. Like who is more active in terms of posting and commenting quality content.
The recent weekly engagement contest is as under!
This one is ongoing for this week ~ Your favorite shopping mall
---
For the past couple of weeks, i have been guiding users and trying my best to upvote them with my account as well as recommend posts that deserve booming upvotes to the Team Leaders. Just like the whole team, i am also responding to a few users who are asking me for help or guidance.
Below is the table of the comments that I have done in the Steemit Pakistan Community.
---
---
---
I am sure you all liked what I share. I will share weekly reports from now onwards in shaa Allah. For this role, I want to thank Allah and request all of you to pray for me that may I be able to fulfill my job with righteous decisions now and always In shaa Allah, and may I fully utilize the role that is given to me. Due to this everyone can enjoy maximum support and get a return for their hard work.
This post is open for your suggestions, I would love to hear back from you people, if there is anything that can be done in a better way please share.
---
Regards: Aniqa Mashkoor.
Moderator Steemit Pakistan.