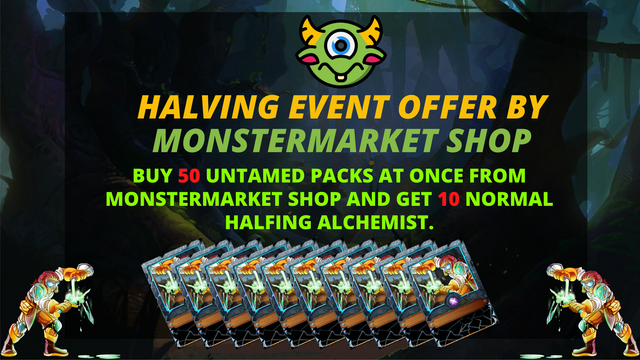 Greetings @splinterlands warriors, We hope you guys are doing well. As you guys know Bitcoin Halving is now just over one week away and to celebrate that @splinterlands started a special promotion.They are giving One Special Untamed Promo Epic Card HALFING ALCHEMIST for each 5 Untamed edition booster packs purchased in the shop Announcement.
As you all know https://monstermarket.io/shop is a secondary market for UNTAMED edition booster packs and ORB. We buy UNTAMED/ORB in bulk from @splinterlands and got some bonus packs, that's why we offer UNTAMED/ORB packs at cheap price. So, that players can buy UNTAMED packs at cheap even at low numbers. So, After this event start we bought some packs as well and we got some HALFING ALCHEMIST from @splinterlands . And that's why we decided we will give 10 Normal HALFING ALCHEMIST for every 50 UNTAMED packs purchase from https://monstermarket.io/shop. So you are getting UNTAMED packs at cheap price ( 1800 DEC/Untamed) and HALFING ALCHEMIST as well. 50 UNTAMED packs will cost 90k DEC ( 1800 * 50 = 90000 ), for 90k DEC you will get 50 UNTAMED packs & 10 NORMAL HALFING ALCHEMIST from us. Isn't that amazing ?? You are getting packs at cheap and also not missing the promo cards. The price of NORMAL HALFING ALCHEMIST is right now around 2$, so you are getting 20$ worth of cards from us if you purchase 50 packs from https://monstermarket.io/shop.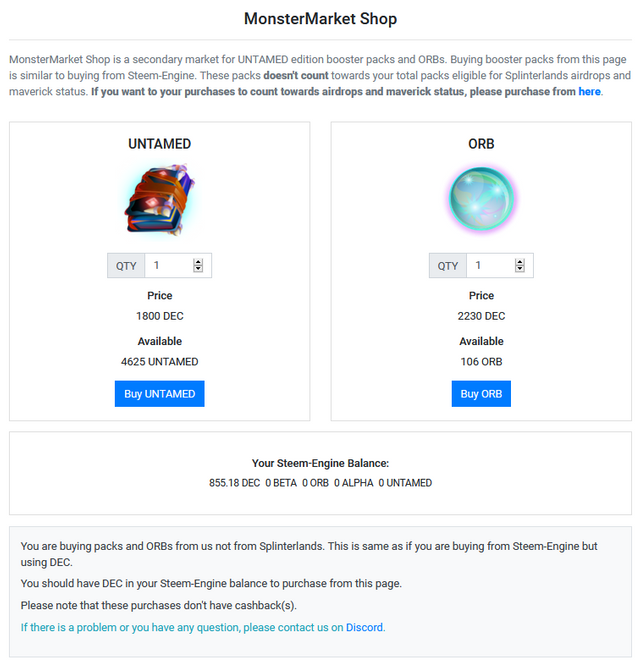 Process of Buying Untamed/Orb packs from MonsterMarket Shop
You need DEC into your Steem-engine balance. We are only asking DEC for those packs, so Steem/Sbd/DEC market won't affect the asking price of those packs.

Put the quantity, there is no bonus packs on 100 or more packs buying.

Price : We are asking 1800 DEC/Untamed packs and 2230 DEC/ORB packs. This is the cheapest way to get low numbers of packs. You no need to buy 100 or 500 packs to get cheap price. You can buy 1 pack at cheap rate from here. For ORB if your guild lodge max, that means you will get 10% discount on ORB buying from splinterlands so every ORB packs from there will cost you 2500-10% = 2250 DEC, but we are offering at 2230. But if you buy 100 ORB packs at once from splinterlands with max guild lodge bonus then that will be cheaper than us. But for single buy MonsterMarket Shop is the cheapest way.

Packs Available : Here how many packs we have on our shop will be showed. We always moderate our shop, so it will be filled always.

Smash that Buy Button to purchase packs and complete the payment through Keychain or Steemconnect. You will get Packs automatically into your Steem-engine balance.
Please note that 50 or more packs must be purchased in a single transaction to be eligible for this offer.
These packs doesn't count towards your total packs eligible for Splinterlands airdrops and maverick status.
This offer will be available until next our Announcement.
The Card Sending process is manual, So it might take some time but you will get packs instant. We will check the purchases and then will send the cards, so it may take upto 12 hours. Feel free to join our Discord Channel to contact with us.

MonsterMarket Community:
To know about our Market updates keep your eyes on our community page : Steem or Hive


All card images and icons shown are property of @splinterlands