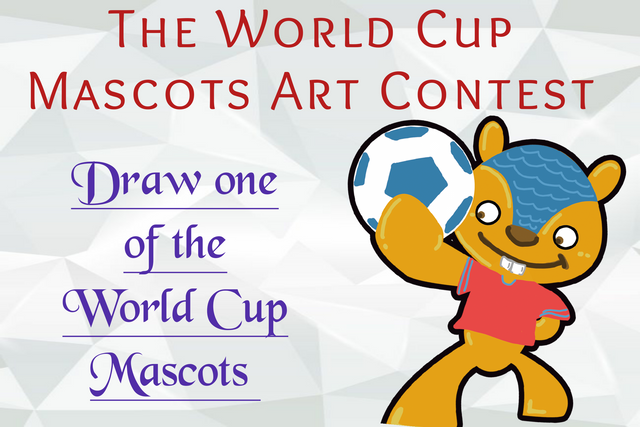 Although the first Fifa World Cup started in 1930, we didn't see the mascots in the scenes until 1966. England was the first to introduce World Cup Willie which was a lion, representing the English side. Since then, we have seen many other mascots such as Mexico's Juanito, Germany's Tip and Tap, Argentina's Gauchito, Spain's Naranjito, South Africa's Zakumi and so on.
ABOUT THE CONTEST
---
We would like you to draw any of the world cup mascots and tell us something about the world cup it represented. It doesn't necessarily have to be the one your country hosted. There are various reasons why people tend to like certain mascots. We would like to know why you chose that mascot and perhaps what it symbolised.
RULES
Entries can be made in ANY language.
Entries must be within this community.
Entry must be at least 300 words long.
Include as much details as possible.
Please use #footballcontest, our new contest label for easy identification of entries.
Share the link to your post on the comments section of this contest.
Be creative.
Share on twitter
PRIZE POOL
| Rank | Prize |
| --- | --- |
| 1st | 25 |
| 2nd | 20 |
| 3rd | 15 |
| 4th | 10 |
| 5th | 5 |
Winners will be announced on the 19 th of October.

SPANISH
---
Aunque la primera Copa Mundial de la Fifa comenzó en 1930, no vimos las mascotas en las escenas hasta 1966. Inglaterra fue la primera en introducir la Copa Mundial Willie, que era un león, representando al equipo inglés. Desde entonces, hemos visto muchas otras mascotas como el Juanito de México, el Tip and Tap de Alemania, el Gauchito de Argentina, el Naranjito de España, el Zakumi de Sudáfrica y así sucesivamente.
SOBRE EL CONCURSO
Nos gustaría que dibujaras cualquiera de las mascotas del mundial y nos dijeras algo sobre el mundial que representaba. No tiene que ser necesariamente el que su país organizó. Hay varias razones por las que a la gente le gustan ciertas mascotas. Nos gustaría saber por qué eligió esa mascota y tal vez lo que simbolizaba.
REGLAS
Las entradas pueden hacerse en CUALQUIER idioma.
Las entradas deben estar dentro de esta comunidad.
Las propuestas deben tener al menos 300 palabras.
Incluir tantos detalles como sea posible.
Por favor, use #footballcontest, nuestra nueva etiqueta de concurso para facilitar la identificación de las entradas.
Comparte el enlace a tu entrada en la sección de comentarios de este concurso.
Sean creativos.
Compartir en twitter
PISCINA DE PREMIOS
| Ranking | Premio |
| --- | --- |
| 1er | 25 |
| 2do | 20 |
| 3er | 15 |
| 4to | 10 |
| 5to | 5 |
Los ganadores serán anunciados el 19 de octubre.

cc:
THANK YOU!

---
JOIN US ON DISCORD
https://discord.gg/sD8tTJ
---
---

Join our World Of Football Community
---
Delegate to our Community through the following links:
50 SP
75 SP
100 SP
250 SP
500 SP
750 SP
1000 SP
2500 SP
3500 SP
5000 SP
---