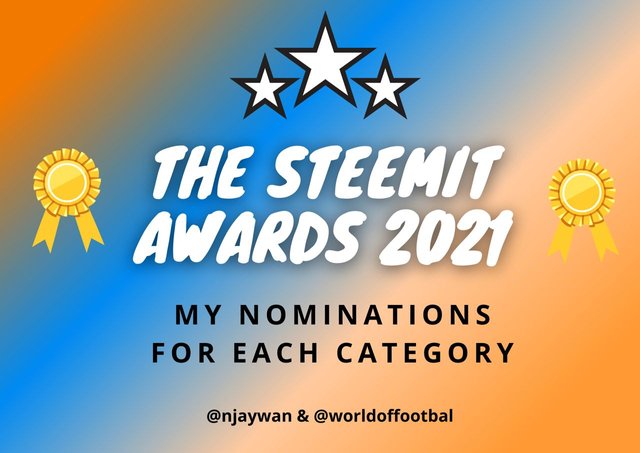 Greeting everyone,
Thanks to the steemit blog of making such a wonderful activity possible. This is a way of promoting the ecosystem in general. With such contests, the upcoming steemian would like to do more positive post to earn recognition.
Without wasting enough time, I would present my nomination based on the categories.
---
Best Author
---
There are several good authors on this platform creating good and quality contests daily. However, I nominate @njaywan as the best among all these good authors.
Reasons for my nomination
---
Talking of the content of his post, @njaywan write excellent posts on different communities. @njaywan write a post to guide beginners on the platform. Everyone can testify to the fact that most beginners have the problem of writing a good post and understanding some basic stuff of the platform. @njaywan usually makes it very easy by writing tutorials with a very basic language for everyone to understand.
He usually organizes some contests in the steem ghana community for others to showcase their talents to earn some rewards. He usually increases the number of winners for more people to earn the rewards.
Talking of how versatile he is, he writes posts in many different communities. As a country representative, he writes posts for the young Ghanaians to emulate. He sometimes writes motivational posts to encourage young steemians.
Moreover, as he is the admin of the worldoffootball community, he writes good football stories and gives some updates on current football affairs.
In addition, He makes a lot of promo in the promo steem community. The has brought many Ghanaian on board and still more joining the community. He also takes part to learn from the crypto academy professors and make quality crypto posts as well.
Above all, he writes very well with understanding choices of words for everyone to understand. He uses good markdowns to write very nice Posts to attract users.
---
---
Best Contributor to the Community
---
I nominate @njaywan for the best contributor to the entire ecosystem.
After @njaywan joined the steemit community, he has introduced 80% of Ghanaians to the platform. He explained all the opportunities available on the platform which attracted many to join and still more coming. Most of the people who know blockchain technology understood very quickly and joined.
@njaywan usually organizes meetups in ghana for steemians to meet to discuss the future and have fun as well. He also organizes online meetups for steemians who may not be close around to partake in the meeting. During such meetings, he explains some of the opportunities available and the current trends on the platform. Indeed he has contributed to the steemit platform.
Moreover, @njaywan introduced the idea of printing a steemit Ghanaian T-shirt to give recognition to steemit in ghana. The Idea of printing this T-shirt has worked to bring many people to the platform. Myself for instance, Anytime I wear this T-shirt to class, many people start to ask me about the T-shirt and after explaining some things, they end up joining the platform.
Above all, @njaywan printed the T-shirt with his earnings and distributed it for free.
@njaywan usually wears the steem T-shirt anywhere he goes with the idea of promoting the ecosystem. He's usually spotted in his steem ghana T-shirt anytime he writes Promo posts.
---
Best Community
---
I nominate @worldoffootball for the best community.
Personal, I am a huge fan of football. I watch the premier league, La Liga, and the UEFA champions league games as well. For that matter, Am always in the world of the football community to get myself updated.
We all can testify to the fact that most people like to watch football and how entertaining football could be. During big games, most subscribers available in the community becomes very active making post and commenting on how the match could end. After these matches, we all emerge on the platform to see some interesting comments and have fun along.
With this community, I've learned more about some past histories and current football affairs as well.
World of football organizes some weekly contests which are very fun. Moreover, the community organizes some prediction competition for users who believes they are good forecasters to earn some rewards from their predictions.
---
Thanks for your attention
---