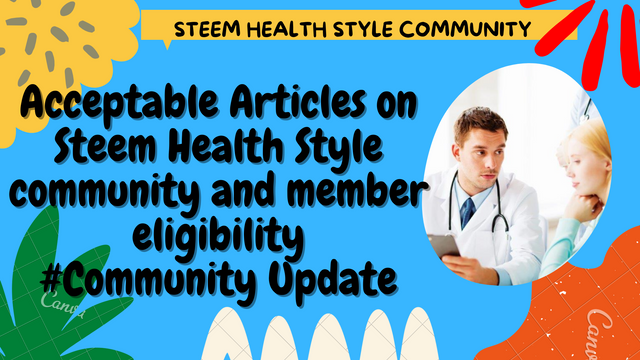 ---

Hello everyone here, once again we bring to your attention another important announcement. In this article, we would be sharing with you all articles that can be shared and posted in the community as well as the eligibilities or criteria of members in the community.
This post is to help and guide members of the community on the eligibility criteria and activities one can share with us in the community.
We all know that in order to serve the purpose of the community, we must know what are the necessary articles we can share on the platform, and also the criteria one must follow to be qualified to publish your articles here on the platform.
Also, this article would provide the necessary tags that must be used in each topic written on.
The following includes the acceptable articles that one can publish in the community:

Health Tips articles
---

Health tips are one of the topics that one can write about and share in the community. These include writing about daily health habits that we can learn and implement to help improve our health status. Please include the tag #healthtips when writing under this topic.
---

Science related articles
---

Science topics are also welcomed here in this community. Under this topic, all science-related topics are welcomed here and also you should try to let your post be related to health as well. Please try to use the tag #healthscience and #science when writing under this topic.
---

Health diary game
---

I know one would be wondering what kind of diary to write under this topic, I would explain that worry no more. We all know that diary games are one of the most liked articles published by most steemians on the steemit ecosystem and as a matter of that, we can't leave that theme or topic aside. In health diary game posts, we would like to see what activities you did within the day to help improve your health status. This includes jogging, gyming, training, exercising, visiting the clinics for checks up, etc. In this theme, one should use the following tags #healthdiarygame and #thediarygame
---

First Aid articels
---

Under this theme, one can publish articles related to the necessary first aid treatment that can be given to a person in any health danger before going to the hospital to receive permanent treatment. This should be a guide that a user can follow. The following tags can be used when writing this under this theme, they include #first-aid and #treatment.
---

Criteria and Eligibility
---

The following includes the eligibility criteria that we must follow and abide by in order to be qualified to write a post in the community.
Users from all countries are eligible to write and share their articles in the community. This is a country-free restriction community that permits all users from any country to join and write their posts.

Again, we encourage members to set beneficiaries to the community account (@hive-130228) to help support the growth of the curation account. It can be any percentage but we encourage at least setting 10% or more.

Users should be participants and embrace the implementation of the club initiative. That is, users must be correctly participating in the clubs and also correctly using their respective tags without abuse. ( #club5050, #club75, #club100).

Users must provide or write high-quality content and avoid any form of plagiarism act in their posts.

Users can post articles in all languages

In addition, members should try to write articles containing at least 300 words.
---
You can make your delegations to our community account @hive-130228 using Steemworld.org or you can easily use the alternative links to make your delegations. Thank you all for your support.
---

Thank you all for your support and attention to the community.