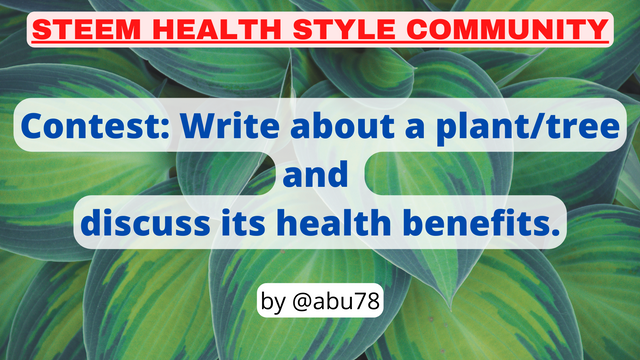 ---
Greetings to all and sundry on this wonderful community, I hope you all are doing great as I am doing today. Today I bring to all an open contest which is going to be the first contest organized in this community.
I hope that members would participate and invite members from other communities to join and participate in this contest.
The contest today is about writing on a plant or tree and indicates the benefits, uses, importance, etc.


About this contest
---

Write about a plant or tree, it should be a plant of health benefits

Discuss the importance of the plant or tree you have chosen

Discuss the uses of the plant or tree (the uses of the parts)

Please include the country or region that the plant is mostly grown or is favorable to the growth

You can add images of the plant if you are closer to one

Any other relevant information can be added to improve your content.
---

Guidelines:
---

Please be creative with the use of words

Write at least 300 words

Please avoid any form of PLAGIARISM

Make sure you are correctly participating in the respective clubs i.e. #club5050, #club75, or #club100

Please invite at least three members to participate in this contest.

Please upvote, resteem, and leave a link to your publication in the comment section of this post

Please write in Steem Health Style community.

Add the following tags in your post for easy identification, #plant-week1, #healthstylecontest, country e.g. #ghana
---

Reward Pool for this contest (15 STEEM)
---

| Winner | Prize |
| --- | --- |
| First Place | 6 STEEM |
| Second Place | 4 STEEM |
| Third Place | 3 STEEM |
| Fourth Place | 2 STEEM |
---

Deadline
---

This contest runs until the post pays out. After which an announcement of winners would then follow. I hope that members would participate in this contest.
I look forward to reading entries from members of the community. Best wishes and Goog luck to you all