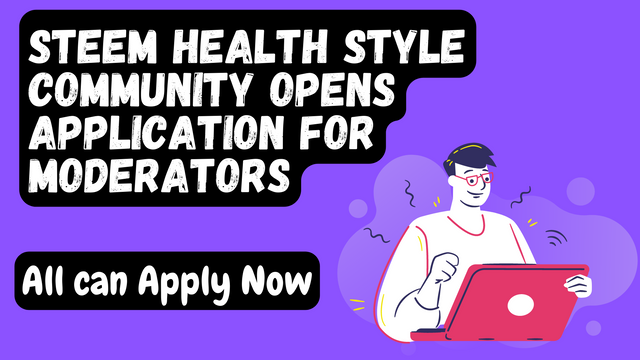 ---
Greetings to all and sundry, I hope that you all are doing great today. I write to announce and open an application for the position of Moderators in this noble community. Steem Health Style community has been active for about 26 days after it was launched. Steem Health Style community is a community that focuses on bringing health professionals on the platform together under one umbrella.
Within 26 days after launching the community, we have been able to obtain more than 100 subscribers of users.
As the community is fast growing, we need more active moderators to perform the duty in the community and as a matter of that, I write to open the vacancy for application of MOD.
The following includes some of the qualities that we are looking for in order to qualify for this Position:
Please user should be an active steemian

You should embrace and actively be participating in the #clubs i.e. #club5050, #club75, and #club100

You should have good writing skills

You should have much knowledge about plagiarism and how to check plagiarism as well

You should also subscribe and be an active member of the Steem Health Style Community.
---
How to Apply for this Position:
---
Briefly write about your experience on steemit platform and leave three best or quality posts you have on steemit platform.

Kindly leave a link to your achievement task 1 in your application

Any additional information you think can aid you to possess this position.

Leave a link to your discord or telegram channel.
---
Deadline for Application:
---
9th April 2022.
---
Thank you all for your time and attention and I wish all applicants the best of luck in their applications.
---
Discord Channel - Steem Health Style.
Telegram Channel - Steem Health Style
---
Kindly use the following links to delegate to our community curation account.
---
@abu78- Admin
@daytona475 - Admin
@chenty - MOD