From the analysts that go above and beyond to give you the most accurate and reliable information on cryptocurrencies in the definitive SCBG cryptocurrency report, Marius Landman and Inus De Bruin present the "5 Days of Fantasy Profits" webinars 14 through 18 March 2022.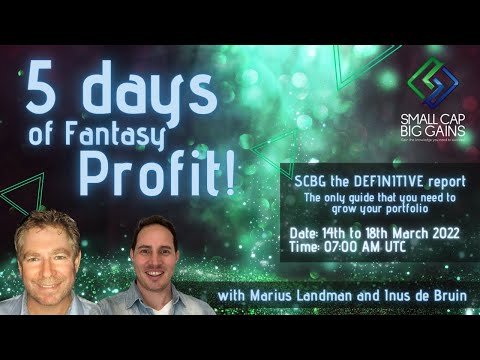 Image from
SCBG 5 DAYS OF FANTASY PROFIT
Grow Your Cryptocurrency Portfolio
Small Cap Big Gains (SCBG) finds cryptocurrencies that are moving faster than normal compared to other conventional cryptocurrencies. SCBG focuses on major growth opportunities by taking advantage of the top 5 trends in cryptocurrencies:
Gaming Blockchain
METAVERSE
Decentralized Autonomous Organizations (DAO)
NFTs
Cross-Chain-Interoperability
Learn more about SCBG, 5 TOP Trends in Cryptocurrencies, specials, and upcoming webinars at Bitcoin Trend and Forecast (BitcoinTAF). Joining BitcoinTAF is FREE. Join BitcoinTAF using my affiliate code EarlyMike
Whether you are a novice or expert cryptocurrency trader, start growing your portfolio by exploring the free blogs and enhancing your education and trading using the exceptional product offerings at BitcoinTAF!
5 Days of Fantasy Profits Webinar
To jump start your 2022 portfolio don't miss this opportunity to rocket your portfolio to new heights!
Register at: https://us02web.zoom.us/meeting/register/tZItdOutrzgqHdeqqQ54SllDEe1_ATwlkH6w
Dates: 14 - 18 March 2022 at 7 a.m. UTC
Link to World Clock / Converter: https://worldtimebuddy.com