Steem schreibt gerade Geschichte
Gestern sind alle Börsen mit der Coronavirus-Panik angesteckt worden, weltweit um 10% eingebrochen und auch Kryptos sind durch die Bank heute weniger wert, nur der Steem ist in den vergangenen Tagen gestiegen.
Das ist ein klares Zeichen, dass der Machtkampf seit der Übernahme von Steemit Inc. durch JS/Tron bei Steem weitergeht und beide Seiten versuchen, die Kontrolle zu übernehmen bzw. zu behalten, indem sie Steem kaufen und diesen staken.
JS/Tron votet auch immer noch mit dem Developer-Fund aka Genesis-Stake des Steemit Inc. Accounts, der eigentlich aufgrund der historischen Rolle und Art und Weise, wie dieser geschürft wurde, politisch neutral bleiben müsste.
In DPOS-Blockchains bestimmen die Stakeholder der Kryptowährung proportional zu ihrem Anteil die Block-Producers/Witnesses, die über den Consensus ähnlich wie in einer repräsentativen Demokratie/Plutokratie entscheiden.
Bisher gab es eine Übereinkunft zwischen Steemit Inc. und der Community, wie auch bei anderen DPOS-Blockchains üblich, dass der Genesis-Account politisch neutral bleiben muss und hauptsächlich für die Weiterentwicklung und das Onboarding von neuen Usern verwendet wird.
Ich bin der Meinung, wenn jemand die Management-Firma einer DPOS-Blockchain übernimmt, muss er sich auch an diese Vereinbarung halten, genauso wie man bei einer Firmenübernahme sowohl die Assets als auch die Verbindlichkeiten und früheren Verpflichtungen übernimmt. Rosinenpicken oder den Developer-Fund einfach an der Börse dumpen, damit sich Ned Scott (der frühere Besitzer von Steemit Inc.) oder Justin Sun persönlich bereichern, geht nicht und wurde zu Recht von den Witnesses temporär eingefroren, um genau das zu verhindern.
Justin Sun hat mit seinem "hart erarbeiteten" Geld nicht Steem sondern Steemit Inc. gekauft mit all seinen Assets und Verpflichtungen. Daran muss er sich halten, wenn er Teil der Steem-Community werden möchte.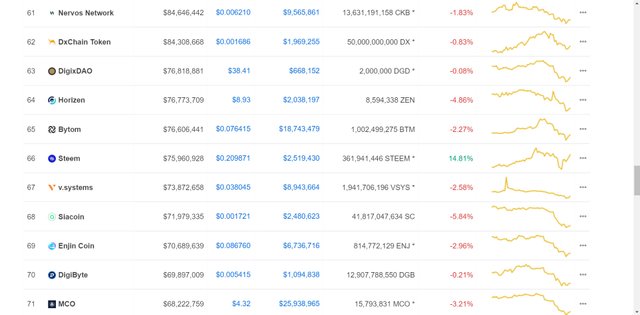 English
Steem is making history right now.
Yesterday, stock markets were infected with the coronavirus panic, worldwide fell by 10% and even cryptos are worth less today across the board, only STEEM has risen in recent days.
This is a clear sign that the power war at Steem has continued since the takeover of Steemit Inc. by JS/Tron and both sides are trying to take or keep control by buying Steem and staking it.
JS/Tron also still votes with the developer fund aka Genesis stake of the Steemit Inc. accounts, a special fund which should actually remain neutral all the time due to the historical role and way it was mined.
In DPOS blockchains, the stakeholders of the cryptocurrency determine, proportionally to their share, the block producers/witnesses, who then decide on the consensus similar to a representative democracy/plutocracy.
Up to now there was an agreement between Steemit Inc. and the community, similarly to other DPOS blockchains, that the Genesis account must remain politically neutral and be used mainly for the further development and onboarding of new users to the Steem ecosystem.
In my opinion, if someone takes over the management company of a DPOS blockchain, he has to abide by this agreement, just as one takes over the assets as well as the liabilities and former obligations in a company takeover. Picking cherries or simply dumping the developer fund on exchanges to make Ned Scott (previous owner of Steemit Inc.) or Justin Sun personally rich is not an option and was rightly frozen by the Witnesses to prevent exactly that.
Justin Sun did not buy Steem with his "hard earned" money but Steemit Inc. with all his assets and liabilities. He has to stick to this if he wants to become part of the Steem community.
Live your Secrets and Steem Prosper 🔥
xx Viki @vikisecrets