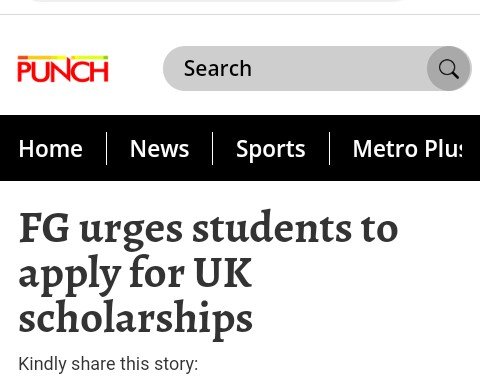 source
---
---
My dear country Nigeria will never cease to suprise me again and again. Sometime I wonder how some news in this country manage to enter the dailies or find their way to the internet where the whole world would see it.
My concern now is about the educational system of this country which to me has been crippled. Many are of the opinion that everything we are seeing in that scene is just politics...that some people are using it to pursue their own selfish Interest.
If that is the case,why would some set of people hold a whole body of youth,the ones they call the future of tomorrow to ransom for about 6 months now. Is this really how to treat the leaders of tomorrow? Please how will they become leaders,let alone good leaders with all they are experiencing from the present leadership.
Well there are so many questions on my mind but today is not the day to ask. I was just so speechless when I saw the caption I used for my cover image just yesterday night when I was scrolling through my phone. It came staring at me again this morning.
I just could not contain the sad feeling. I can't believe FG would encourage students to fly out to further their study on scholarship in Britain while their educational system still suffers a very big set back.
The Chevening Scholarships are fully funded scholarships to individuals from any background, who demonstrate the requisite skills and commitment necessary to bring about positive change.
source
We can encourage our children to go take advantage of a well established and flourishing educational system but would not do all that is required to make this place a better place as well.
I don't want to assume I have a complete information about the current issue between ASUU and the Federal govt.
But as it stands, don't you think the federal government is adding fuel to the fire that is meant to be put out with this kind of support and call to all Nigerian students in various universities? It means if they have their way,they would just send all their youth to go enjoy the fully funded scholarship in Britain, another man's land
Consequently, I write to forward the Call Letter to Vice-Chancellors, for urgent attention and wide circulation in your various universities. Interested individuals are expected to submit their applications via www.chevening.org/apply.
source
Above is an adapted piece from the source. Well in my opinion,this is not good enough. There should be a solution to this thing asap. I think we student are the ones suffering this more because this occurrence alone has disrupted alot in our lives. A lot of plans have been put on hold up to this point.
Some who waited patiently to see if something good will surface have now given up. They have started looking into other options just to ensure they are not wasting their precious time. Those that wrote jamb are still home,they don't even know their fate because those ahead of them don't even know the way forward.
May God help our dear country, alot is really happening that needs to be fixed. The educational sector is just one of the many problems we are battling in this country. The area of insecurity, economic instability and inflation are other areas as well, just to mention but a few.
I believe we will get it right someday and it won't be long by God's grace and intervention. I won't give up on this country,I mean where else would I call home if not Nigeria. We will eventually see the transformation before our very eyes. I'm positive
---
Credit : @lhorgic♥️
---