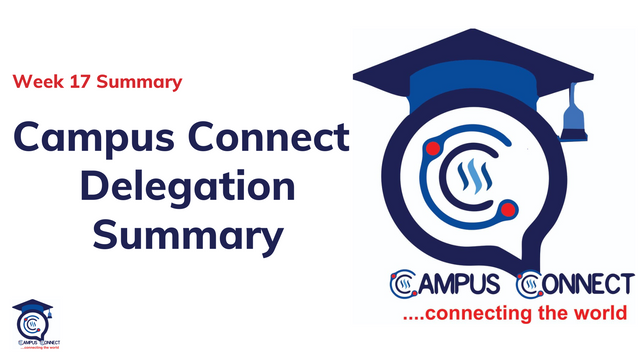 Hello friends and welcome to campus connect weekly delegation summary, We are currently at 75,027 cumulative Steem Power and still riding. We are happy to have reached this milestone and we already have our sights on our next target.
We keep building our curation power and keep making more progress as a community, steem power is just part of the plan for campus connect. We also make notable improvements, net in other aspects of our community.

Current Delegators and Delegators Reward For the Last 7 Days
We are currently in the 16th week since Campus Connect delegation program debuted, we have witnessed huge growth and we are happy to have made huge progress. We now have a total of 49 delegators with more than 75,027.33 Steem Power Delegated.

We have made transferred all the delegation rewards to all of our Delegators

Note- Due to the increasing price of steem, we will be making a slight change to the model of our delegation rewards, be rest assured that you will still receive an equivalent of the same deal you currently have in USD.
We appreciate and love all of our delegators, we love you all, keep steeming hot, Also special Thanks to steemcurator01 for their support.


Subscribe and Join CampusConnect
Whatsapp
CampusConnect Telegram
CampusConnect Discord