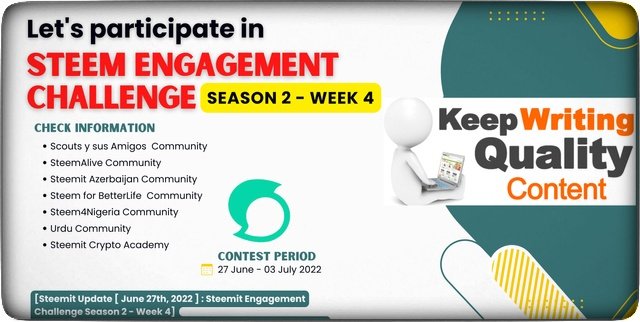 The 4th and final week of Steemit Engagement Challenge Season 2 has started along with the release of the post Steemit Update [ June 27th, 2022 ] : Steemit Engagement Challenge Season 2 - Week 4 by @steemitblog. There are seven more contests from the Engagement Challenge Communities.
Steemit Engagement Challenge Contests
Here are the contests for the 4th week of Season 2 of the Engagement Challenge…
Make sure you enter as many of the contests as you can, and vote and comment on other entries, to be in with a chance of winning the prize votes from @steemcurator01.
More information can directly follow the official account @steemitblog and get the latest information there.
This publication was created as a campaign to further the success of the Steemit Team's initiative to increase user engagement with meaningful comments and encouragement for post quality improvement. In our observation, there are many benefits that are correlated with the development of self-potential for those who participate in the Steemit Engagement Challenge, such as :
Out of comfort zone
Participants are trained to get out of the themes that are usually written or posted. Various writing themes from selected community contests will train themselves to improve the writing skills of participants.
Add friends and relations.
The obligation to reply to relevant comments will indirectly connect you with other participants so that friendship chemistry and other interests are formed.
Good support
Contest participants for the Steemit Engagement Challenge have a better chance of support from SC01 and SC02 due to the privilege of participation for participants. But also keep in mind "No votes are guaranteed". What you need to do is to write a post well on the theme of the contest to increase your chances of getting the support it deserves.
Other benefits.
Contest participants will also get many other benefits by participating in contests on Steemit Engagement Challenge such as more popular, increasing influence and others.
From what we have described, @steempreneurship invites members and users of the steem entrepreneur community page to participate as much as possible with contests organized by selected communities in the Steemit Engagement Challenge Season 2 - week 4, June period.
Let's have fun by participating in the steemit engagement Challenge Season 2 - Week 4. Hopefully this information is useful - steem on!
Cc : @steemcurator01 | @steemcurator02 | @pennsif | @stephenkendal

Open opportunities for useful contributions and collaborations with steem power delegates for community development.
Please select one from the link :
Thank you to all stemians who have supported and encouraged us to work hard to advance the Community and STEEM to reach wider people.
Kind regards,
Steeem Entrepreneurs Team