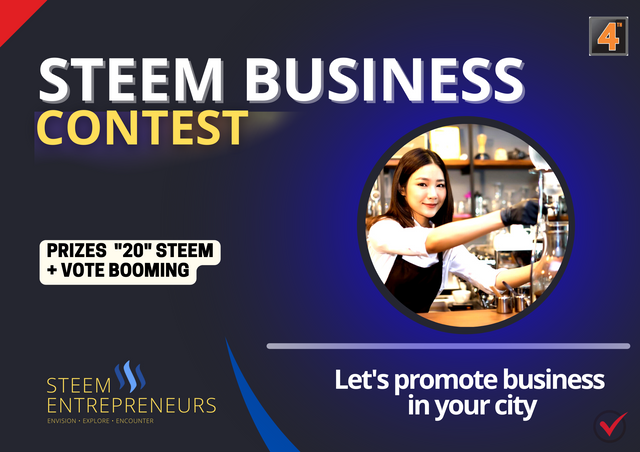 Steem Business Contest is an event to promote a business, big or small, owned by a company or individual. The uniqueness of this contest is that the transaction value using the official domestic currency must be converted into Steem/SBD. The goal is to familiarize business owners or customers with changing the value of products and services with Steem/SBD. This activity will encourage buying and selling transactions using Steem/SBD to become increasingly popular in business because of its convenience. While the other goal is to increase the participation of steemit users to promote or review businesses in your city, be it traditional retail, modern retail or other businesses.
Subcribe and post on the Steem Entrepreneurs community page.
Review the business in your city in detail.
Write in a language you understand.
Minimum writing 300 words.
Mark the location of the business being reviewed with what3words or google maps.
Convert the price of the product or service of the business with Steem, SBD or TRX according to the value of your country's currency.
Use original photos or photos of your own, we do not recommend photos that are sourced from the internet or are free of copyright.
Use the hashtag #steembusiness #burnsteem25 in the first 4 tags with your club status and country tag.
Make sure to use the hashtag #steemexclusive.
Support the #steemburn25 initiative by setting 25% rewards to @null and empowerment and charity activities by setting 10% rewards for @steemkindness.
Plagiarism or other cheating will be disqualified.
A total of 20 STEEM prizes will be distributed to the best 4 participants and will be recommended for @booming support.
Contest organizers do not guarantee that contest winners and participants will receive SC01 and SC02 support. The higher the entry quality, the greater the chance of proper support from the Steemit Team, but support is not guaranteed.
You can share your contest posts when this contest announcement is released. Last time joined was Sunday at 11:59 (UTC)
Contest entries will be checked and assessed by a jury from the Steem Entrepreneurs Team.
Note: If you have something to ask, leave a comment in the column. We will explain as best we can.
---
---
We thank all users of the steem entrepreneurs page who participated in the Steem Business 4th Edition Contest. Happy competing with passion and have fun - steem on!
Cc : @steemcurator01 | @steemcurator02 | @disconnect

Open opportunities for useful contributions and collaborations with steem power delegates for community development.
Please select one from the link :
Thank you to all stemians who have supported and encouraged us to work hard to advance the Community and STEEM to reach wider people.
Kind regards,
Steem Entrepreneurs Team