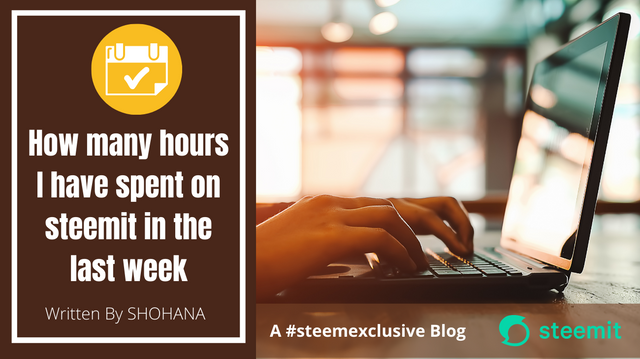 Edited Via canva

Greetings Friends of steemit,
Hope you all are doing good over there. I'm doing good though its hot summer going on here. Actually I found this topic pretty interesting and decide to share how Steemit took it's place in my everyday life. As a woman I always prefer home job as I don't feel much recure doing job outside, you can call this one of my phobia that I feel uncomfortable and unsafe doing job outside. Whatever, I do online jobs since 2013 and later met steemit and gradually met another blockchain based platform that pays crypto currencies for writing. Beside writing I do some designing for earning but steemit helped me a lot last two years to earn good sum that I could be able to replace my job with online writing and designing. Steemit has a great contribution to my life that will be unforgettable and my gratitude to steemit team will remain till the rest of my life.
How many hours I have spent on steemit in the last week:
Honestly never calculate how many hours I actually spend on steemit but steemit my virtual second hope where I stay maximum time of my day or week. Once I was social media addicted personality and later when I became serious content creator in regular basis I replaced my social media with blockchain based social media known as "Steemit**
Not sure about others but I feel honor to confess that Steemit is a life changing platform that helped me to save my self respect, gave financial security and honor of being a curator of this platform It changed my life in a positive way so I hardly mature my time or hours that I prefer spending here. I love steemit and continuously keep checking the red notification alert icon top left of our steemit profile, this is the most favorite thing I keep checking most of the time. I'm active on steemit with my both device, its my laptop and mobile phone. I never count hours I spend on steemit but I'll try my best to share my working schedules of last week.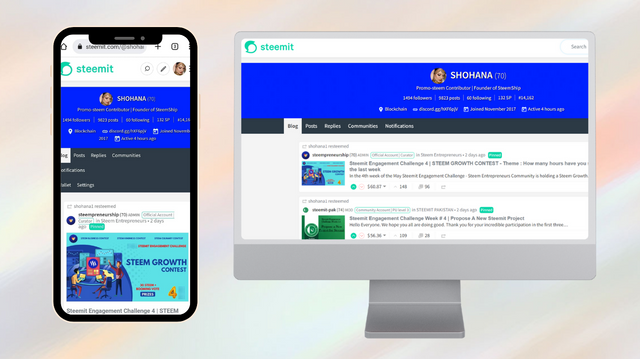 Edited Via: canva

My Monday With Steemit:
This is the busiest day of the week because this is the day when I'm doing my job as an author and also as a curator. My tag is #writing when I look for best writing posts in steemit to curate. Thanks to steemit team for choosing my team Perfect Seven to curate quality contents in Art category. Writing is an art and beside writing my team also curate on other tags like photography and music and others. So in this day I take more time for choosing worthy posts, test their club status, check plagiarism, check quality of post and this takes 2-4 hours and I usually take break and curate 20-25 quality posts of writing tag.
As an author I'm really very slow because I think before I write and sometimes I erase and write again. For Example, for this blog I'm taking four hours (approximately) at first designing concepts for this blog and later discussion topic or areas. Most of the time (daily) I do random posts for social media marketing for steemit, I design gifs and share them with my social media followers. So everyday for two random posts I spend time on steemit via laptop 2 hours and its a regular routine and I start doing my job in the morning before 10 am and mostly shut down pc before 1 pm. This is like a routine and steemit included on this time limit of everyday in pc. Via mobile phone I'm active like I consider it my social media where my words get paid.
My Sunday To Saturday With Steemit:
Friday is special to me because I try to write big blogs on this day and I get good support and attention from curators on this day though its rare but Fridays seems to me a good day of a week. As I said only Monday I do my job as curator and spend extra 2-4 hours for curating. So on the other day I do share two blogs with different gif design concept by me. It takes 2-4 hours, mostly depend on bring concept and design takes time. I try to reply all the comments from my friends and fellow steemians. But honestly I'm not good at interacting much but I think I need to repair this lacking in me.
Actually steemit is a platform where I enjoy my time and it deserves my time. So I try to be active maximum time of my day with this platform. Money could be a reason but my passion and my interest also in blogging and steemit bringing new chances and opportunities to us that helping us growing everyday. Many of you may do steemit as your hobby and at the beginning I also took it as hobby but later it become a most important part of my life and career. I love steemit and I wish this platform may live longer, at least till the rest of my life.
Thanks For Reading

Would like to invite my friends to take part in it @ripon0630 @ternuritajessi @zulhendra @taillah @ikmalhariamuna Here you can find the : Contest Announcement
And don't forget to give 20% beneficiaries of your entry post to the charity account @steemkindness