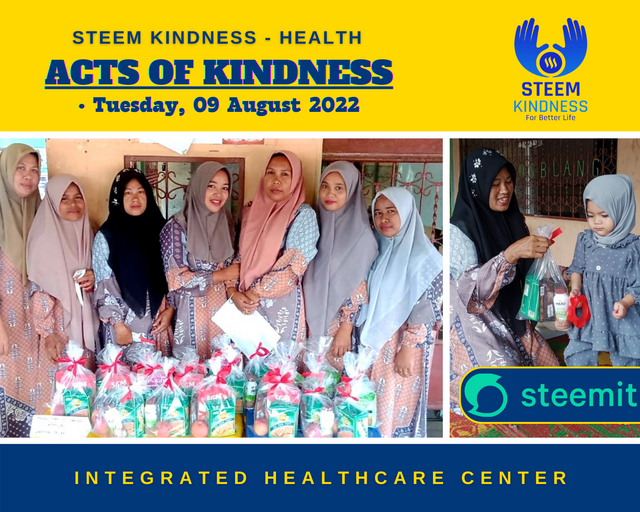 STEEM ENTREPRENEURS || STEEM KINDNESS - ACTS OF KINDNESS • Tuesday, August 08, 2022
Today our village again held a routine activity at the beginning of the month, namely carrying out a health service for the village community, called POSYANDU (Integrated Healthcare Center).
This activity continues to be held at the beginning of every month to provide maximum health services to the village community - whether it is in the form of treatment, nutrition, to checking the level of health.
So this activity will continue to be the responsibility of the village for the welfare of its people.
In this case, yesterday I handed over an amount of IDR 1, 100, 000 = 296. 575 STEEM to the Posyandu team leader as a cost requirement for carrying out today's activities.
Despite the small amount of money the village is responsible for - the Posyandu team has really put it to good use for this activity which is their responsibility.
They immediately spent the necessities in the form of milk, bread, vitamins, medicines, and also several others as necessities for the Posyandu activities held today.
• The Posyandu team for our village (Blang village) has the following structure :
Chairman : Jammiati
Secretary : Rohani
Members : 1. Nazriati, 2. Sani, 3. Dewi, 4. Hafasah, and 5. Yuni
These seven names make the Posyandu team for our village, they play an important role in the success of this charity activity by providing the best for our village community health services that are recorded in the Posyandu participants.
The participants registered or included in the list of Posyandu participants are as follows :
• Pregnant women, • Breastfeeding mothers, • Toddlers (small children aged 6 years and under), and • Elderly (chronic illness - old age).
While residents who are not included in this category - they must report to the Posyandu team if they need health services for them.
Okay friends, we will enter the gallery about public health services today - about how our team works hard and at the same time provides the best service for the community.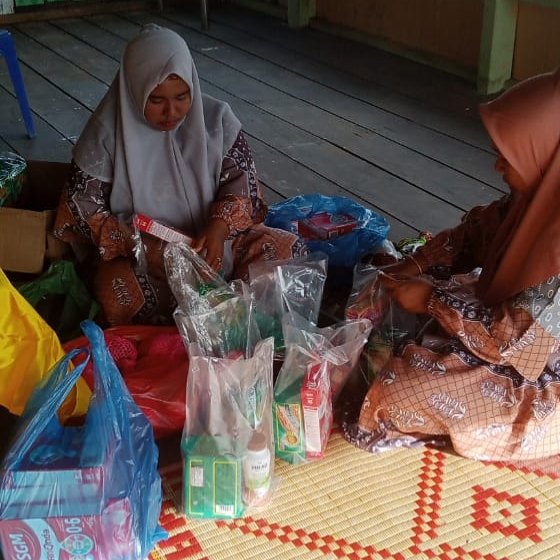 The photo was taken while packing the parcel
The team will package this gift as well as possible to make it look more presentable and attractive to give to the children.
They will use a trick or strategy to get the children interested by participating in this activity.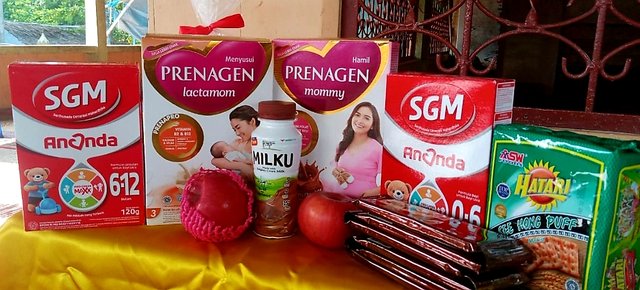 These milks will be given to children aged 3 years and under. The team has facilitated all these needs based on information from Posyandu participants recorded in their important notebooks.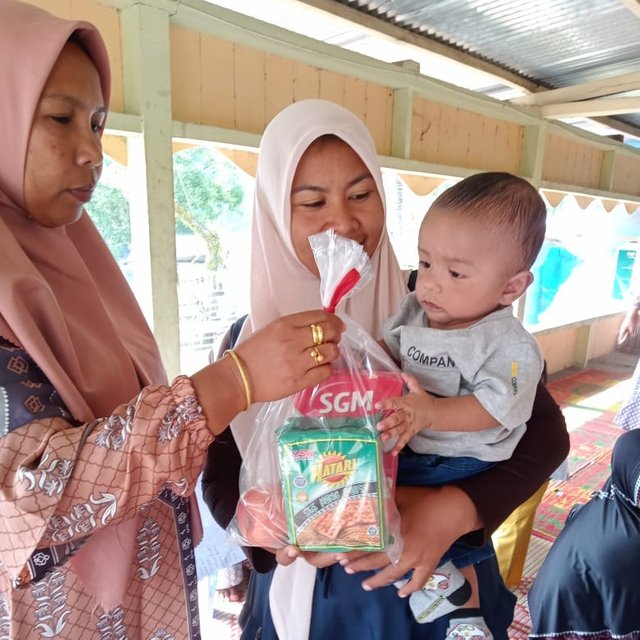 The distribution of gifts to children and breastfeeding mothers has now taken place, they will be very smiling in front of all Posyandu participants - so that they feel good comfort in this service.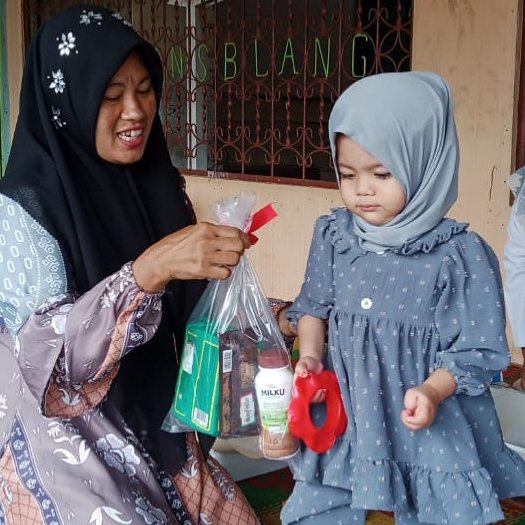 Naila - my beautiful daughter will get her parcel through the hands of the Posyandu team named Yuni. He was very happy when he brought a parcel containing bread and milk - because he really likes to eat bread and drink milk.
All the children and other participants will be very satisfied with this service through the tenderness and courtesy that the team has when serving the community.
Furthermore, below I show photos related to the ongoing community health service activities today.
Public health service gallery (09 August 2022)
We have seen this health service that takes place in a very friendly and courteous manner. They will make the participants always follow this activity regularly through their gentle touch.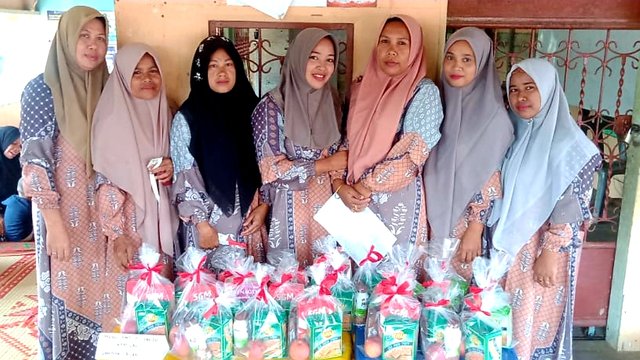 • What3words • Plus codes
• Google maps
---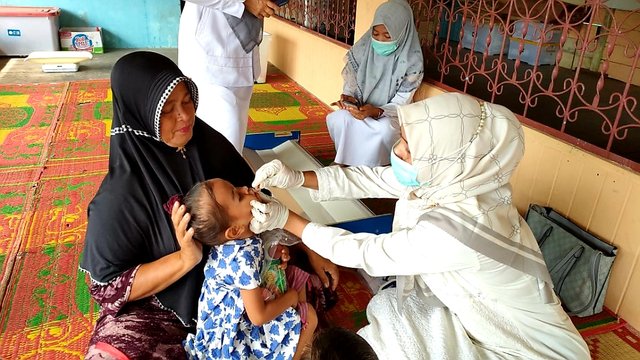 The photo was taken while spraying vitamins in the mouth of a toddler
Hospitals from the sub-districts who are members of the Posyandu team bring medicines and vitamins for toddlers and pregnant women.
And they with their gentle touch - will do their job by spraying vitamin A in the mouth of toddlers, and this is part of the vitamins to boost immunity and eating power of toddlers.
Today I witnessed this activity again with my own eyes, because today I took my daughter to participate in this health service activity. And here I show the photos that I took while at the activity location.
Today's display for Blang village health services
---
Posyandu goals include : Reducing infant mortality, maternal mortality (pregnant women), childbirth and the postpartum period. Increase community participation in developing health and family planning activities as well as other activities that support the achievement of a healthy and prosperous society.
The definition of Posyandu is a place for health care carried out from or by the village for its own village community who is guided by the relevant officer (the hospital in the sub-district).
Posyandu is also a center for community activities in health care and family planning efforts.
This is the intent and purpose of the Posyandu, which currently continues to operate in villages, especially in Indonesia.
Hopefully through this healthy program - people will enjoy maximum health.
---
Okay friends, this is about a health service activity that I participated in today in my village. And so my writing this time is related to an act of kindness that I follow, I hope this is useful and interesting for all of you.
Thank you to all friends who have read and supported this writing. Have a nice day!
Cc :
@pennsif @steemchiller
Great Thanks :
STEEM ENTREPRENEURS TEAM : @harferri As Pioneer - Admin, @steempreneurship As Curator - Admin, @tucsond As Mod, @f2i5 As Mod, and @afrizalbinalkaAs Mod

Best Regards @elrazi
ABOUT ME