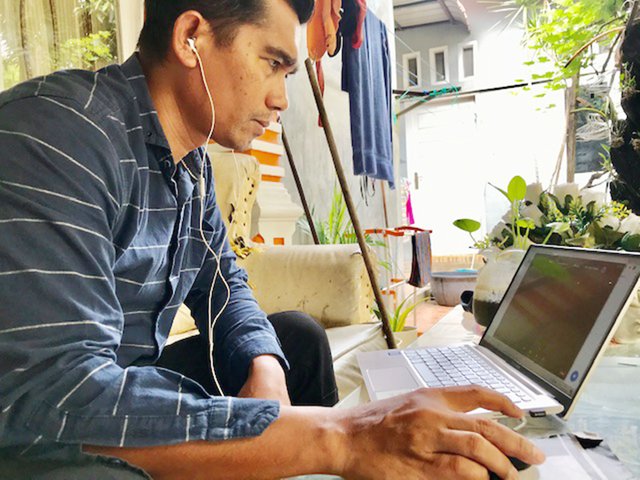 Allocate a special time for Steemit even if sometimes it's only five minutes to reply to a comment or vote.
---
It's an interesting contest although it's a bit unclear what size is used to determine the winners. Because this challenge also asks for advice, my suggestions this time are:
"For some challenges, it is necessary to explain the standard of assessment so that participants have guidelines in making posts, be more focused, and encourage participants to make higher quality posts."
"In every meetup, the leaders always emphasize the importance of making quality posts to get proper curation. Now, one way to encourage the birth of quality posts is to explain the standards for the contest assessment, in addition to the capacity of the curator who is the judge."
---
It's not only in the past week, but since 2017 I have set the concept of optimizing time, place and content with Steemit.
Time optimization is making the most of the time possible to create posts. Since most of my posts are over 300 words long plus have to edit photos with Photoshop, on average it takes me an hour to create one post. That doesn't include replying to comments, reading other people's posts, or voting on other posts.
Even though I rarely win in photo contests on Steemit, all of my photos are taken with interesting and serious angles, and meet journalistic standards. I've also been a photofarger for the American news agency, Associated Press in the past and enjoy photography to this day.
Not every time I open a Steemit account I make a post. When voting power has dropped, I use the time to reply to comments or comment on other posts. No wonder, the number of my posts is already tens of thousands and most of them are comments. In the steemworld.org application you can see how many comments.
When writing this article, I couldn't go online because I was holding an Introduction to Journalism course exam at the Bukit Indah Campus. Actually, because I was in the middle of the semester, I was able to go online and open a Steemit account while waiting for students to answer the questions. But at the Bukit Indah Campus, Lhokseumawe, there are several blank spots where the internet network is not optimal.
---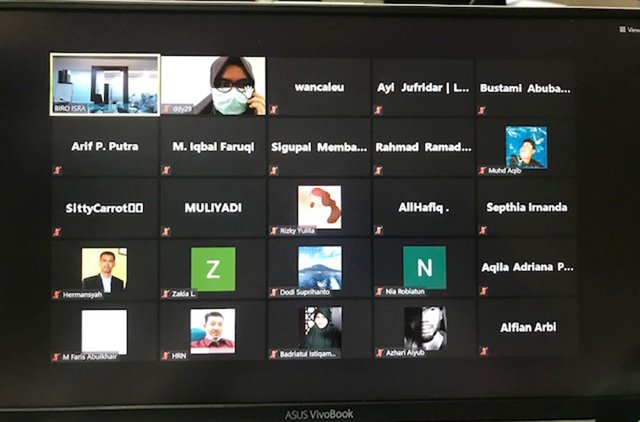 Ketika mengajar online, aku terkadang menyelinap ke Steemit sebelum atau setelah waktu mengajar.
---
This condition doesn't mean I'm wasting my time. This is precisely where I optimize my writing time. Later when you are in the internet area, all you have to do is post content.
Optimization of the place as well. Steemian all have a main job that cannot be left behind, especially those that require time discipline and totality and high concentration like @anroja as a paramedic. Unlike me, who occasionally can complete odd jobs, such as when writing news, can also make posts.
But because I'm used to it, I can make installments anywhere. When I travel, I can write in the tight hours in the waiting room or while waiting in line at the bank for a long time. if it's only about 5-10 minutes, it might be a bit difficult to write.
So, you must build the habit of writing anywhere and anytime. I always remember Ray Bradbury's message saying; "You must stay drunk on writing, so reality can not destroy you."
If we write with high concentration, even though there is a war around us, we will still finish the writing. Adjusting this condition is not immediately possible, but it takes continuous practice so that it becomes a habit. It is from this continuous habit that we strengthen the character of writing.
Because my work is not far from the internet and a laptop, I also have quite a lot of time with Steemit. Again, not forever when online to make posts. In this week, I'm online every day and the average time is about 2 hours per day. So, about 14 hours of time this week I spent on Steemit. And 14 hours I consider part of the future investment.
I am grateful that my work can be energized with time with Steemit. For certain jobs, for example, when I'm writing a book that requires high concentration, I can't glance at my Steemit account.
Contests like this, in addition to encouraging me to make more quality posts, also remind Steemits to be more tidy in managing time so that they can be effective and efficient. Activities on Steemit can be synergized with other jobs. So instead of interfering with other work. This is what I mean by spending time on Steemit instead of
Hopefully useful at least for yourself, thank goodness for others. I hope contests like this continue to be held to provide benefits that have a long-term impact.
How about @zainalbakri, @asiahaiss, @mollymochtar, @saifuddin73, @firyfaiz, and others? Let's share experiences here.[]
---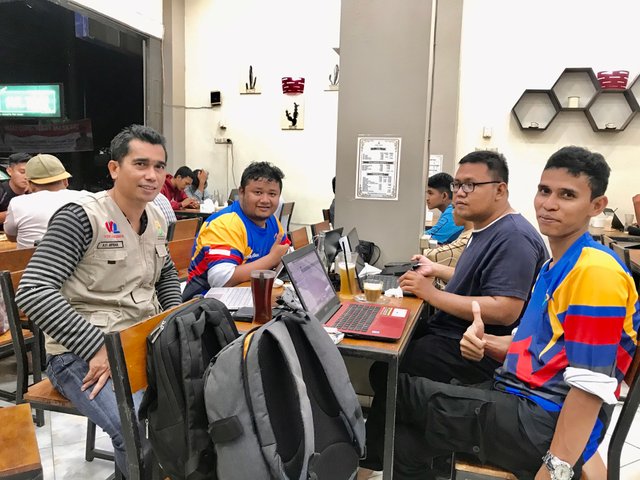 Di tengah kesibukan menulis berita atau tugas lain, Steemit termasuk tempat istirahat yang menyenangkan.
---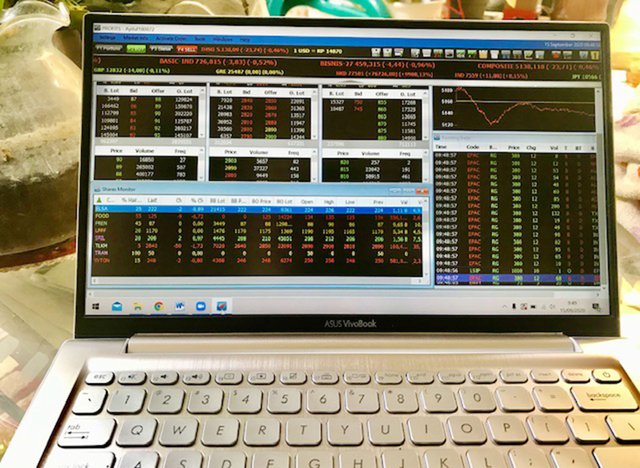 Every day, I monitor stock movements on the Indonesia Stock Exchange while opening a Steemit account.
---
Meluangkan Waktu untuk Steemit dan Bukan Membuka Steemit di Waktu Luang: Steemit Engagement Challenge 4
Ini kontes menarik meski agak kabur ukuran apa yang digunakan untuk menentukan para pemenang. Karena challenge kali ini juga meminta saran, maka saran saya yang kali ini adalah:
"Untuk beberapa challenge, perlu dijelaskan standar penilaian agar peserta memiliki panduan dalam membuat postingan, lebih fokus, dan mendorong peserta untuk membuat postingan yang lebih berkualitas."
"Dalam setiap meetup, para leader selalu menekankan pentingnya membuat postingan berkualitas untuk mendapatkan kurasi yang selayaknya. Nah, salah satu cara untuk mendorong lahirnya postingan berkualitas adalah dengan memaparkan standar penilaian kontes, selain kapasitas kurator yang menjadi juri."
Bukan hanya dalam seminggu terakhir, tetapi sejak 2017 saya sudah menetapkan konsep optimalisasi waktu, tempat, dan konten bersama Steemit.
Optimalisasi waktu adalah memanfaatkan waktu semaksimal mungkin untuk membuat postingan. Karena sebagian besar postingan saya panjang melebihi 300 kata plus harus mengedit foto-foto dengan Photoshop, rata-rata saya membutuhkan waktu satu jam untuk membuat satu postingan. Itu belum termasuk membalas komentar, membaca postingan orang lain, atau memberikan suara terhadap postingan lain.
Meski dalam kontes foto di Steemit saya jarang menang, semua foto saya ambil dengan angle menarik dan serius, serta memenuhi standar jurnalistik. Saya juga pernah menjadi fotofarger kantor berita Amerika, Associated Press di masa lalu dan menyukai fotografi sampai sekarang.
Tidak setiap membuka akun Steemit saya membuat postingan. Ketika voting power sudah turun, saya gunakan waktu untuk membalas komentar atau memberi komentar pada postingan lain. Tidak heran, jumlah post saya sudah belasan ribu dan sebagian besar adalah komentar. Di aplikasi steemworld.org bisa dilihat berapa banyak komentar.
Ketika menulis artikel ini, saya tidak bisa online karena sedang menggelar ujian mata kuliah Pengantar Jurnalistik di Kampus Bukit Indah. Sebenarnya, karena sedang ujian tengah semester, saya bisa online dan membuka akun Steemit sambil menunggu mahasiswa menjawab soal-soal. Tapi di Kampus Bukit Indah, Lhokseumawe, ada beberapa blank spot di mana jaringan internet tidak maksimal.
---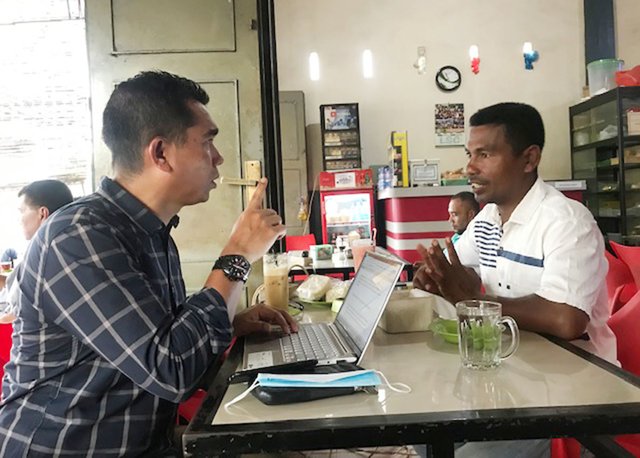 Mewawancarai mantan gerilyawan GAM yang kini menjadi pengusaha kebun sawit.
---
Kondisi ini bukan berarti saya membuang-buang waktu. Justru di sinilah saya mengoptimalkan waktu untuk menulis. Nanti ketika sudah berada di internet area, tinggal memposting konten.
Optimalisasi tempat juga demikian. Para Steemian semuanya memiliki pekerjaan utama yang tidak bisa ditinggalkan, terutama yang menuntut disiplin waktu dan totalitas serta konsentrasi tinggi seperti @anroja sebagai paramedis. Beda dengan saya yang sesekali bisa menyelesaikan tugas sambilan seperti ketika menulis berita, bisa sekalian membuat postingan.
Namun karena sudah terbiasa, saya bisa menyicil postingan di mana saja. Ketika melakukan perjalanan, saya bisa menulis di waktu sempit di ruang tunggu atau ketika sedang antrean di bank yang lumayan lama. kalau hanya sekitar 5 – 10 menit, mungkin agak susah menulis.
Jadi, harus dibangun kebiasaan menulis di mana saja dan kapan saja. Saya selalu ingat pesan Ray Bradburry yang mengatakan; "You must stay drunk on writing, so reality can not destroy you."
Kalau menulis dengan konsentrasi tinggi, meski di sekitar sedang ada perang, kita tetap menyelesaikan tulisan tersebut. menyesuaikan kondisi ini tidak dengan serta merta bisa dilakukan, tetapi butuh latihan yang terus menerus sehingga menjadi kebiasaan. Dari kebiasaan yang terus menerus itulah itulah kita memperkuat karakter kepenulisan.
Karena pekerjaan saya tidak jauh-jauh dari internet dan laptop, waktu saya bersama Steemit juga lumayan banyak. Sekali lagi, tidak selamanya ketika online membuat postingan. Dalam pekan ini, setiap hari saya online dan rata-rata menggunakan waktu sekitar 2 jam per hari. Jadi, sekitar 14 jam waktu dalam pekan ini saya habiskan untuk Steemit. Dan 14 jam itu saya anggap bagian dari investasi masa depan.
Saya bersyukur karena pekerjaan saya bisa disenergikan dengan waktu bersama Steemit. Untuk pekerjaan tertentu, misalnya ketika sedang menulis buku yang menuntut konsentrasi tinggi, saya tidak bisa melirik ke akun Steemit.
Kontes seperti ini, selain mendorong saya membuat postingan yang lebih bermutu, juga mengingatkan para Steemit untuk lebih rapi dalam mengelola waktu agar bisa efektif dan efisien. Kegiatan di Steemit bisa disinergikan dengan pekerjaan lain. Jadi bukannya malah mengganggu pekerjaan lain. Inilah yang saya maksud meluangkan waktu untuk Steemit dan bukannya
Semoga bermanfaat minimal bagi diri sendiri, syukur-syukur bagi orang lain. Saya berharap kontes seperti ini tetap digelar untuk memberikan manfaat yang berdampak jangka panjang.
Bagaimana dengan @zainalbakri, @asiahaiss, @mollymochtar, @saifuddin73, @firyfaiz, dan yang lainnya? Mari berbagi pengalaman di sini. []
---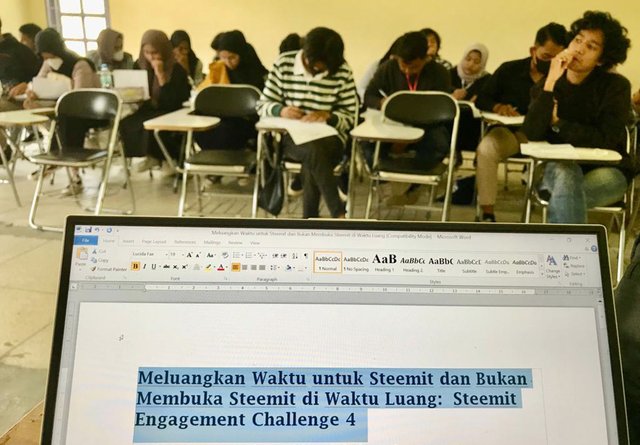 Writing articles for steemit on the sidelines of student midterm exams.