Hello Entrepreneurs
This is Aniqa Mashkoor from Pakistan. Steemit Engagement Challenge has given me a chance to explore new communities by participating in the contest created by them. I have always wanted to be an entrepreneur and before this, I wanted to make my entry into this community but due to lack of time, I couldn't make it.
As its said "Nevermind it's never late to have your first chance :)"
My city is filled with numerous businesses and many of them are worth mentioning but today I am going to write about the food business. I feel that food is something that never gets old fashioned or no matter whatever startup you'll have regarding the food you will always have profit.
Being an entrepreneur, I have thought about many businesses and always ended up considering the food chains as the best option. Because Karachi and food go in parallel.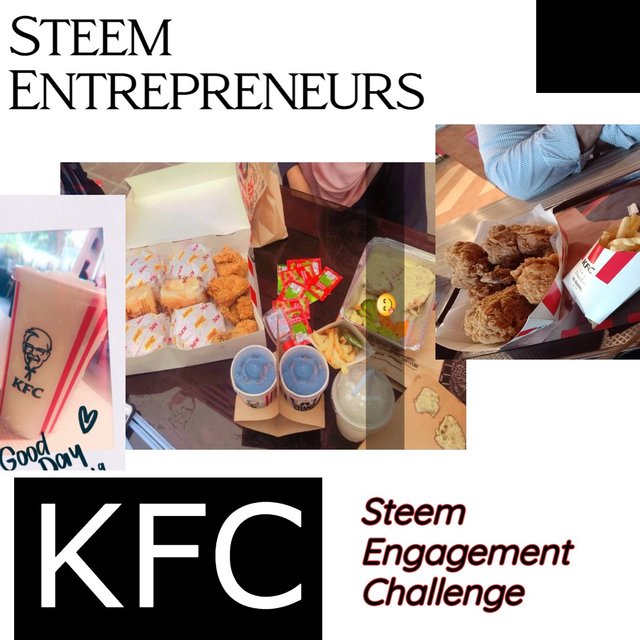 The food business I am going to review is KFC (Kentucky Fried Chicken)
---
KFC is a fast food business that provides different kinds of burgers, fried chicken, fries, drinks, and ice cream. Till now no other restaurant is able to beat the taste of scrumptious crispy fried chicken like KFC.
There are numerous branches of KFC within my city. I usually visit the following one. The malls one obviously whenever I visit any mall for shopping my every time go-to place is KFC it's just that you can't miss KFC anytime :p
KFC is one of the most preferable eateries for all kinds of age groups because of that constant taste. No matter if you go out of the city too and crave KFC you'll always find the same taste everywhere. It's all about their secret recipe that never changes from place to place.
Infrastructure:
---
KFC has a very decent appearance, the building is neat and clean, and spacious. Especially while talking about the Gulshan branch it covers a vast area and a 2-floor tall building makes it prominent from the outside. It has a very beautiful entrance covered with all over beautiful green plants and gives you a fresh vibe.
Then I have always admired KFC for its neatness. The restaurant is very neat and clean and the staff makes sure to be well mannered and well civilized with a proper uniform. It can be the best option to have official meetings or lunch too.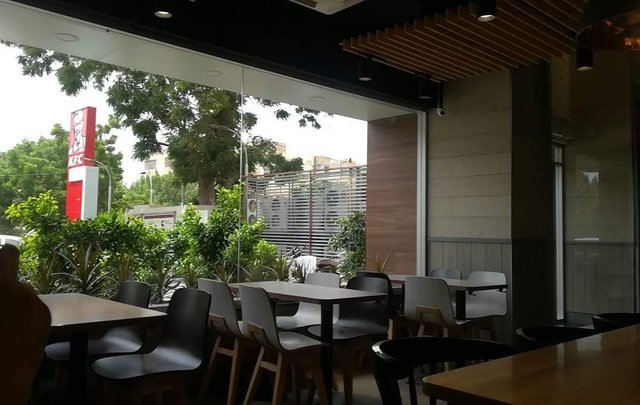 KFC Gulshan Branch
The sitting area is nice and it has sitting for a minimum 2 person nd maximum 10. So there is perfect privacy too. The chairs are comfortable and designed in a way that you can easily sit up for straight 3 hours without any hustle. the interior is classy. Different kinds of quotes are hung on the wall.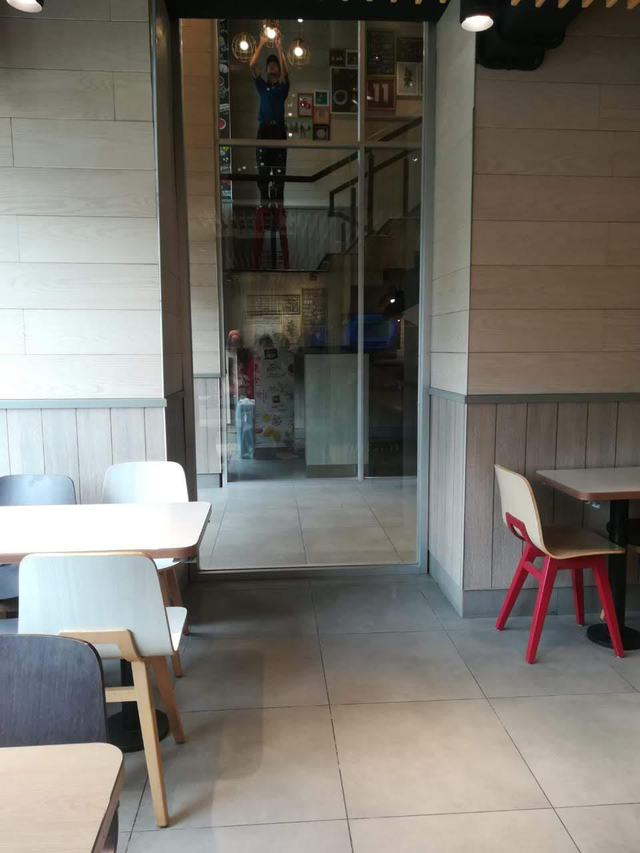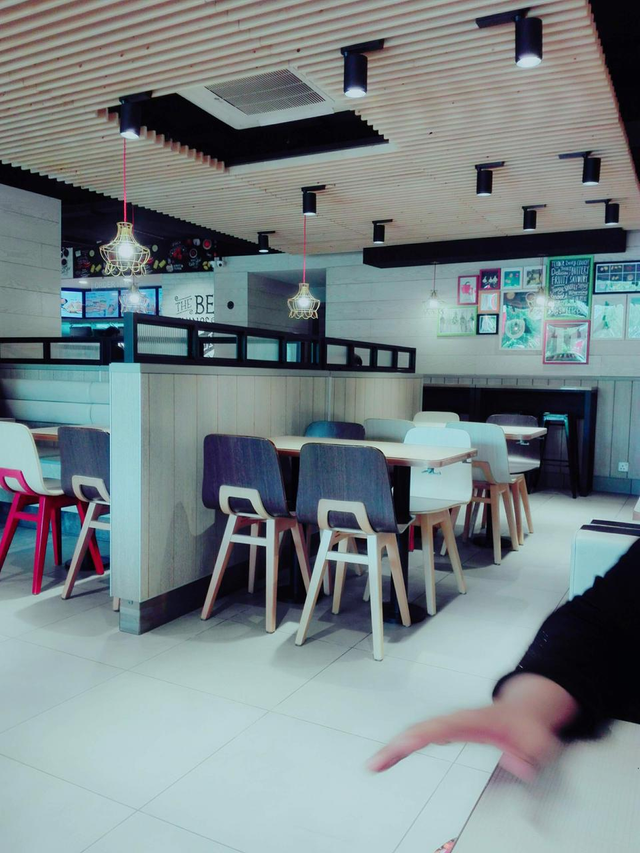 ---
Food:
---
KFC is popularly known for its crispy fried chicken and I myself am a fan of that. I just love it. Besides this, they have crispy chicken burgers, a zinger burger, and a few saucy burgers.
The menu comprises of following items
| Menu | Price in PKR | Price in steem |
| --- | --- | --- |
| Krunch Burger | 195 | 2.19 Steem |
| Rice and Spice | 270 | 3.03 Steem |
| Zingeratha | 270 | 3.03 Steem |
| Krunch Burger with Drink | 270 | 3.03 Steem |
| Chicken and Chips | 395 | 4.43 Steem |
| Crispy Box | 495 | 5.55 Steem |
| Boneless Box | 540 | 6.05 Steem |
| WOW Box | 775 | 8.68 Steem |
| Crispy Duo Box | 950 | 10.64 Steem |
| Xtreme Duo Box | 1175 | 13.17 Steem |
| Value Bucket | 1295 | 14.51 Steem |
| Family Festival 1 | 1495 | 16.75 Steem |
| 9 Pcs Spicy Nuggets | 450 | 5.04 Steem |
| French Fries | 190 | 2.13 Steem |
| Hot Wings - 10 Pcs | 440 | 4.93 Steem |
---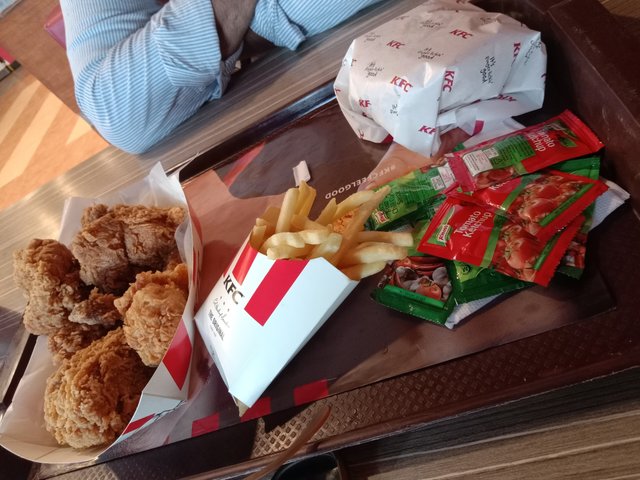 Hotshots and Zinger Burger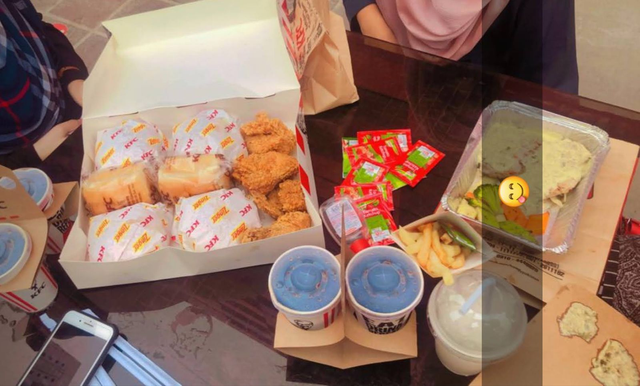 Family Festival 1 deal
---
---
KFC Zinger burger is most common and widely eaten with a perfect combination of fries and chilled drinks. This is reasonable and affordable too.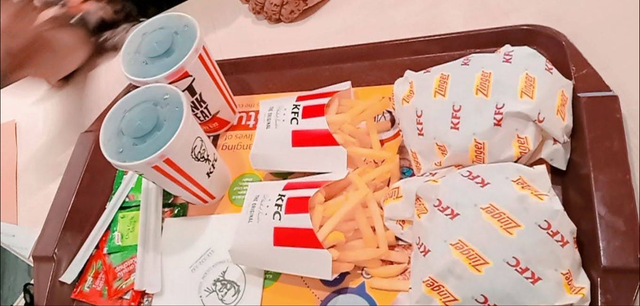 ---
Hence, Ending my review by summing up KFC as one of the most popular and widely recognized burgers and crispy fried chicken restaurants. People from far and wide love to eat it. The most common and popular among all the food is KFC Zinger Burger, KFC Fried Chicken, Rice Bowl and KFC Krunch Burger.
---
Hope so you people had a good read and found it interesting. Hope to hear from you all in the comments
Signing Off!
Aniqa Mashkoor Want to know more about me