Here is my second respective application for the community curators though I tried early also when the technique was not like currently.
I always try to share my point of view through my posts for the growth of this platform and I would also like to appreciate them through my comments who are doing a fabulous job for this platform's growth.
But being a tenure steemian I would also like to get an opportunity to help people besides my writing with my support(already doing), ideas(shared), and planning for the betterment of the future growth of this platform.
Therefore I am again here to submit my application to get a chance to work in a better way.
Now without taking much time let me share the details about myself foremost.
---
---
A brief summary of your history on Steem.
I have been working for more than two years on this platform. I joined in 2020 and I got to know about this platform from @rme (admin of Amar Bangla Blog community). He introduced and educates me about blockchain.
Though I started as a food blogger, eventually with time I started sharing several other topics that could not only help others to gain knowledge but also improve their ideas about the same.
I would like to say it's an experience rather than history and it was for me like a rollercoaster.
---
Details of specialist or professional skills or expertise you have in "real life".
I already mentioned in my early application that reading and cooking is my passion and I dedicated this blog to my mother who is no longer in this world.
I love to enhance my knowledge whenever I get a chance so I read a lot of different kinds of books.
Though now I don't get sufficient time and because of that reason, I transformed my community from a general theme community to an "ART and Culture" community.
---
What country do you live in and what languages can you read fluently?
As many of you know that I belong to Kolkata(India) so my mother tongue is Bengali but besides that, I can read, speak and write English and Hindi.
I understand several other languages of India like Marathi because I was born in Bombay(now Mumbai), Oriya and now because of the help of the translator several can easily learn different languages.
---
Any subjects you particularly enjoy curating.
I would love to curate any subject that contains quality but my preference would be "ART and Culture." Now it's time to expand our knowledge and share different things besides common subjects.
---
The minimum team size you would be willing to serve in (1 - 7).
I do not have such prejudice but as I have seen last month's 5 members added for each team and they have done a fabulous job. So for me members of five in a team would be fine.
---
Your key stats - own SP, CSI, Reputation, Delegations.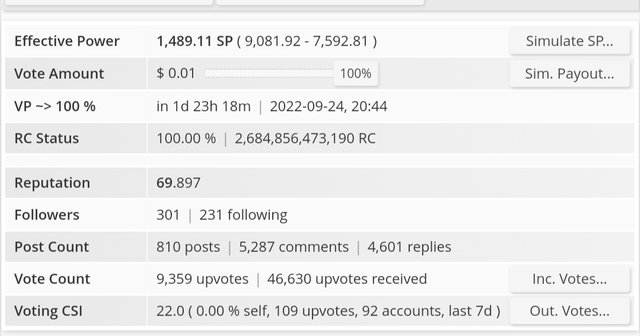 Username:- @sduttaskitchen
My discord ID:- #sduttaskitchen0792
Position
Total self Steem power
Deligated steem power
Reputation
CSI
Admin and owner:- Incredible India community(account name:- @meraindia) and Moderator:- @steemindiaa community
9,081SP
cotina-2000sp and meraindia-5,500sp
69.897
22
Now I would like to take part in the platform's growth, and because of that reason, I shared my point of view through a post:-
my-perspective-for-the-further-development
I believe in transparency, honesty, and hard work; and also work for the @steemindiaa with equal efforts.
Hence I submitted my application. I believe people noticed those activities I have done for the growth of this platform;
and apart from that, I always try to be active here.
I hope I answered all questions or queries that were asked, to apply for the curation application.
I would like to wish the best of luck to everyone who submitted the application or going to submit it.