Namastay Steemit
---
When I heard about this tribe I was really get excited to explore some rare or new movie reviews and after exploring I really got some but many of them were common movies which I already watched.
This gave me an idea to submit my review on a movie which I am sure none of you would have ever heard of, because its a regional movie :D
You might have heard of Bollywood but you would never heard of Bhojiwood I am 100% sure about it but incase you know about it then let me know in comments :)
---
So without taking much of your time let's start with the main topic. A regional movie which somehow tried to showcase the real scenario of a State known as Bihar
Though the story is not real but it was inspired by the real incidents happened in Bihar. Before I jump into the story of movie I would like to shed some light on the status of people living there before year 2010.
Bihar is most populated yet most illiterate state of India because of corrupt governance, People there used to live without schools, hospitals, roads, electricity and more that 60% of its population was living below Poverty Line.
No education and infrastructure forced them even more to stay below that poverty line where people won't have enough resource to get one time meal per day.
People there used to eat rats to survive, yes you heard me right RATS!!. Its really tough to imagine their situation and standard of living and it's all because of bad government and it's bad governance.
The bad living condition forced them to enter in Crime in order to help them survive in this ruthless world, those who didn't want to do Crime were migrated to other states in hope for a good living condition of their families.
---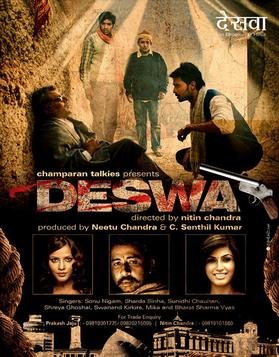 Deswa
IMDB : 9.3
Directed and Written : Nitin Chandra
Produced : Neetu Chandra
Production Company : Champaran Talkies
Release Date : 9th Dec 2011
Running Time : 132 Min
Country : India
Language : Bhojpuri
Budget : US$ 280,000/-
---
Plot
Movie starts with a scene where a crowd seems to be protesting outside a police station for the two main characters of this movie who were in prison because of corrupt administration, This scene creates a suspense in viewer's mind.
In next scene film goes back in flashback of these two prisoners where we see that both of our main characters are brilliant minded yet poor. One of our main character Deepak Singh was working as a temporary teacher regardless of qualifying the most tough Government service exam of Indian Police Service twice because the administration wanted bribe for that position and he didn't have that much money. SAD BUT REAL SCENARIO
---
SRC
---
on other hand same situation with our other main character Ajay Kumar, where administration was asking bribe for his Job. This was not enough as Ajay had one more responsibility i.e. marriage of his sister. As they were from lower caste of their society they needed Dowry for his sister marriage.
The situation was really tensed for them as they really need money but they didn't had any right option for getting that which forced them to enter into kidnapping.
---
SRC
The Movie get banned by Bihar Government because of this scene!! Cheers!!
---
They Planned to kidnap a hotel businessman of their city to get some hefty ransom money and fulfill their needs of money. They started planning and executed their plan and kidnapped the person and took him to a remote location.
But that was not yet over, they get to know that they kidnapped a wrong guy and that too a Mao Terrorist Leader who was there on his mission to bomb that city. They got afraid and nervous but that Mao Leader gave them offer to earn some money for safely transporting him to his state. They accepted his offer and helped Mao Leader to reach his Clan.
When they entered in the area of Mao Leader, Police force was waiting for them and started firing which resulted into the death of Mao Leader. In one of the last scene Mao Leader fulfill his promise before death and handed over a bag full of money and told him to leave.
Our Main character reached his city but was afraid and he didn't want his family to get involved in this crime so he decided to surrender to the police. Suddenly the News went viral and story of both characters came into News which created outrage in society.
In Last scene they were shown coming out of the Jail after surviving their Punishment years and while going to their home they saw many changes in their city as there was New School, Hospitals and Plain Asphalt Roads. Which they always dreamt of!!
Tadaaaa.... THE END
---
I am really sorry for my bad writing skills but I am trying to improve everyday. The Movie is really good and I wish if you could watch it.
P.S- I am also from that same state Bihar that's why I can confirm you that this movie actually showcase the real problem of Bihar-India.
---
I hope you enjoyed it, If you are reading this then please help me by giving your valuable feedback in comment section. It would be more than a treasure for me. Thank You :)
---

---
Ad Astra...