Telegram channel for updates - https://t.me/kaizencap
This week started 100% bullish after the fear for Omicron diluted.
We had no lower week and a bullish continuation is expected, but I won't be expecting a bullish start of the week, first I would like to see a pullback to previous support areas for better buy opportunities.
Also we have a strong resistance in the 36,000 area, so I'd like to see a break and candle closure above that so we can test the 36500.
It's now Friday and markets are going to close soon so now we have to wait to see what happens during the weekend and if there aren't more bad news regarding lockdowns of something that thrives economic fear, I expect the markets to test previous highs before the end of the year.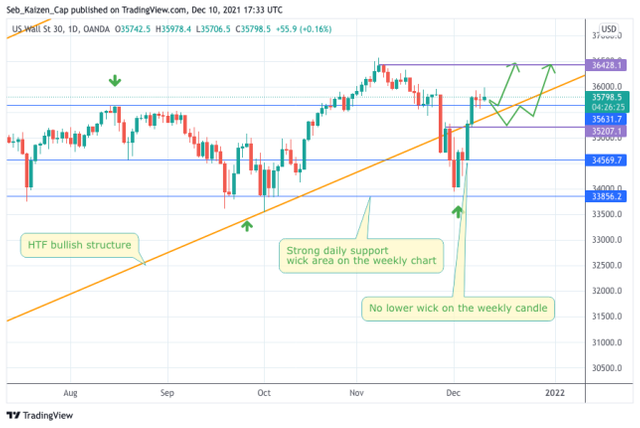 Here we can see the strong 4 hr resistance and we need to break above for continuation.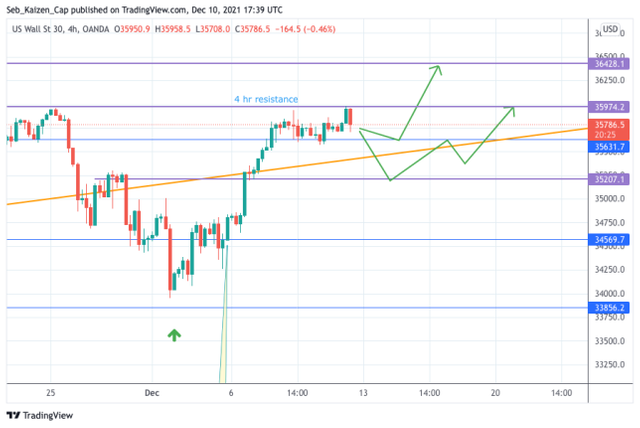 IMPORTANT !!!
THIS IS NOT FINANCIAL ADVICE AND SHOULD NOT BE NOTED LIKE ONE, DO YOUR OWN RESEARCH AND TRADE AT YOUR OWN RISK. REMEMBER TO ALWAYS USE A STOP LOSS AND NEVER TRADE WITH MONEY YOU AREN'T WILLING TO LOOSE, LEVERAGED TRADING IS EVEN RISKIER.