Remember - This is Holidays week, low volume, high spreads, crazy volatility and manipulation.
IF YOU LIKE THE CONTENT PLEASE LIKE, SHARE AND SUPPORT.
FOLLOW ON https://steemit.com/@mycryptostalker
TELEGRAM CHANNEL t.me/kaizencap
SUPPORT - Upvote and resteem
https://www.buymeacoffee.com/kaizencap
To start let's see the 4hr chart and how it behaved during last week.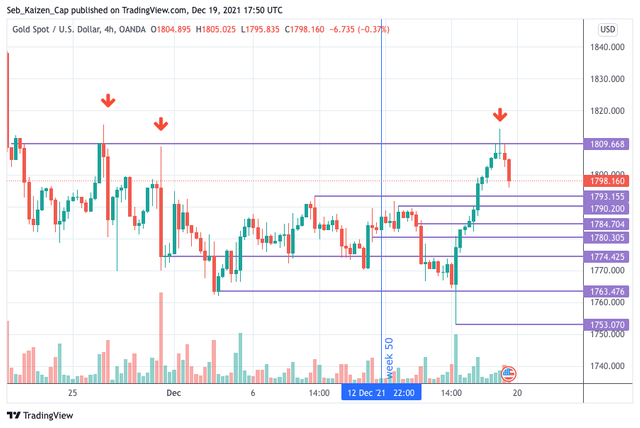 What does the chart tell you?
From the 5th to the 10th we had accumulation phase, even that there were some trades, still we had this range because Holidays started, end of the fiscal year was near and major news were going to be released the week after, so taking this into the trading plan, Gold was not an asset you would like to be trading in a situation like that.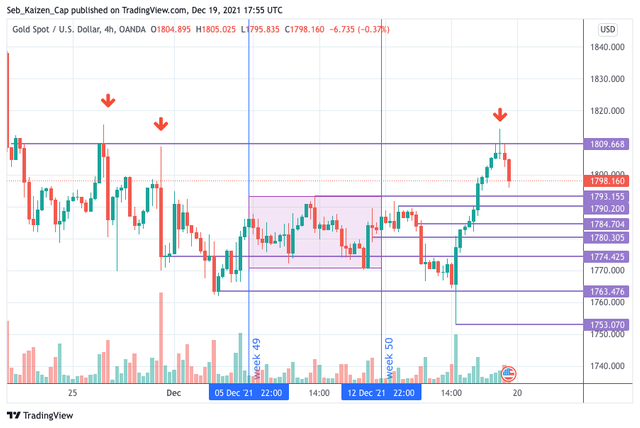 To start the week we saw a nice push up to the resistance and a clear rejection of the area (blue arrows).
What this told us was that institutions weren't confident with the upcoming news (so they push the price down to grab liquidity and better price before it can go up).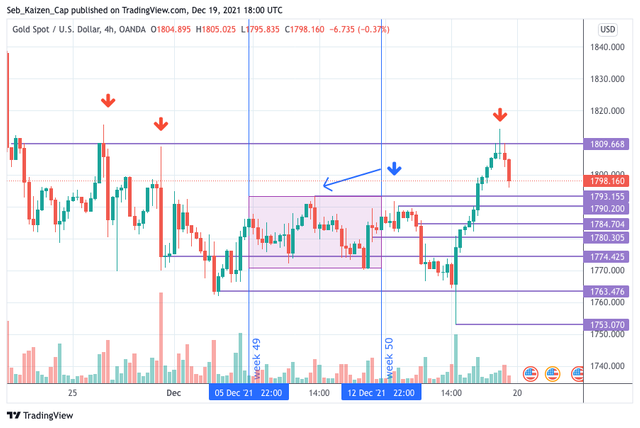 So for 3 days #gold pushed down to a major support , so by Wednesday we had a major downside (sell orders activated) and this gave the perfect opportunity to squeeze those sells and create support on the previous zone.
That gave us the signal that price was ready to reverse. (Remember news and how gold reacts to a weakened dollar).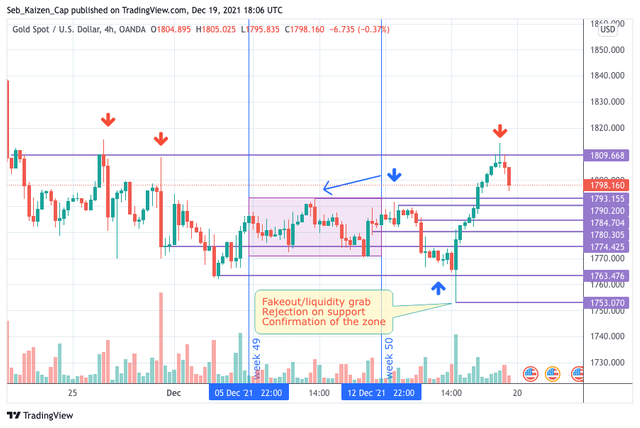 And for the rest of the week we created a new high.
So look the higher time frame in daily.
Do you see the green arrows on the left?... well this marks us a strong daily support and a reaction would have been expected because price has memory and likes to revisit this interest zones and many would say that it is were institutions place their buy orders.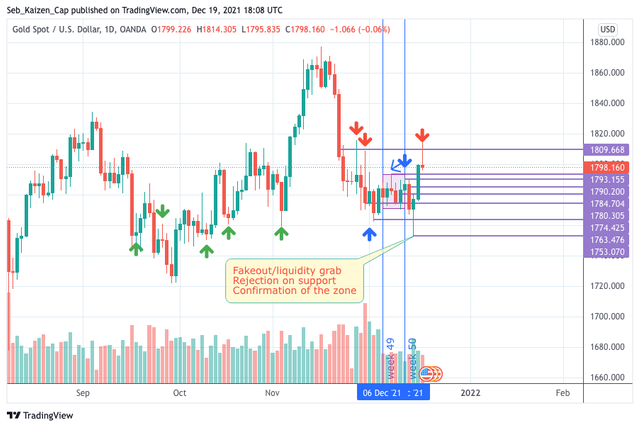 Having that argument clear, let's see how the week closed and behaved against previous weeks.
The first thing is that we closed bullish with a nice rejection wick to the downside.
Now if we look left we can see similar behavior when after a nice bearish period we have a long rejection wick. IMPORTANT I'M NOT SAYING YOU SHOULD BUY GOLD.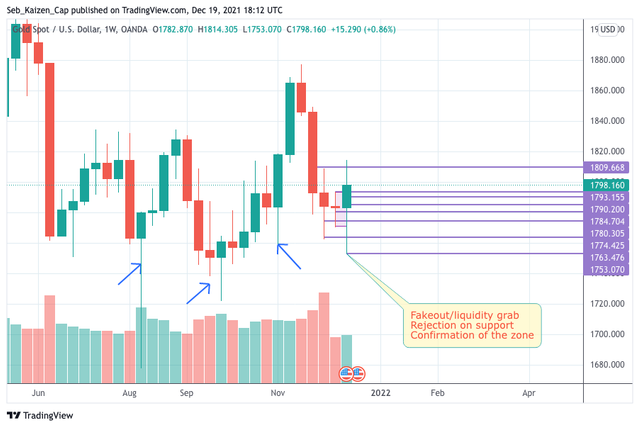 So after we see this, what can we expect now, because we did a higher high, now look at the left and see those wicks. What that means is that we have a zone of interest for price to revisit when the conditions match the market.
So indeed I expect price to revisit that zone, but it could be this week or in 4 weeks when we start a new month and a new year.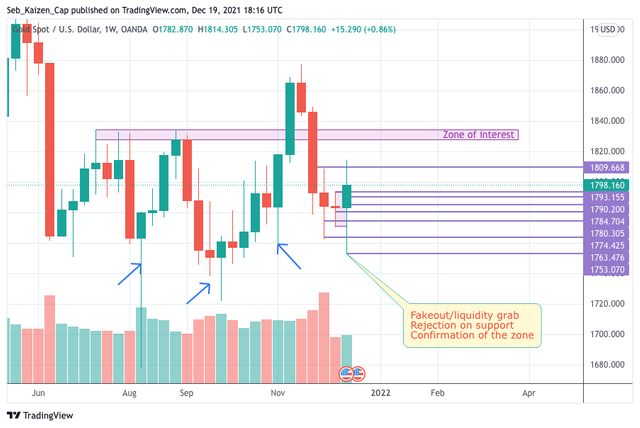 What is sure is that price came from a bearish 3 week pressure, then we had a nice bullish week but also had a nice rejection on the 1812 level.
So that is what we know.
Now what can we expect to happen?
As every week that starts we need a clear direction to go and continuation is expected (unless some news change the direction). And that will create an upper or down wick and with the support/resistance created we can expect the reverse move on price.
So with the above stated, let's return to the 4hr clean chart.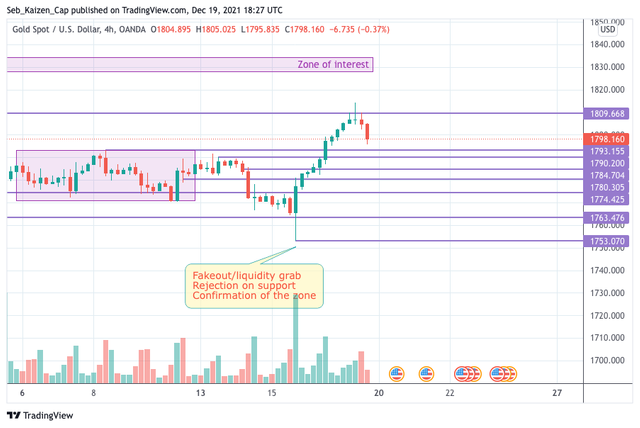 The first thing that we can notice is that the last 8hrs of last week we had the usual profit taking and a bearish move. But we didn't reach the previous resistance to test if it can make a support. Remember the box of consolidation, well, we haven't reached that price to see if there are is any rejection or if we will get back into consolidation zone - and why I expect to return to that zone? Easy... we have Christmas coming and institutions are on holidays and the year is ending.
As always I will highlight in green my bullish expectation and in red my bearish expectation.
Remember that levels are just for noticing zones where reaction is expected, it is not a magic line what will create a resistance or support, PA is what creates them, it is our job to be prepared for those reactions and act accordingly.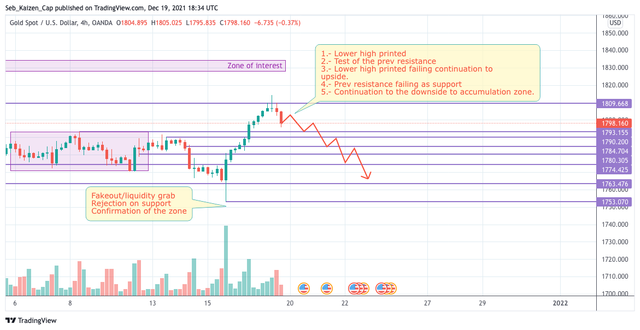 As gold requires more liquidity for continuation I expect a nice pullback into the zone, so we can create the lower wick for the week. Then after support is created with a higher low, we can expect a continuation to the upside.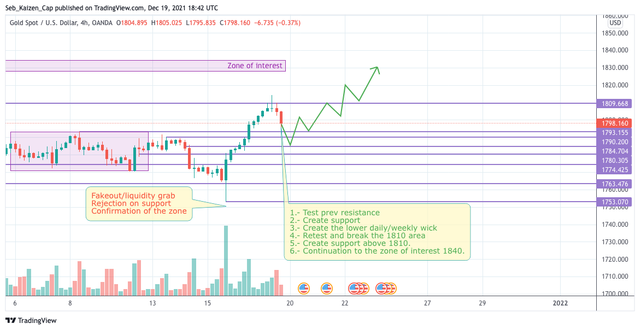 THIS IS NOT FINANCIAL ADVICE OR SUGGESTED TRADE.
DO YOUR OWN RESEARCH.
THIS IS ONLY A JOURNAL FOR MY USE OF MY TRADING IDEAS AND PROVE MY SETUPS.
IMPORTANT!!! ALWAYS USE STOP LOSS AND REMEMBER THAT LEVERAGED MARKETS ARE RISKY AND YOU CAN LOOSE ALL YOUR MONEY. NEVER INVEST WHAT YOU CAN'T AFFORD TO LOOSE.