Hello fellow #steemians
Few days ago I wrote an analysis on #BNB the #Binance coin - For those who doesn't know what Binance is, it is a crypto exchange, and if you are on Steemit you know what crypto is LOL!
If you plan to join, please support with my affiliation link
https://accounts.binance.me/en/register?ref=17380007
The previous posts are here -
Post 1
https://steemit.com/hive-119463/@mycryptostalker/bnb-broke-resistance-what-s-next-11-03-2021
Post 2
https://steemit.com/hive-119463/@mycryptostalker/bnb-broke-resistance-follow-up-11-05-2021
So now... If you've read the previous posts (which I recommend) this is what we can expect for next week.
This is the weekly chart, and as you can see on the left we are at the zone in which candle body ends. So today in a few hours (6.5hrs) when weekly candle closes we will see if this weekly candle closes above or below previous bodies.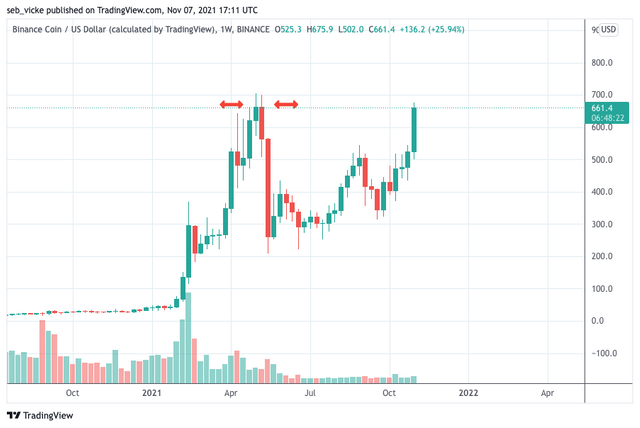 As stated in previous posts, there is no linear increment in price, and we move in waves.
Can you tell me what you see in all candles?... wicks, there's always wicks (only in lower time frames when price moves really fast we don't see wicks, but in higher time frames which cut the noise, we se wicks)
Now look at the grey lines, these are weekly areas of price interest.
And as a new week will start, there are things that can happen.
If we are going to continue going up what I would expect on the next 2-3 days (Monday till Wednesday) is a pull back so the wick on the weekly candle can be created and a higher low (support) is created for the impulse up.
Something like this, a 50% retracement or pullback on the candle is not badly seen in an upwards run, but a .618 on fib might be more accurate and a good buy zone (FOR ME, THIS IS NOT FINANCIAL ADVICE OF BUYING RECOMMENDATION).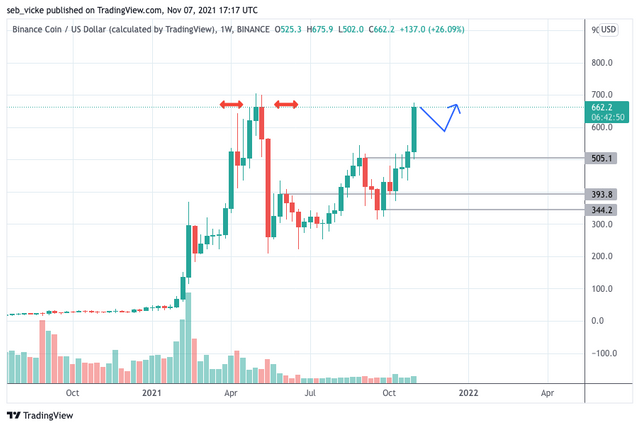 Now if we look at the monthly chart what we can observe is that right now price is well above the previous monthly body candles and with barely 7 days of the month we had a nice upside move. But as you can see on the previous price action, as we had that great monthly green candle, after a wick was created, the next monthly candle was big bearish candle. SO THAT IS WHY YOU NEED TO HAVE CONFIRMATIONS FOR THE CONTINUATION OF THE MOVE FOR THE PRICE.
There is nothing that will assure us that price will continue up, in fact this is an interesting zone for having some nice shorts if price is going to test the $500 USD area for creating support.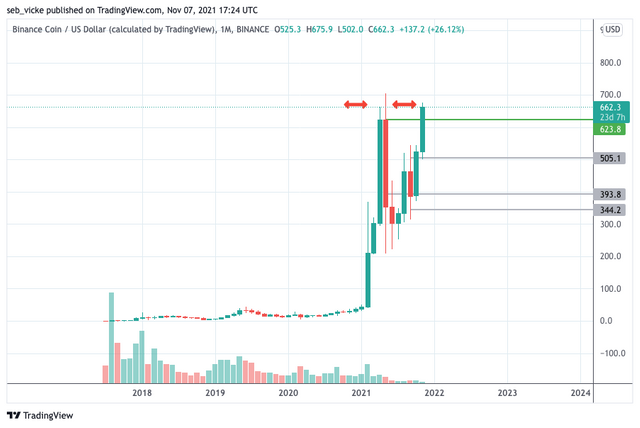 Now after analyzing the monthly and weekly chart, and that in fact on the higher time frames we have a bullish momentum we will take a look to the daily chart.
AS A NEW WEEK WILL START -
If we see the price action on the left, we are right now in a zone that is really messy, and I don't want to be in a trade when there is no clear direction to where the price will go.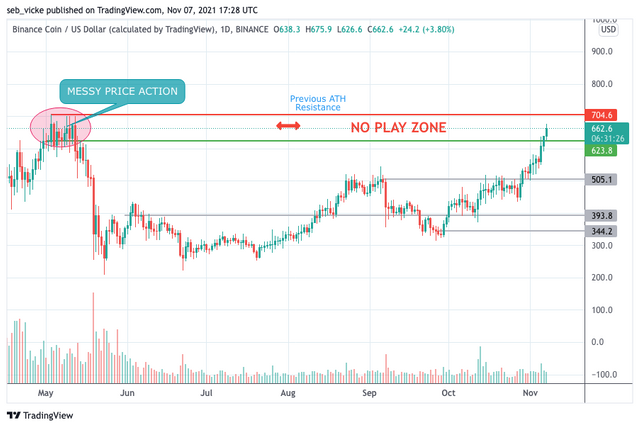 BULLISH SCENARIO -
For a bullish continuation I would expect a pullback on the first days of the week, see that a support is created, seeing that previous resistance is broken an a new target and a new ATH created.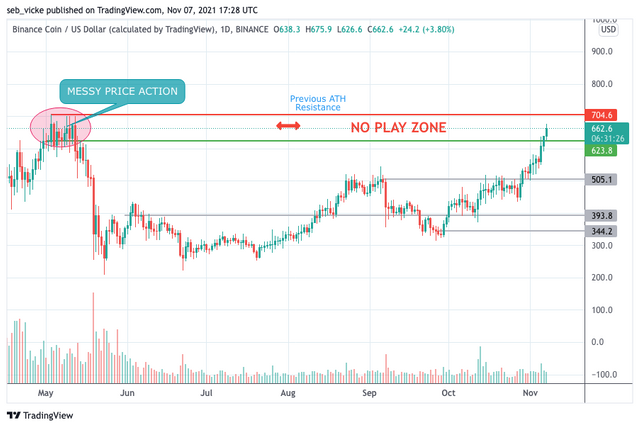 My entry can be on the 4hr chart but confirmation is needed and tight stop loss is required.
(I WON'T BE PLAYING THIS ZONE UNTIL I SEE A STRONG SUPPORT AND CONTINUATION TO THE UPSIDE).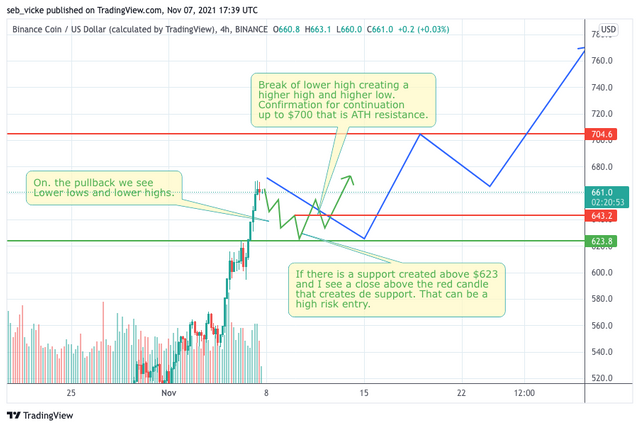 BEARISH SCENARIO -
THERE ARE NO SELLS FOR ME AT THE MOMENT. WE CAN ONLY SEE THAT A WEEKLY PULLBACK IS NEEDED, BUT THERE ARE NO CONFIRMATION FOR SELLS.
If we break the $600 USD area, we can have a deeper pullback to the $500 USD area, but as the higher time frames are bullish, it can turn around any moment, so sells are a risky play that need experience and a tight risk management. Playing only on the lower time frames. NOT FOR NEWBIES !
If something interesting happens with the weekly open I will post an update.
If you would like an analysis on any other coin or asset, please say it in the comments. ENGAGE AND ASK QUESTIONS!.
Please upvote, resteem and share!
If you plan to join, please support with my affiliation link
https://accounts.binance.me/en/register?ref=17380007