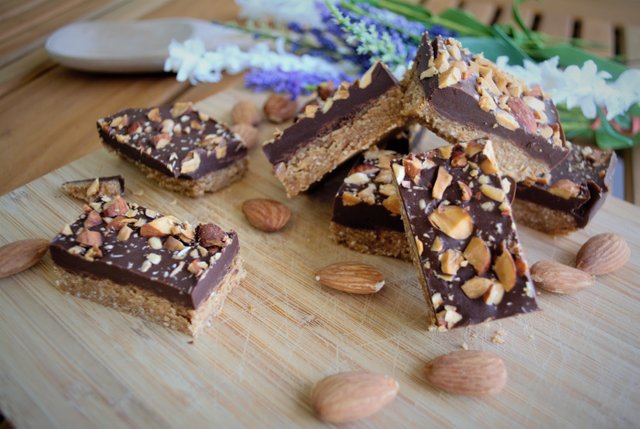 Salutations my Foodie friends!

I know I'm a day early but I just couldn't help myself! My, my the food has been flying around the Bird's nest this week! Between Super Bowl celebrations and prepping for an exciting upcoming family visit, we've been busy! In fact posting on Steemit has had to take a back seat lately in order to get everything in order. But….today is (almost) Friday and you know what that means! Yep @foodfightfriday! I didn't want to let my food fightin' friends celebrate the day without a little bit of Bird food so I hope you'll enjoy this tiny glimpse of Bird prep!


But first…


we must begin the week with a cold dose of Liquid Sunshine! Beets (of course), cucumbers, blueberries, spinach and carrots! Hello fresh fruits and veggies!

---
Celebrating the Super Bowl with friends was fun this year. Mr. Bird is a big Kansas City Chiefs fan so the game was definitely bittersweet. He spent time as a child in Kansas City and as we all know the Chiefs had had quite a dry spell between Super Bowls. Donning his favorite red shirt he was ready for the big game.
---
Cheesy baked Potato skins…
have always been a Bird family favorite but this year I decided to try making "bite size" skins. Do you ever have those ideas that sound so fun but when you actually get into the process you ask yourself
why did I do this?
Well, I bought mini red white and blue potatoes, fun right? After bakeing them I proceeded to take the potato center out which was crazy! They were hot and so tiny! With only a few burns I managed to whip them into Super Bowl shape! Adding a little dairy free butter, chipotle powder, crispy bacon and topped with shredded cheese they were ready for the oven!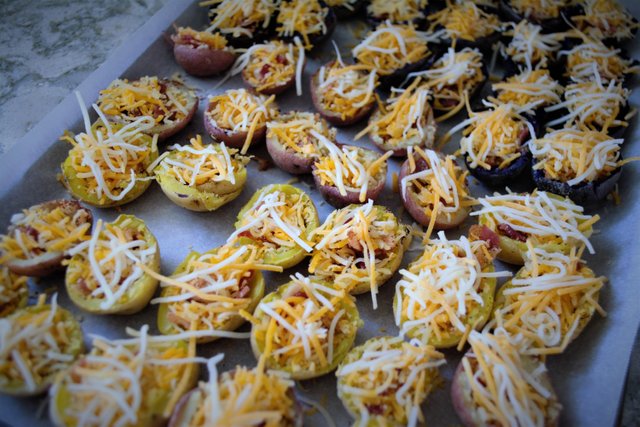 Just in time!
Topped with sour cream and a side of Bird Salsa we were soon off to the celebration! Needless to say they didn't last long.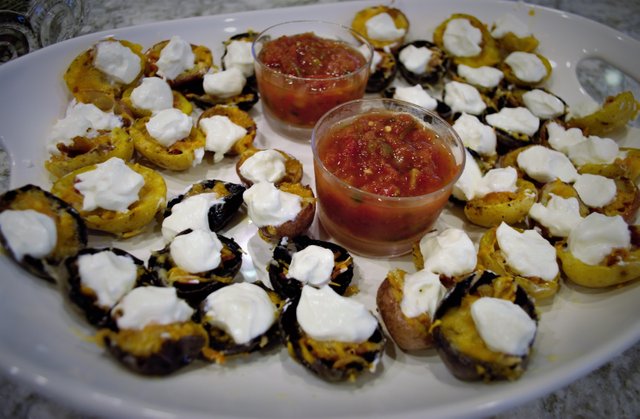 Mangoes galore…
they're everywhere! Quite popular with my son-in-law I thought I would make Mango Kombucha for their visit. After fermenting for a week, I juiced a couple of Mangoes and oranges, now they'll ferment a couple more days to add a little zip! Ready for their arrival!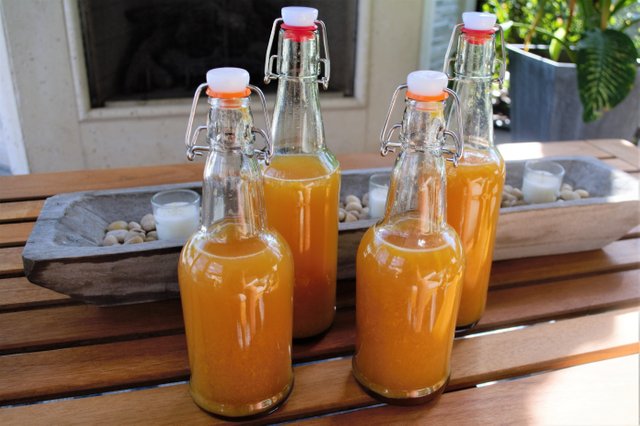 But of course, there must be Chocolate…
What would a Bird family gathering be without chocolate! But hey, these Chocolate almond bars are made with 5 simple ingredients and they're grain and gluten free! Perfect for my family and I whipped these up in no time! The base consists of 1 cup Organic Almond butter, ½ cup Coconut Flour and ¼ Maple syrup mixed together and pressed into a parchment lined baking dish.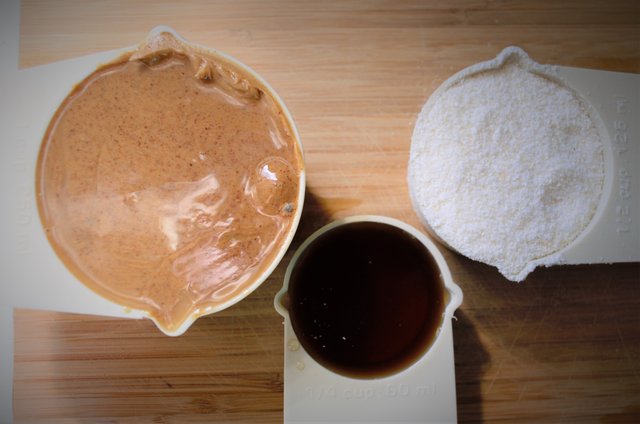 Melted chocolate…
Chips (1 cup) mixed with ½ cup Almond butter, poured over the base, oh my!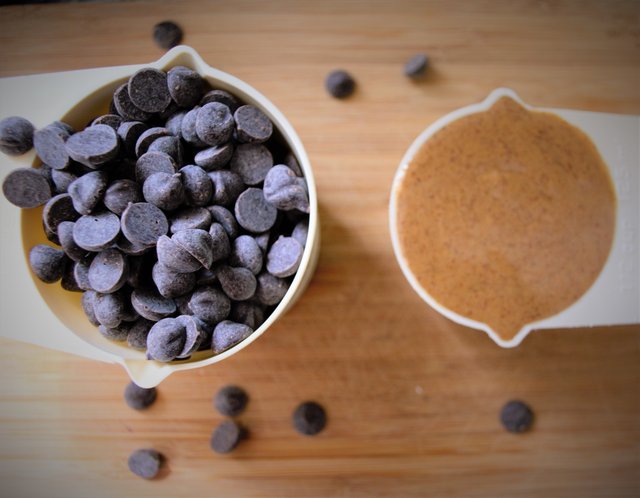 Toasted and chopped
fresh almonds topped this treat off perfectly. Pop them into the refrigerator until they're firm and enjoy!
I knew the freezer would be the only safe place for these goodies.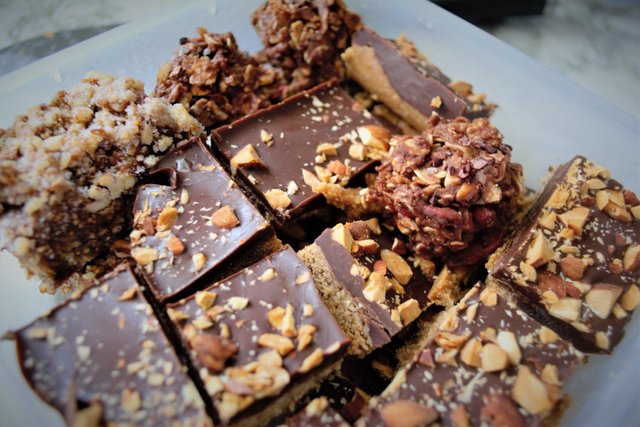 Perhaps just one taste?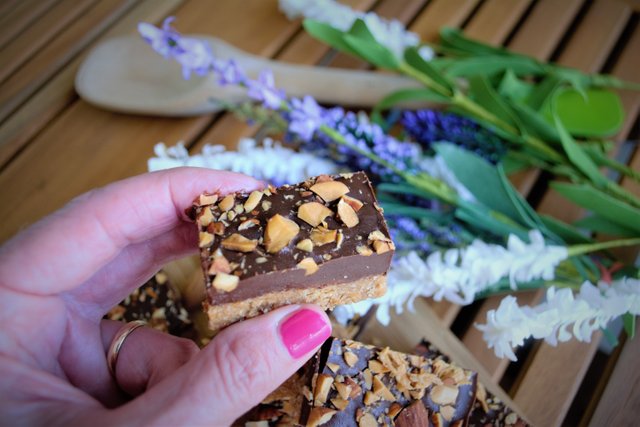 ---
Such a fun week! Super bowl happiness for Mr. Bird with lots of tasty treats as well. I'm not sure these treats will make it until my daughter arrives but at least they're quick and easy to make! I want to give a big thanks to @jlsplatts, @dandays and @idg for hosting and sponsoring the weekly #fff food fest! If you haven't checked it out you must! You'll meet Steemians bringing their food from all around the world! It's amazing! I'm so glad you stopped by!
---
And as always, blessings to you all!
---

---

---

---