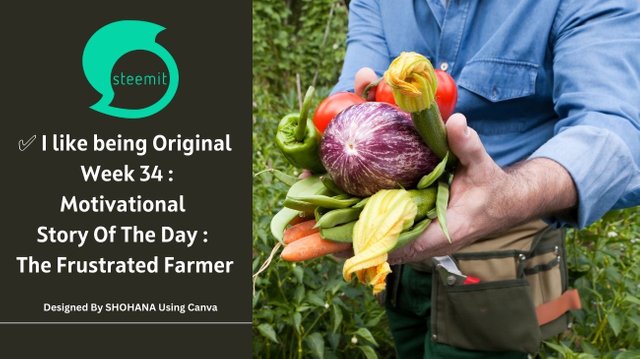 Source: canva
Motivational Story Of The Day : The Frustrated Farmer
Once there was a farmer who lived in a village. He was happy in life and got married when cut crops for big profit. After a year he got child. Everything was going fine and the farmer was thankful to almighty for having such blessed life. One day he decide to enlarge his business so he took loan from the bank. Everything was going good according to the plan. Now the famer has three children with a wife. Indeed a happy family.
Troubles or disasters never knock our door before come. Once for continuous rain for a week causes flood. All crops in the field got flooded and ruined. By the grace of almighty the farmer with kids rescued from the flooded zone but there was trouble of foods and pure water. After few months the flooded areas start getting normal but the loss was huge. The farmer was not considered by bank and he was in debt.
One day the farmer decide to commit suicide because he got frustrated as he had family responsibilities and also need to pay back a high amount of loan in the bank. He was sitting beside the river bank and crying before committing suicide. Suddenly he saw a frog was trying to rescued his frog friends from the overflow of water and he start observing the frog. He saw the frog rescued one by one his friends by holding a branch of plant in the river bank. The amazing fact was the frog recued all his friends frog and at the end his friends pull up the frog who rescued them.
The farmer got motivated from these frogs and cancel the plan of suicide and came back home. He told his family to get ready to go to the city. He escaped from the land he was living and the land go under the bank as he was in debt. He went to city with family almost empty hand and he start doing day labour to bear his family expenses. He gave proper education to his three children and they become officers of different government sectors. One of them became bank officer who mostly sanction loans.
One day the farmer was sharing his story with his grand children that what he had learn from the frog when he went to river bank to commit suicide. He learned that quitting is not a solution but fighting for life can be a good decision. He saw how a frog rescued the life of his friends and those friends also rescued him from the death. He got inspired from the frog and tried to be like the helpful frog for his children and today the farmer's children helped him back like the friends frog of the frog. Today his banker son payback his all debt and get back the land he lost for taking bank loans. If that day the farmer committed suicide his family never can be in the good position as they reached today.
The farmer's grandchildren also understand the moral of the story and got inspired from the story. The farmer became a real life hero or fighter as he didn't give up and bravely deal with the bad time came to his life. After observing the incident of frog's life, he never ever get frustrated in life and today he is 62 years old, he believes that he is still living a blessed life for his positive attitude towards the journey of life.

Thanks For Reading
---
Would like to invite users @shahariar1 @ikmalhariamuna @ternuritajessi @jyoti-thelight @lavanyalakshman @rasel72 to take part in this superb contest or opportunity.
You can find more contest details here: Contest Announcement By my favorite community @colombiaoriginal Thanks to dear community leaders of @colombiaoriginal for arranging such awesome contest. I wish all participants best of luck.
---
A #steemexclusive Blog Written By @shohana1