Hola qué tal queridas comunidad, hoy un día especial de mucha alegría y también un día un poco sensible, las razones de alegría son porque mi mamá está de cumpleaños número 52, doy gracias a dios por tenerla en mi vida, también es un día sensible, porque mi mamá fue operada hace como un año y medio de un tumor cerebral, y desde ese día su vida ha cambiado, depende ahora de mi en muchos sentidos para hacer sus actividades cotidianas y sufre de síntomas como mareos, vómitos, visión borrosa, entre otros, producto de las secuelas de esa operación.
Esto hace que como ella está constantemente en una rutina diaria viviendo con sus malestares y sin poder ser independiente, ella los días como lo es su cumpleaños está sensible, con ganas de llorar a millón, porque es una vida difícil. Hoy me levanté y lo primero que hice fue darle una abrazo, y decirle lo mucho que la quiero, deseándole puras cosas buenas en su cumpleaños.
Hello, how are you dear community, today is a special day of great joy and also a somewhat sensitive day, the reasons for joy are because my mother is celebrating her 52nd birthday, I thank God for having her in my life, it is also a sensitive day , because my mother underwent surgery about a year and a half ago for a brain tumor, and since that day her life has changed, she now depends on me in many ways to do her daily activities and suffers from symptoms such as dizziness, vomiting, blurred vision, among others, as a result of the aftermath of that operation.
This means that since she is constantly in a daily routine living with her discomforts and without being able to be independent, she is sensitive on days like her birthday, wanting to cry a million times, because it is a difficult life. Today I got up and the first thing I did was give her a hug, and say how much I love her, wishing her nothing but good things on her birthday.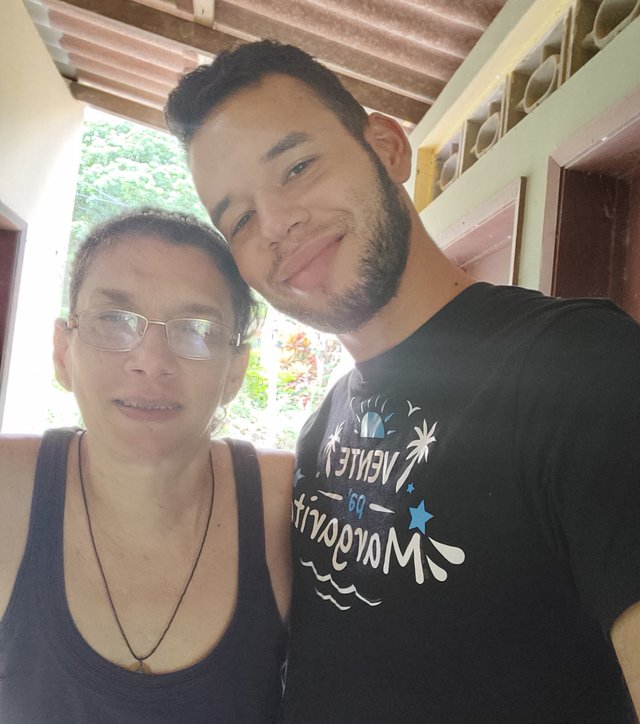 Con mi madre cuando me levante
El día anterior me había comunicado con mi hermana, para poder hacerle una torta a mi mamá, y también comprar algunas chucherías, y así organizar un pequeño compartir por su cumpleaños con algunos familiares cercanos y queridos.
Es por eso que mi hermana en la mañana se vino a la casa, venía con mi sobrina y aparte traía la torta.
The day before I had communicated with my sister, to be able to make a cake for my mother, and also buy some trinkets, and thus organize a small sharing for her birthday with some close and dear relatives.
That is why my sister came to the house in the morning, she came with my niece and apart from that she brought the cake.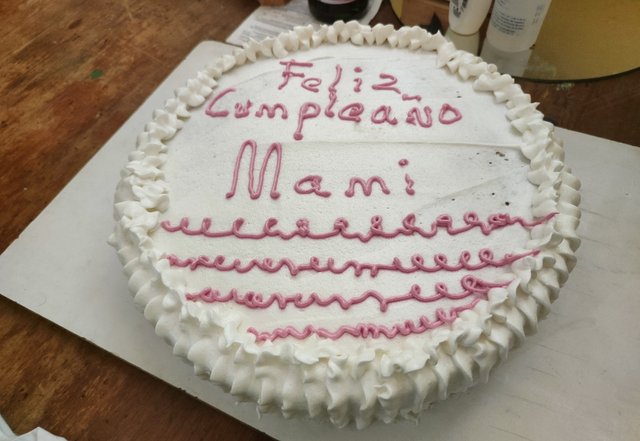 La torta de mi mama
Mientras mi hermana y yo preparábamos algo de comer, además de limpiar un poco la casa, le dimos a mi sobrina para que estuviera un rato con ella. Es increíble últimamente me cuesta para sacarle una sonrisa a mi mamá porque ella siempre se siente mal, pero saben a lo que me refiero sacarle una sonrisa con ganas, pues, gracias al nacimiento de mi sobrina y que ha llegado a nuestras vida, he podido ver solo en esos ratos que está con ella, sonreír un poco más, como ese rayo de esperanza que faltaba, para seguir luchando.
to be with her for a while. It's incredible lately I find it hard to get a smile out of my mom because she always feels bad, but you know what I mean to get a smile out of her with desire, well, thanks to the birth of my niece and that she has come into our lives, I have been able to see only in those moments that he is with her, smile a little more, like that ray of hope that was missing, to continue fighting.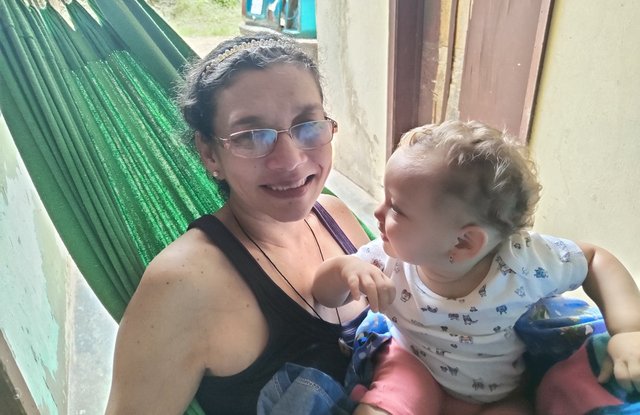 Mi madre y mi sobrina sonriendo
Como solo teníamos la torta, al rato mi papá llegó y decidí salir con el rápidamente para ir a un negocio cercano a comprar algunas bebidas gaseosas y algunas chucherías para repartir y comer en el compartir.
Cuando llegue elegí varias cosas, y me fui a cancelar el costo del producto para así regresar a casa lo más pronto posible.
Since we only had the cake, after a while my dad arrived and I decided to go out with him quickly to go to a nearby business to buy some soft drinks and some trinkets to distribute and eat in the share.
When I arrived I chose several things, and I went to cancel the cost of the product so I could return home as soon as possible.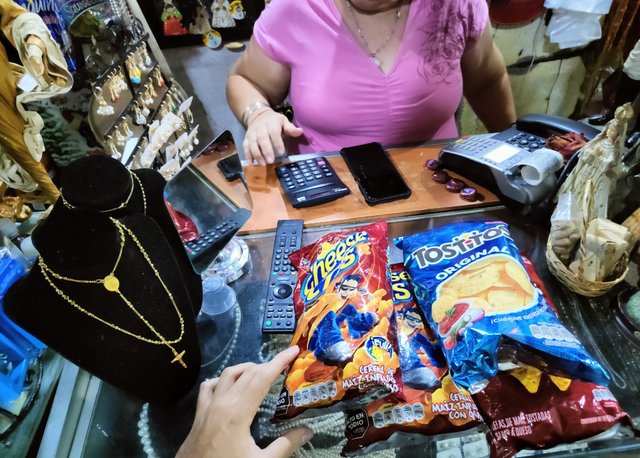 Ya comprando las chucherias
En la tarde de ayer también había llamado a los familiares para que vinieran a compartir un rato con mi mama, y a cantarle cumpleaños. Así que después de comprar las chucherias y la bebida gaseosas, me preparé y recibí a mi familia en la casa, dándole algo se beber y de comer.
Yesterday afternoon I had also called the relatives to come and share some time with my mom, and sing her birthday. So after buying the snacks and soft drinks, I got ready and welcomed my family into the house, giving them something to eat and drink.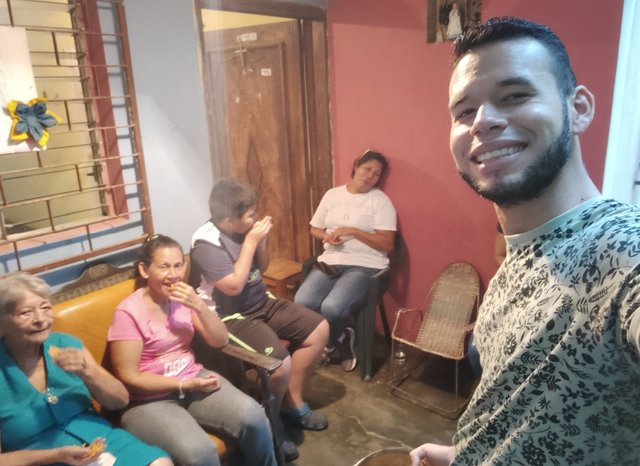 Ya con la familia en la casa compartiendo
Después al rato de compartir, nos dirigimos todos a la sala donde estaba la torta, para así poderle cantar cumpleaños a mi mamá, decidimos tomarnos una foto para el recuerdo, mi padre, mi sobrina, mi hermana y yo.
After a while of sharing, we all went to the room where the cake was, so we could sing my mom's birthday, we decided to take a photo to remember, my father, my niece, my sister and me.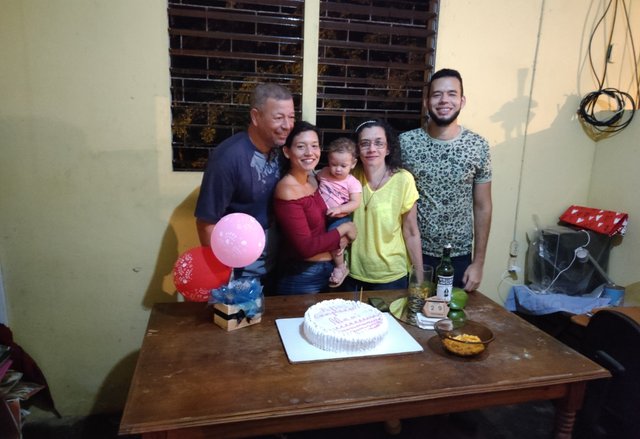 Mis padres, mi hermana, mi sobrina y yo apunto de cantar cumpleaños
Ya después comenzamos a cantar la canción de cumpleaños todos juntos, con alegría, para que Dios conceda los deseos pedidos, y bueno mi mamá una vez que terminamos de cantar el cumpleaños pidió su deseo y apagó las velas.
Afterwards we all started singing the birthday song together, with joy, so that God grants the requested wishes, and well, once we finished singing the birthday, my mom made her wish and blew out the candles.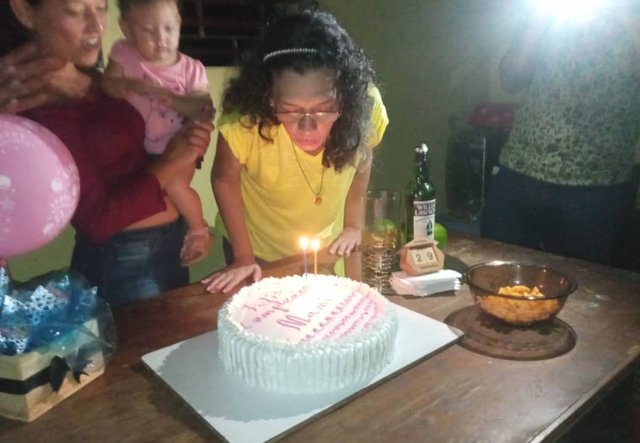 Mi mamá apagando las velas
Entre mi hermana y yo picamos la torta y repartimos a todos para que comiera. Al rato conversamos un rato, y mi familia se empezó a ir, así que nos despedimos y dimos las gracias por venir. Después que se fueron todos, mi mamá me estaba comentando que se sentía muy mal, normalmente nosotros tenemos un balde cerca por si ella le da ganas de vomitar, pero en esta ocasión se nos olvidó tenerlo a la mano, y resulta ser que les dieron ganas de vomitar, mi hermana corrió a buscarlo pero cuando venía mi mamá tuvo que vomitar un poco en el piso porque no aguanto y el resto fue en el balde.
Así que la ayudamos, dándole en la espalda, dándole agua, entre otras cosas y después que terminó yo me fui a limpiar el balde con agua.
My sister and I chopped the cake and distributed it to everyone so that they could eat. After a while we talked for a while, and my family started to leave, so we said goodbye and thanked you for coming. After everyone left, my mom was telling me that she felt very bad, normally we have a bucket nearby in case she wants to throw up, but this time we forgot to have it on hand, and it turns out that they gave them wanted to vomit, my sister ran to look for it but when my mom came she had to vomit a little on the floor because I couldn't stand it and the rest went in the bucket.
So we helped her, hitting her on the back, giving her water, among other things, and after she finished I went to clean the bucket with water.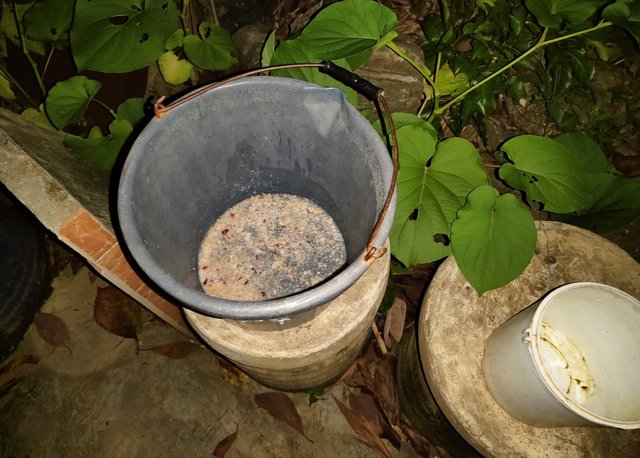 Limpiando el balde donde vómito mi mama
También tuve que buscar el cepillo y algo se agua para limpiar el piso, donde había vomitado también. Así que lo primero que hice fue echarle algo de agua para que corriera para la parte de afuera y pasarle el cepillo.
I also had to look for the brush and some water to clean the floor, where I had also vomited. So the first thing I did was pour some water on it so it would run to the outside and brush it.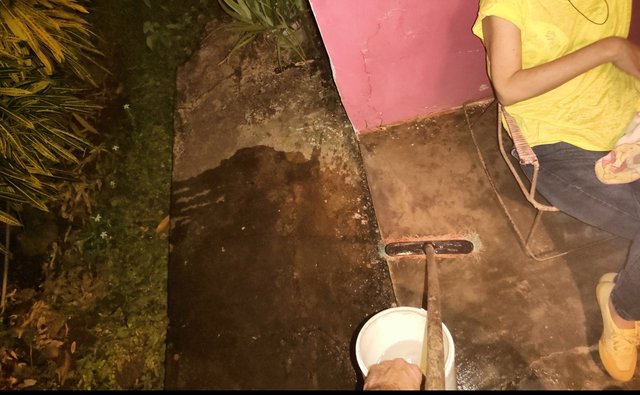 Limpiando el piso
Bueno amigos, así es la vida, con sus altos y bajos, un poco difícil de transitar, yo sé que cada familia o persona tiene sus dificultades pero tenemos que apreciar que estamos vivos a pesar de todo, y yo doy gracias por tener a mi madre con vida, y que el día de hoy haya cumplido un año más de vida.
Muchas gracias por leer, y les envío un abrazo inmenso, saludos gente
Well friends, that's life, with its ups and downs, a little difficult to navigate, I know that each family or person has their difficulties but we have to appreciate that we are alive despite everything, and I give thanks for having me mother alive, and that today has completed another year of life.
Thank you very much for reading, and I send you a huge hug, greetings people