First I want to thank @colombiaoriginal for organizing this contest. I choose the art work called "Café Terrace at night" by Vincent van Gogh for my story.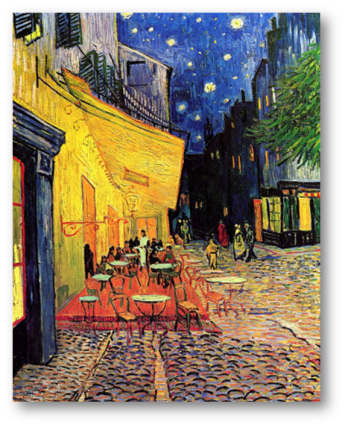 Source

I agreed with him to go to the terrace. This place or this terrace is not a new place for me. He wanted to look at the beauty of the night from there. His words are poetic. His sweet talks are so romantic. But I am not in a mood for his romance. The words he described the night sky was just touching my ears. I didn't hear them exactly. Even if I am here with him, my heart is wait for someone else.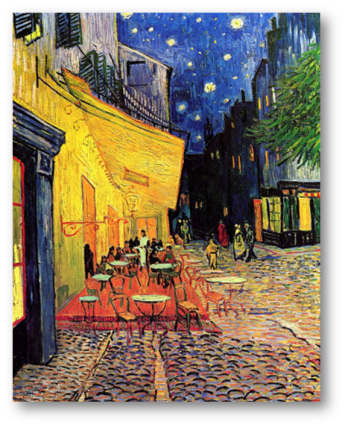 Source
If I say it out loud, everyone will misunderstand me. Who wouldn't? A woman sitting next to a man thinking about another man!! They will say it like that. But no one understand my heart or the heart of the person I am waiting for. No one believes us when we told them, we are not lovers.
They think there cannot be a pure friendship between a man and a woman. Even this man siting next to me.
I know Fin has come to this place at the usual time each weekend even we are not in a good relationship now. But today he is a little late. I will have to listen to my "to be fiancé's" nonsenses romance until Fin comes. Even this man sitting next to me is a good person, I cannot accept him whole heartdly because of this mess I am in.
Fin and I first met at this café, because of someone's coffee got spilled on my frock. From that day we became best friends. When we want to enjoy some free time and when we want to gossip a bit, we came here at the evening. Those little chats made us stay in this terrace till the night gets darker. We were so happy at that time. Clearly, we both didn't had any romantic ideas about each other. But the families mistook it. Everyone mistook it. Everyone thought we were a couple.
When they brought up the marriage, our friendship started to distance. Truly speaking, we wanted to protect each other. I feel that we are still the same people as we were.
Here he comes. I wanted to see him today to tell him, that I will be engaged tomorrow. If he got this news from someone else, it would break his heart because I didn't tell him. There is a girl with Fin. God! don't tell me he found a new best friend. please, I hope that she is his girlfriend, not the best friend. I cannot give up my place as his best friend for someone else. I know that I am caring more about Fin than I do for that to be Fiancé person. I am praying, that he will understand our friendship one day.
All I want is, Fin understanding that our friendship still lives. I wanted to tell him this before I leave this country.

I invite @sandupi and @inshi to participate in this contest.
Thank you for reading💖.