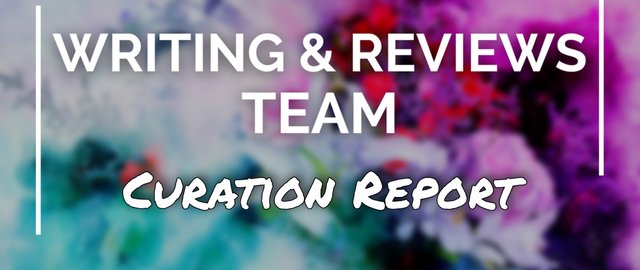 From the Writing & Reviews team we thank you for your effort and dedication to this community. We are extremely happy with your commitment! As of today, our account accumulates a total of 12,529.51 SP. We surpassed our primary goal! We thank each user who has decided to contribute their grain of sand, together we have been able to show that there is no goal or impossible dream. Now our next mark is 15000 SP,
We know we can achieve this by working together!
In the last 10 days we have curated more than 107 posts in 64 different accounts. This makes us very happy, because without a doubt the activity of the members of this community has increased significantly. Our goal is self-sufficiency, and much of it depends on our joint effort to grow our SP in the aforementioned terms.
These data have been extracted from steemworld.org
Thank you for choosing this community to share your content!
You can help our growth Delegating your Steem, if you still do not know about our delegation program, you can click here
Remember to verify yourself as a user, if you have not already done so click here
See you in the next report. Sincerely:
Wrinting & Reviews Team