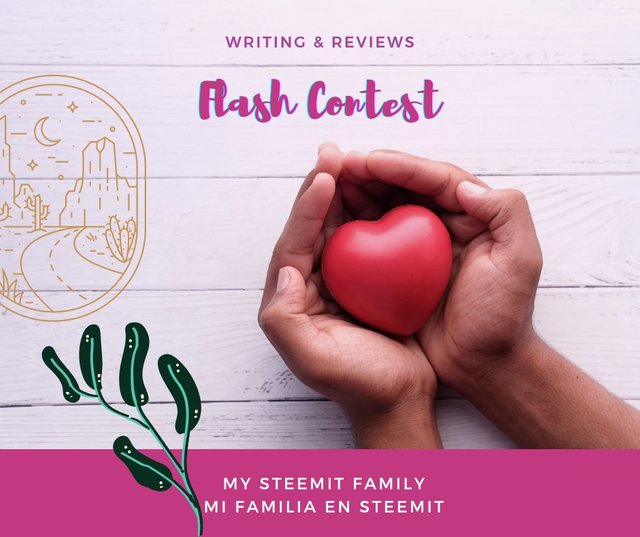 English
We are a big family, and therefore, we must promote the value of friendship, love, empathy, solidarity and coexistence. From the Writing & Reviews team we want to be part of this great process, and that is why we call you to unite in one voice to strengthen the ties between each of us.
The strength is in the joining!
For this we have brought you a very fun contest. To participate, they must mention which Steemit friends are their source of inspiration, or which Steemit users they would like to meet. The idea is to create new friendships, and generate more interaction between each of us. In addition, for this occasion we will ask you to comment on the participations of other users.
The motto is to make friends!
Remember to be very creative ;-)
The rules are as follows:
• We accept publications in any language. Your post must contain a maximum of 250 words.
• Tag 3 friends.
• Share the link of your publication in a comment. We will not take into account entries that are not advertised in this post or that are published in another community.
• You must use the hashtags #betterlife #steemexclusive and #writingnreviews in your publication
• Share your publication on Twitter, tagging @steemit, or on any social network you prefer (you must show proof of it!)
Publications will be accepted until Dicember 03 11:59 p.m. Venezuela time
Awards:
The prizes will be awarded as follows:
• 1st place = 8 STEEM
• 2nd place = 6 STEEM
• 3rd place = 4 STEEM
• 4th place = 2 STEEM
We look forward to your participation! Sincerely,
The Writing & Reviews Team

Español
Somos una gran familia, y por ello, debemos impulsar el valor de la amistad, el amor, la empatía, la solidaridad y la convivencia. Desde el equipo de Writing & Reviews queremos ser parte de este gran proceso, y por eso los llamamos a unirse en una sola voz para fortalecer los lazos entre cada uno de nosotros.
¡En la unión está la fuerza!
Para esto le hemos traído un concurso muy divertido. Para participar, deberán mencionar cuáles son esos amigos de Steemit que son su fuente de inspiración, o a cuáles usuarios de Steemit les gustaría conocer. La idea es crear amistades nuevas, y generar más interacción entre cada uno de nosotros. Además, para esta ocasión les pediremos que comenten las participaciones de otros usuarios.
¡El lema es generar amistades!
Recuerda ser muy creativo ;-)
Las reglas son las siguientes:
• Aceptamos publicaciones en cualquier idioma. Tu posteo deberá contener un máximo de 250 palabras.
• Etiqueta a 3 amigos.
• Comparte el link de tu publicación en un comentario. No tendremos en cuenta las entradas que no se encuentren anunciadas en este posteo o que estén publicadas en otra comunidad.
• Deberás usar las etiquetas #betterlife #steemexclusive y #writingnreviews en tu publicación
• Comparte tu publicación en Twitter, etiquetando a @steemit, o en cualquier red social que prefieras (deberás mostrar prueba de ello!)
Las publicaciones se aceptarán hasta el 03 de Diciembre 11:59 hora de Venezuela
Premios:
Los premios serán dados de la siguiente forma:
• 1er lugar = 8 STEEM
• 2do lugar = 6 STEEM
• 3er lugar = 4 STEEM
• 4to lugar = 2 STEEM
¡Esperamos su participación! Atentamente:
El equipo de Writing & Reviews
Main image was designed with Canva - La imagen principal fue diseñada con Canva