---

ring the angklung
Hi Steemian's Hot news
How ​​was your day? May you all always be happy and excited through your activities. Warm greetings from me @sailawana
On the last day of the Steemit engagement Challenge season 3 week 4 contest, I will again take my share to participate. The contest theme raised by the hot news community team is music makes the world goes round, an interesting theme, because music is a universal language that can unite many people from all over the world.
On this occasion I will also invite my friends to join this contest, let's join @ikwal @dederanggayoni @ngoenyi @malikusman1 @moer @f2i5 @waterjoe. Here's the contest link
When it comes to music, there will be a lot of discussion that can be poured, ranging from various types of music genres, instruments, singers, composers and music players. For that I will narrow the discussion according to the rules of the contest.
1. What Is your best musical instrument/music player ? Can you play it...?
There are many musical instruments in this world and all of them produce beautiful rhythms and tones so that they become harmony and are used in the world of music. But on this occasion I will raise one of the best and unique musical instruments from my country, Indonesia, namely Angklung. This traditional musical instrument has even been designated by UNESCO as part of the world's cultural heritage.
---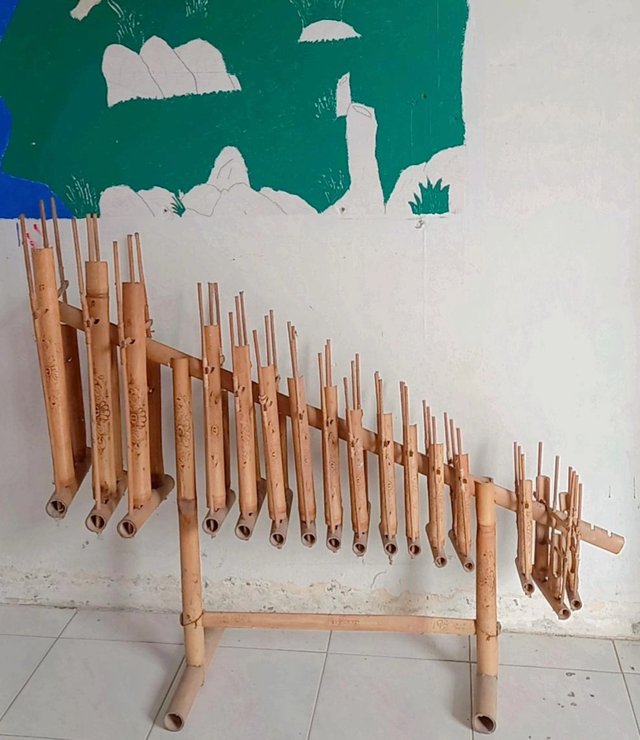 Angklung unique musical instrument
Angklung is a simple musical instrument made of split bamboo and in this musical instrument there are 3 tubes which are part of the angklung itself, namely the base tube, frame tube and sound tube
---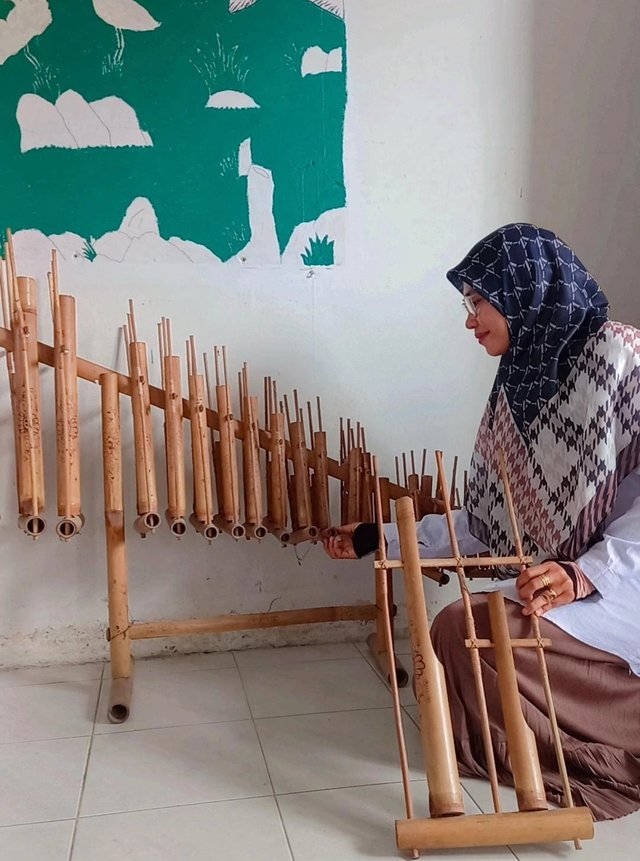 angklung parts
How to play Angklung is very easy, just vibrate it or shake it, and because of that I can play it, although I still have to learn more. However, this musical instrument is not played alone but played in groups and in groups in order to produce a beautiful sound harmonization, this is because 1 angklung only represents one scale
---

angklung with my students
2.Is there an interesting history about your musical instrument/music player?
History angklung is actually a relic of the ancestral heritage of the Indonesian nation originating from West Java (Sunda), this musical instrument is known to have existed since the Padjadjaran kingdom. the goddess of fertility, angklung is also used in religious rituals, besides that angklung is also used as an encouragement for soldiers who will fight at that time
Traditional angklung musical instrument is not only unique but also has a philosophy of life in it where when playing the instrument it is necessary

cooperation, mutual respect and social harmony
3.Why do you like it?
The uniqueness of the angklung musical instrument, starting from the simple shape of the instrument but capable of producing beautiful tones, made me very interested and liked this instrument. Moreover, the process to play this instrument is fairly easy. Even though it turns out that to produce beautiful tonal harmonization it takes cohesiveness when playing it together and this adds to its uniqueness
4.Which music can you play with it..?
Because angklung is a double-pitched musical instrument (multitonal) then angklung can be played by combining it with other musical instruments such as piano, guitar. As for the types of songs that can be performed with angklung, apart from traditional songs, there are also various other types of music that can be performed with angklung, namely, pop, rock, jazz, country music, and many other music genres.
5.Here's a picture display when I ring the angklung
---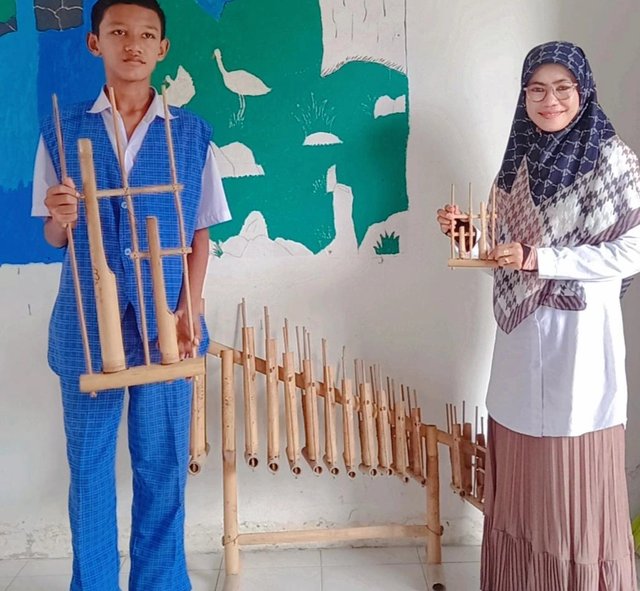 photo when playing the angklung musical instrument
6.If you could make a song for steem what will you call it..?
If I can make a song for steem then I will write the lyrics of the song like this:


dear steem...
you mean so much to me
we have many stories
and I don't want to end up with you
you are my inspiration
you brighten my day
you fill my life
with love
you mean so much to me...
Thus my active participation in participating in the steemit engagement challenge season 3 contest in week 4 and this last day, hopefully participation will be accepted.
Thank you for hotnews friends who have visited and read my post, and provided support and positive comments. May success be with us all
Special mention : @heriadi @radjasalman @alee75 @ubongudofot @fantvwiki
---
Regards,