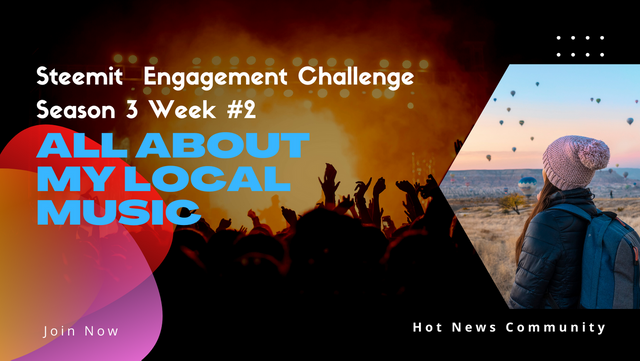 source
Another warm greetings to you all my friends. How are we all doing today? Hope fine. I am joining in the rank of steemians who are participating in the steemit engagement contest of this great community.
The topic for this engagement is All About My Local Music.
Music is very generous to the soul. It helps the mind to calm down during distressing situations. To be candid, I personally enjoy and uses it to relax most at times.
Music also helps to identify a particular country or culture. Just as each country's culture is unique, so is the music enjoyed by its citizens. My country Nigeria, is not different. We also have our own type of local music which is enjoyed by all citizens irrespective of the class, tribe, social status, old and young alike.
I will be using the contest tips to tell you more about our local music.
What type of music is a characteristic of your country that is played or listened to a lot? Describe this.
Nigeria as a country is blessed with different talents. Notable amongst them is musical talents. They are very good in music. Our style of music which is played and enjoyed by all are the hip-hop music and afrobeats. We have very talented musicians who play to delight their audiences. Our hip-hop style is very unique and is being enjoyed extensively all over the world. We have artistes like, Davido, Phyno, Olamide, Wizkid, Tiwa Savage, Yemi Alade, Simi, Don Jazzy and so many others too numerous to mention.
The particular Hip-hop in vogue in Nigeria is the one sang by Kiss Daniel and Tekno. BUGA
Explain the beauty of this music and the reason why this music can attract visitors to listen to it?
Nigerians love Hip-hop a lot. It is an energetic kind of music. Like I earlier said, the papas, mamas, young ones, little children love dancing to the beatings of the music. Each music released in the market in that category in Nigeria comes with a new dance step, which almost all would learn. Additionally, the lyrics are ok for any category of persons. They also have interesting and colorful videos too which attract so many to them.
I will be dropping the YouTube link for the BUGA dance.
Just take some minutes and watch it, you can then see the beauty of our Hip-hop.
Are there any similarities between your local music and other parts of the world?
Well, I will say a little but not much. Things like the bands, instrumentals being used and some.dancing steps may be similar but not the same.
Take for instance Afrobeat, it has its unique drum playing with several other local musical instrument used while playing it.
Check out AFROJUJU* by Shiba Peter. This song was sang far back as 1980's. After watching you will notice that there may be similarities but never the same.
They are unique in every aspect.
Music is good for the soul. It brings back a lost mind and helps one to concentrate. I like to study with low music on the background. It also helps to mange stress, lowering a person blood pressure in the process.
I invite @madilyn02, @fortwis09 and @benson6 to join in this contest.