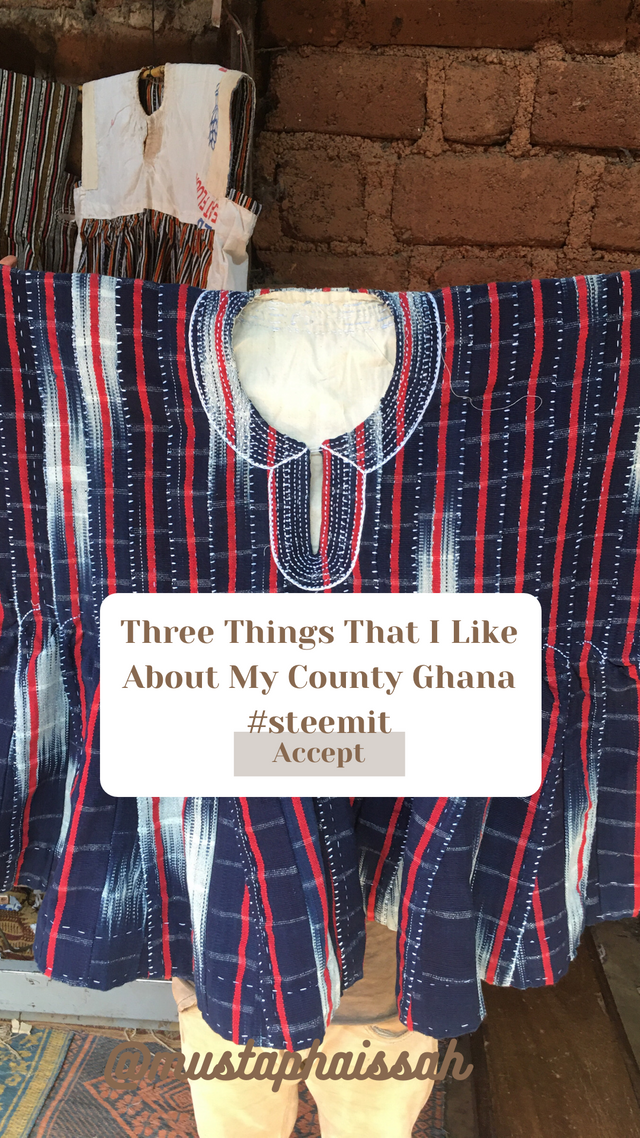 Ghana is the name of the country I reside in. It's in the Western part of the African continent, and it's rich in many natural resources like gold, diamond, timber, manganese etc.
The local dialect if the country is Twi, and there is a lot about the that I like; but for the sake of this contest I mention only three.
To begin with, Ghana is naturally endowed with natural resources. It is rich in Gold, Diamond, Timber, Cocoa, Crude oil etc.
it's main export is Gold, Cocoa and Timber. The British were attracted to the country because of it abundance in Gold, they first colonized us because of our natural resources.
When you come to Ghana, our chiefs wear golden ornaments to show their kingship, and we are proud in it.
The next thing I like about my country Ghana is the beauty of her Culture. Ghana has a lot of cultural dances, music and arts. It's one of the best countries in Africa with culture. Some are; Adowa dance, Barmaya, Nagbiegu etc.
when it come to festivals; we have the Fire festival, Damba festival, the Homowo festival etc. And when m each of the festivals is being played you can't sit, you will get up and move your body, cause it's very enthusiastic. It was first colonized in 1874, and was called Gold Coast because of it richness in Gold, but the British said we knew e nothing of our past. So we provided them thr pop ough drum music, that's one of the best cultures ever.
And the Okomfo Anokye- sword, which he deep in the earth and promised no one can unearth it and till up to date no has removed it.
Ghana is also a county with a good economic standards for business. It is politically stable, good electricity and infrastructure. It's a democratic country which runs it election every 4 years; hence, politically stable. And it also have good water and land. The country where everybody want to do business in.
Thanks to @hive-111293 for this great contest in this great community, kudos to you. And I invit @med.habib and @wanchan to take part in this great contest.