Minnowsupport, in conjunction with the Peace, Abundance, and Liberty Network, has been voting for witnesses with its sizable (1757.36 MV) stake according to these guidelines.
The team at PAL works together to decide what we think is best for the community, and to that end, we are suspending the normal guidelines effective immediately.
This is a notice to all of those who proxy their witness vote to @minnowsupport that we will be removing some votes to approve all the largest community supported witnesses, namely those from 21-51 in rank (pic related).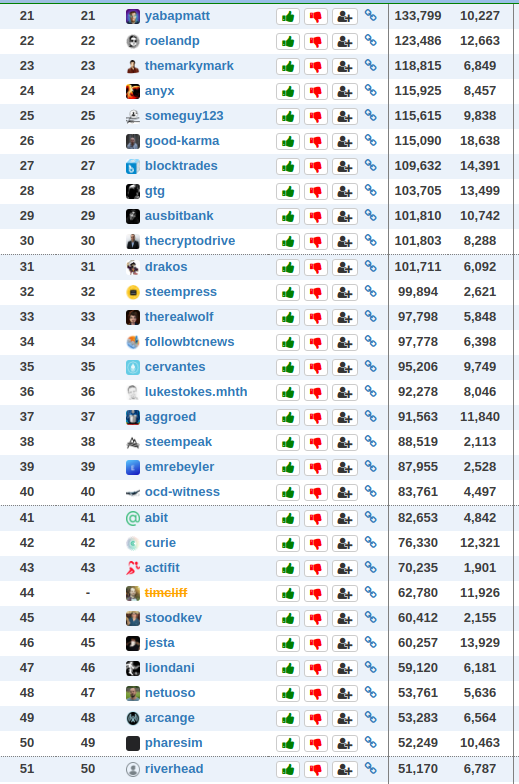 This move transcends chain politics, and is strictly to stand in solidarity with the principles of decentralization and voluntary association that we built our community on. This move alone may not accomplish bringing back our blockchain from centralized hands, but it signals to the world that we're here to make our voice heard, and won't back down in the face of tyranny.
We will be resuming normal voting practices once we feel it is safe, but until then we encourage everyone to follow suit and put a fight with us.
Go to:
https://steempeak.com/me/witnesses
or:
https://steemitwallet.com/~witnesses
and vote witnessew 21-51 (pictured above) for the most effective way of combining our efforts, or use @minnowsupport as a voting proxy by using this link:
https://beta.steemconnect.com/sign/account-witness-proxy?proxy=minnowsupport&approve=1
Setting @minnowsupport as a witness proxy will mirror all witness votes the account makes, even after we revert once this is over, so only do so if you trust in the leadership at PAL.
As a reminder, there will be another public town hall today on @msp-waves at 12pm EST/5pm UTC to discuss where we're at, what can be done, and what the future holds for our chain.
You can join us at http://minnowpond.org/
Hope to see you there.