Greetings to all readers of this great platform, in this opportunity I want to talk a little about the RobiniaSwap project, is a great project where many people are currently participating, which is based on the DeFi, which means that Stake processes are performed in certain tokens established by the platform, with which we will generate interests that represent our earnings in the native token of the platform, in this particular case called RBS.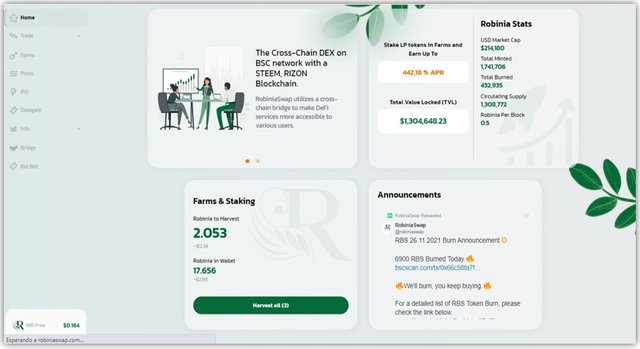 The image used is from Public Domain, Author: PixaBay
---

---
You should always take into consideration the type of tokens that are left in Stake, this is mainly because many of them are not stable currencies in the market, so they can lose their value and affect our capital, but in turn there is the advantage that there are tokens that their market behavior is constant and also the presence of stable currencies to make such investment.
Having defined the type of investment we want to make and the tokens we plan to acquire, it is time to begin the process of Stake which will generate interest in the native currency of the platform called RBS, this token can also be invested in the process of the pool to make Stake and generate even more interest.
Many who are just getting to know the project, may say that the cost of the currency is very low and will generate few resources, that is where several factors come into play, mainly by making a high investment in a good token that generates a high % APR, it is possible to acquire many RBS tokens, and with this generate a significant amount of income.
On the other hand, the market value of the RBS has remained steadily in an accumulation zone for some time, that is to say that its value has remained in a price range accumulating new investors and strengthening its economy to then generate a momentum in the market that leads it to have a high price the RBS token.
---

---
If you make a review on the RBS token, you will realize that there is this accumulation zone and also the token has a good price for investment as well as for the accumulation of the same, this being the ideal time to accumulate our token and make investments waiting for the rise in price, thus achieving a good profit margin by investing in a project that has proven to have a stable economy with a currency in an accumulation zone, thanks for reading my article, I hope you like it.
---

---
---

---
All the images used by the Author @Chucho27 are Public Domain, in each one of them you can find the source of the image.
The image of the Banner at the bottom, is in the public domain obtained from: PixaBay