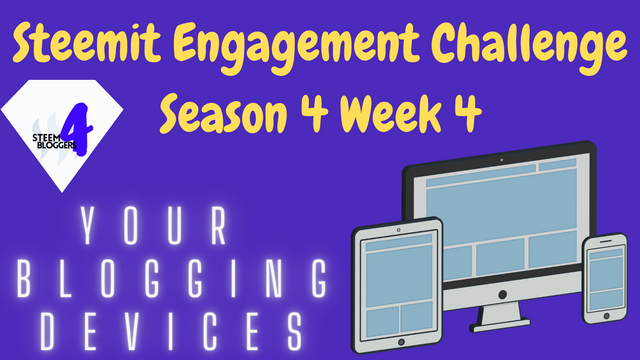 Created On Canva
---
Hello dear steemians, we have quickly arrived at the fourth but last week of the 4th season of the Steemit Engagement Challenge, I hope so far, you guys have had a very good experience and fun participating in contests organized in our community. We also hope you people learned a lot through the various contests themes. For this, we want you to leave your comments to improve our content subsequently for the benefit of all because we work tirelessly for the benefit everyone who always fine interest in our contests
---
---
CONTEST THEME
---
---
We use our mobile devices or computers in carrying out most of our daily activities and these technological devices are of utmost Importance to us because of how they may help us in one way or the other. We browse and visit steemit platform more frequently using these devices most frequently.
Some people are much satisfied with their working devices while others aren't because they may definitely want changes like upgrading them. Some people prefer using mobile devices to browse on steemit than computer.
In this Contest organize today, we want to know more about your blogging devices through the various questions stated below.
---
---
What Is Expected
---
---
Share with us the company and model of your mobile phone including the price and how long you have been using this mobile phone?

Are you satisfied with the working system of this mobile phone or you want to change it?Share your preferred device with us.

Which device do you use for blogging on Steemit? A computer or a mobile phone or both? Please share with us.
How many telecommunication service providers (Sim Networks) are present at your country? Which of this providers is best in connecting to the internet using your device?

What is the importance of your mobile phone on your daily life activities?
We hope to receive wonderful entries from all the participants.
---
---
IMPORTANT RULES FOR THIS CONTEST
---
---
Post must be unique and more than 350 words.

User must be bit bot free and verified.

Your post should be titled "Steemit Engagement Challenge | S4W4 | All About Your Blogging Devices ".
Plagiarism of any kind will not be tolerated, and anyone caught doing so will be disqualified from the contest.
Subscribe Steem4Bloggers community and Invite 3 of your friends to participate in the contest.
Please Resteem this post and leave your entry link in the comment section of this post.
The community moderators would be leaving quality assessments on your articles and probable upvotes.

The participation time is between Monday, August 19th, 2022, 00:00 UTC to Sunday, August 25th, 2022, 23:59 UTC.
---
---
• Sc01/Sc02 would be checking on the entire 7 participating communities and upvoting outstanding content. But It should be noted that up-votes are not guaranteed for all articles.
• At the end of the week, we would nominate top 3 users that had performed well in the contest and they would be eligible for votes from SC01/SC02.
How We Select Our Winners
The nomination of top 3 users in our community is not usually based on good grades only, it's base on their general engagements which includes both quality and quantity interactions with other users' articles. All this measures the overall performance before a winner is selected in our community. So I urge everyone to engage into others posts living meaningful comments because we shall not count comments which are not meaningful
---
OUR POST CHECKING TECHNIQUE
---
---
Dear @username, thank you for sharing your Quality Blog with our community in the Season 4 Week 04. Your Post Information has been given below:
---
| Period | Last _ Month |
| --- | --- |
| Power Up | xxx STEEM |
| Transferred Out | xxx STEEM |
---
| Valid Comments | xxx |
| --- | --- |
| Total Votes | xyz |
| Voting CSI | ...... |
---
---
---
---
STEEM4BLOGGERS TEAM
---
---
---

Please vote for our witness @stmpak.wit
---
https://steemlogin.com/sign/account-witness-vote?witness=stmpak.wit&approve=1
OR
https://steemitwallet.com/~witnesses

Contest Organizer @chiabertrand.
Best Regards;
Steem4Bloggers Team
We look forward to your participation and wish you many success in the contest.