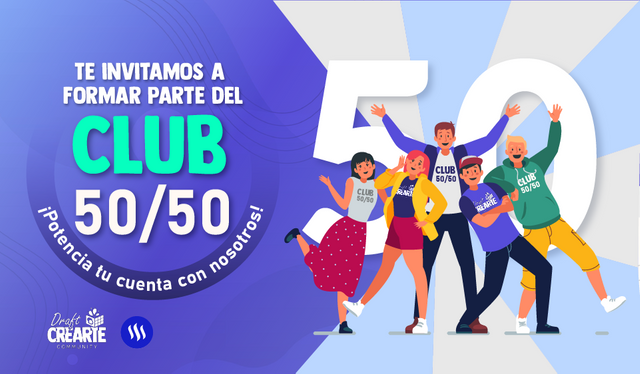 Hello creatives, we bring you a post whose purpose is to invite you to participate in the # club5050 proposed by steemitblog in order to motivate users committed to the platform to turn on a specific percentage of their earnings.
Previously, the DraftCrearte community had already implemented a badge system based on the percentage each member earned at power-up. Well, the 50/50 club is something similar, only we will take 50%.
What does it consist of club5050 ?
Their goal is to constantly support users who decide to convert 50% of their SBD earnings into Steem Power.
The explanation of this procedure is simpler than it seems when we talk about percentages and votes.
Let's say the votes you got in one week add up to 10 SBDs (Steem-based dollars). Like any user who has joined the platform, decide to benefit from it.
Let's see the case that you want to remove 5SBD from the platform, what you have to do to join the club is that when you go to get the 5SBD you must take the same amount that you are going to withdraw from steemit and use it on power to boost your account (turn on ).
Transform 10SBD to Steem and you will divide the amount of steem by 2. The 50% of those Steem you are going to turn them on in power up and the other 50% you can remove it from the platform. Once this is done, the next post you are going to make is going to use the tag # club5050 within your first 5 tags.
Profits:
More than just a chance to get votes from curators, it's a great way to boost our accounts to have more influence on the platform. Increasing our voting power is one of the objectives of users who want to create a sustainable future on the platform.
Grow your Steem Power.
Increase the votes in favor.
You create an investment system in your account.
Increase your influence.
You get profit.
Unique Club50 / 50 Badge System
What will we do with the badges system in DraftCrearte, to support this new project. We will use a unique Power Up badge for members who choose to join the 50/50 club. Thus, curators entering the community can quickly identify club members.
Rules for earning badges
Become a verified DraftCrearte member
You must be an active member in DraftCRearte (make at least two weekly posts)
Turn on 50% of your profit each week, otherwise the badge will be removed.
PowerDown is not allowed.
Buying auto-votes is not allowed
Voting is not guaranteed, therefore the requirement of votes is prohibited.
If you have not increased your earnings, please do not use the tag in your posts as it will be muted.
IMPORTANT NOTE: If you have made a Power Up of 50 of your earnings in the last 7 days, you must place in the comments of this publication club50 / 50, and in your publications of the week the label #club5050
---
Our vision as members of DraftCrearte is to increase our voting power to support each other. More than a community of creative people we are a great family and as a family we support each other, it is satisfactory to leave a positive vote to a person and that this vote has value. We can grow as a unit and take advantage of it together.
---
---
Let's work together to boost STEEM!.
---
---
Are you new and would like to join the community? Visit the following post for more details.
https://steemit.com/hive-109427/@crearte/updated-getting-started-in-the-draftcrearte-community-or-general-rules
Links to support our DraftCrearte community via SP.
Social Media: