Amigos de la propuesta de @solperez para la semana #11 en Arte y escritura.
Si quieren formar parte puedes entrar a esta propuesta en la comunidad #VenezolanosSteem.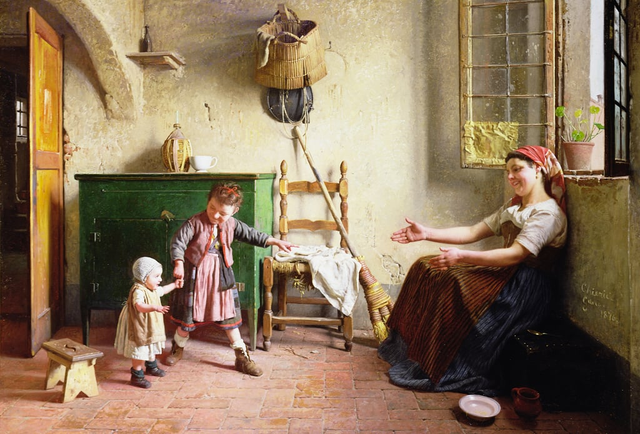 Acudo en tono reflexivo a atender el llamado de @solperez después de mi ausencia de la semana pasada.
Y es que la pintura de Gaetano Chierici, con sus temas infantiles, me conecta con el momento que estoy viviendo.
Este pintor realista hizo prácticamente una fotografía en sus pinturas, y un manuscrito histórico donde podemos observar cómo era la realidad en aquellos tiempos.
Hoy nuestra realidad es diferente. No me refiero a la forma de vestir, a la falta de higiene, a las carencias propias de la época.
Hablo del desorden social, económico y político que afecta nuestro entorno.
A nivel mundial estamos inmersos en una absoluta confusión que afectará a futuras generaciones solo por intentar alcanzar objetivos propios.
La semana pasada nació mi nieto, la llegada de un niño a casa es una alegría inmensa. Sientes que no puedes con tanto amor y esto se refleja en la pintura que he escogido para hoy.
En "Los primeros pasos" se observa la cara emocionada de la madre al ver a su hija alcanzar un logro.
Nacer, venir a este mundo convulsionado y caótico ya es un logro.
Observo el diminuto rostro de mi nieto, sus expresiones, sus actos reflejos transformados en sonrisa o en muecas de tristeza.
Entonces no puedo menos que pensar… ¿Cómo será su vida?
Nos acostumbramos a ver con naturalidad el nacimiento de un nuevo bebé y en realidad nada hay más natural que ese momento, pero cuando adquieres la edad de la experiencia, ha pasado una vida y has visto las inconsistencias de este mundo, no puedes menos que plantearte miles de preguntas.
Quizás la madre de la pintura al ver a su hija dar los primeros pasos habrá pensado, ¿Adónde la guiarán? ¿Cuál será su camino? ¿Tendrá siempre una mano amiga cuando yo no esté?
No pude menos que relacionar esta pintura al momento que vivo, al futuro de mi nieto, y de tantos bebés que están llegando para transformar este tortuoso proceso al que llamamos vida.
Es posible que noten que estoy un poco alicaída, pero a esto hay que sumarle la pandemia que afecta a todos y que entró en casa junto a mi nieto, esta es nuestra nueva realidad y hay que aprender a vivir con ella.


Friends of @solperez's proposal for week #11 in Art & Writing.
If you want to be part you can enter this proposal in the #VenezolanosSteem community.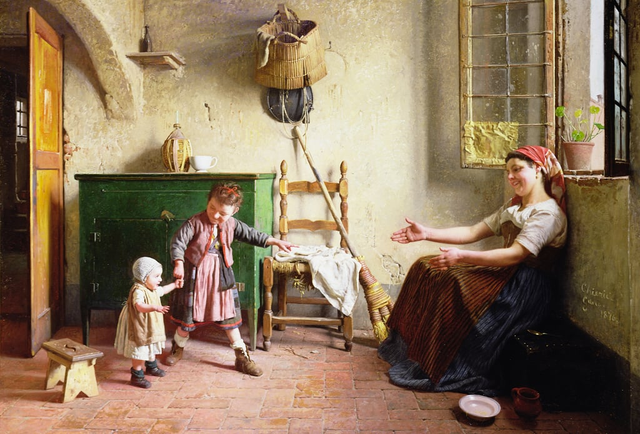 I come in a reflective tone to answer @solperez's call after my absence last week.
And it is that Gaetano Chierici's painting, with its children's themes, connects me with the moment I am living.
This realist painter made practically a photograph in his paintings, and a historical manuscript where we can observe how reality was in those times.
Today our reality is different. I am not referring to the way of dressing, to the lack of hygiene, to the deficiencies of the time.
I am talking about the social, economic and political disorder that affects our environment.
Globally, we are immersed in an absolute confusion that will affect future generations just for trying to achieve our own goals.
Last week my grandson was born, the arrival of a child at home is an immense joy. You feel you can't handle so much love and this is reflected in the painting I have chosen for today.
In The First Steps we see the mother's excited face as she watches her daughter reach an achievement.
To be born, to come into this convulsed and chaotic world is already an achievement.
I observe my grandson's tiny face, his expressions, his reflexes transformed into smiles or grimaces of sadness.
Then I can't help but think... What will his life be like?
We get used to see naturally the birth of a new baby and in reality there is nothing more natural than that moment, but when you acquire the age of experience, a life has passed and you have seen the inconsistencies of this world, you can't help but ask yourself a thousand questions.
Perhaps the mother in the painting, as she watched her daughter take her first steps, thought: Where will she be guided? What will be her path? Will she always have a helping hand when I am not there?
I wanted to relate this painting to the moment I am living, to the future of my grandson, and of so many babies that are arriving to transform this tortuous process we call life.
You can see that I am a little down, but to this we must add the pandemic that affects everyone and that entered our home along with my grandson, this is our new reality and we must learn to live with it.

Me permito citar mis participaciones anteriores a esta maravillosa propuesta semanal de @solperez, ya que las considero un cuaderno de consulta de artistas y la historias que concebí a partir de sus obras.
Édouard Manet
Frida Kahlo
Berthe Marie Pauline Morisot
Rita Angus
Beatrice Offor
Alfred Smith
Daniel Kidgway Knight
Rembrandt
Willard Leroy Metcalf
Translated with www.DeepL.com/Translator (free version)
Publicación configurada con un 15% a favor de la comunidad.
Invito cordialmente a @teretiti