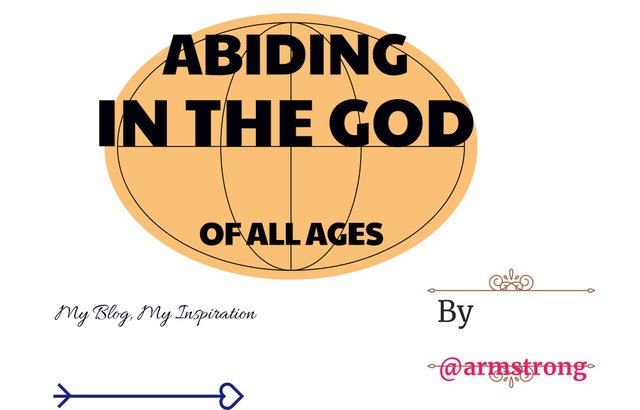 ABIDING IN THE GOD OF ALL AGES
It is advisable you read the text first
📜TEXT:JOEL 2:21-32📜
🔑📖KEY VERSE: "And it shall come to pass afterwards, that I will pour out my spirit upon all flesh; and your sons and your daughters shall prophesy, your old men shall dream dreams, your young men shall see visions" (JOEL 2:28).
A young man who had received Jesus Christ as his Lord after years of being an atheist once visited an elderly chieftain of his former association. Returning home, the erstwhile atheist wondered what would be the fate of the godless in times of severe challenges or grave crises threatening the whole of humanity. Where would such people hide? Is the same philosophy and institutions that have continued to fail man?
But this man enjoying a new life as a Christian knew where to run to the everlasting God who has promised His best to those who trust Him. Through His servant Joel, the Lord arrays an assembly of blessings for men and women of all ages who would put their trust in Him. He asks nature and the beasts of the field to rejoice and not to fear. He turns to His people and assures them of His plan to supply their needs and restore all they have lost such that "my people shall never be ashamed".
The Lord's promises were not to be fulfilled in Joel's day only. God, being the Lord for all ages, cast His sights to the distant future and beyond to capture our age to reach when "the terrible day of the LORD [would] come." The mercy of heaven will still suffice then because He speaks of pouring His Spirit upon all flesh to enable young believers to receive visions like prophets of old.
Unbelievers cannot enjoy these precious blessings as a result of their rebellion. To be partakers of these blessings, they must repent and forsake their sins because the invitation has an expiry date, when "The sun shall be turned into darkness and the moon into blood."
✍🏽THOUGHT FOR THE DAY: The God of all ages can also sail His people through all storms.
📜THE BIBLE IN ONE YEAR:JOHN 19-21📜
     *MEDITATION*

Promises for the penitent
A response to God's call to humbly and penitently repent will always turn the fortune around for those who are once oppressed and afflicted for their sins. If the promises are valid for repentant backsliders, how much more saints are faithfully following the Lord? The promises are for you.
1. "Fear Not", "Be not afraid", vv21,22.
Questions
Can you personalise this as the word of God for you?
b Why did God ask them not to fear? vv21,22.
c Are you ready to do what God asked you to do and reject all fears and anxiety?
2 "Be glad then...and rejoice"*, v23
Gladness and joy at the promises of God is a function of faith. It is an indication that theb6pronises have passed beyond mental accent to heart belief that cannot be denied by God, Romans 4:20.
Questions
a. There are 7 promises in vv23-27. What are they?
b. Which of those promises appeal to you?
c. Observe that "My people shall never be ashamed" was repeated in the text. Do you claim it?
d. "I will restore to you the years that the destroyers have wasted" v25. Any promise to claim there?
Blessed is he who takes the promise of God at face value and holds on to it tenaciously in prayer and confession with gladness and joy that "what God has promised, He can perform."👏
Prayer points
I hereby reject all forms of fear and anxiety and trade them for the joy of the Lord🙏
Lord, give me the Spirit of faith that will always believe your word and claim it at face value🙏
Lord, in mercy, restore unto me all my years wasted and blessings lost and wasted according to your word🙏
Lord, let the Spirit of fire and faith chase away all the spirit of fear, unbelief, anxiety and despondency in any of your children🙏
HYMN Standing on the promises
Reference: Daily Manna Pastor Kumuyi