Hello friends, it's a new week and new lessons presented by prof @allbert on Polkadot Ecosystem. I will make my submission in se regards.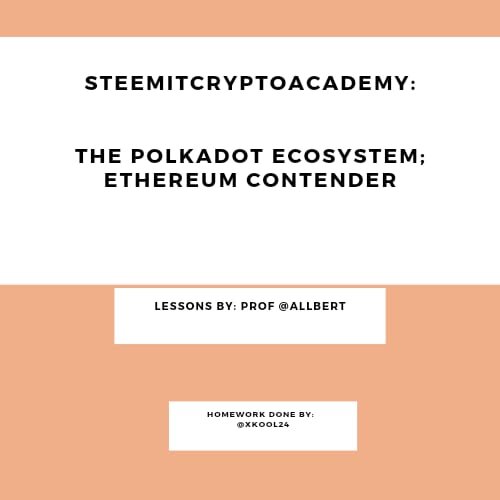 Choose a Project, platform, or service belonging to the Polkadot Ecosystem (Polkadot not permitted) and make a detailed post, which must comply with the following aspects:
INTRODUCTION

Polkadot Ecosystem was a child of necessity that was designed by a co-founder in Ethereum Gavin Wood to form a bridge amongst Blockchain interconnectivity. This is a unique ecosystem that allows other developers to create and build on its protocol to develop their Blockchain using the Substrate schedule.
The Polkadot Ecosystem concept was floated to help ameliorate the inefficient interaction amongst Blockchain which would effectively enhance Interoperability. This concept developed by Polkadot can be likened to that of the Wrapped Token concept that allows tokens to existing on other Blockchains which they are not native.
For this post, I will be telling us more about MOONBEAM which is a project developed on the Substrate or Polkadot Ecosystem.
The Moonbeam Project Overview

The Moonbeam is one of the active projects in the Polkadot Ecosystem whose Blockchain was developed with compatibility geared towards a better Interoperability with the Ethereum Ecosystem. This hand of connectivity known as bridges which aid Interoperability to the Ethereum networks was successfully developed by offering the full EVM implementation protocols which we know is a Web-3 compatible API.
This was a great idea as the Moonbeam would benefit from the parent Blockchain - the Polkadot system by the use of the Polkadot Relay Chain embedded security architecture as well merge other related Polkadot connected projects that exposes it to a wider adoption rate while leveraging on it's a platform. It is an easy to explore protocol of Ethereum which comes with high scalability and Interoperability.
The Moonbeam is characterized by a utility token known as Glimmer(GLMR) which is observed as the developer-friendly para chain in the Polkadot Ecosystem. It also uses another second utility token Moonriver (MOVR) which is a CanaryNet to the Moonbeam.
The Moonriver which is a CanaryNet for Moonbeam would be the lead platform where the direction of the Moonbeam would be decided. Though its token distribution would be network-based to supply the purpose for its emergence.
Though still in development, the Moonbeam runs on the Polkadot Relay Chain with a Genesis Token Supply of 1 Billion with annual inflation of 5% of uncapped supply.
On the other hand, the Moonriver runs on the Kusama Relay Chain with a Genesis Token Supply of 10million and 5% Annual inflation rate.
Projects and Partners on Moonbeam

The Moonbeam has ever since received wide adoption and acceptance given to its numerous projects built on its Blockchain. There are different projects built on the Moonbeam which covers the different sectors already making waves in the Cryptocurrency space.
Some of the sectors we see some of these projects active on the Moonbeam include the APIs & Tools, Assets & Issuance, Bridges, Collators, DApps, Defi, Explorers, NFTs, Oracles, Parachains, and Wallets. Let's take a comprehensive look at some of the projects in this sector...
API & Tools
Asset & Issuance
Bridges
DappLooker
MY WISH
Anyswap
Magic
Impossible Finance
wanchain
Blockdaemon
Figment
Ocean Protocol
METER
BWARELABS
AllianceBlock
AXELAR
AUTOMATA
Ampnet
ICON
MARS
poolZ
ChainSafe
WAFFLE
Kilt
Ethsign
Polkastarter
| DApps | DeFi | NFTs |
| --- | --- | --- |
| Authtrail | LIDO | Jambb |
| IBetYou | dtrade | myNFT |
| Livetree | DODO | Zoombies |
| Human Protocol | Frax | Seascape |
| BePro | ORION | Yuser |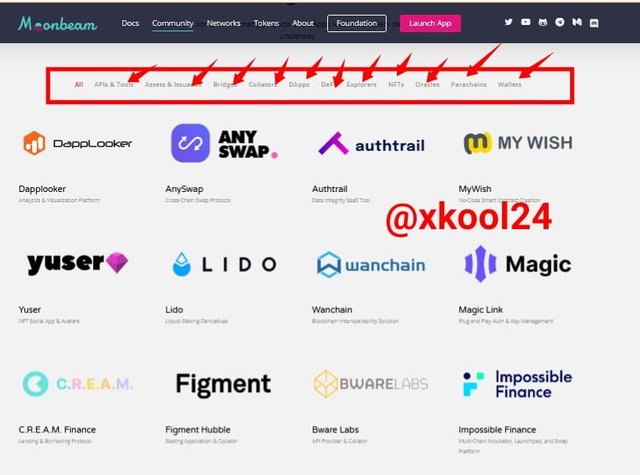 (Screenshot from Moonbeam site)
Launching and setting up the Moonbeam

In doing this I was able to go through the site.
Click on the Launch App icon on top of the screen
This would prompt connecting your wallet. Given its bridge with all Ethereum smart contracts, I will be connecting using the Metamask wallet extension on my device.
Click on the unlock button from the Metamask popup button
Click on the Next button and then on the CONNECT button.
Click on the APPROVE icon on the Metamask,
Click on the switch Network button
then this launches you into the Moonriver interface which is a debut of Moonbeam.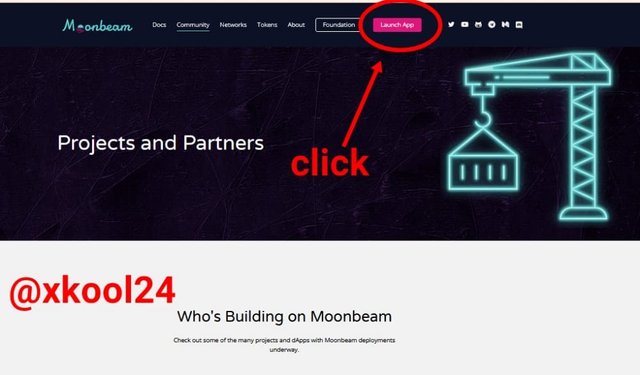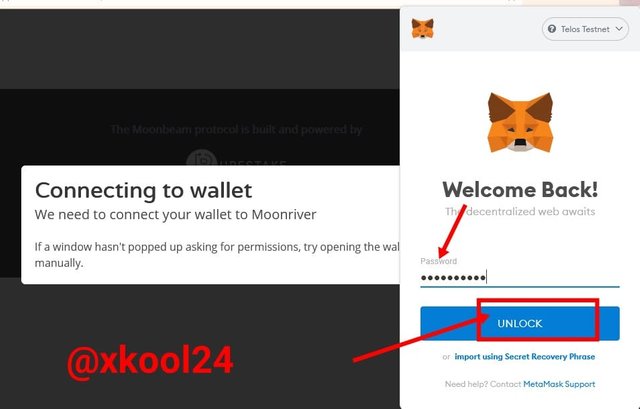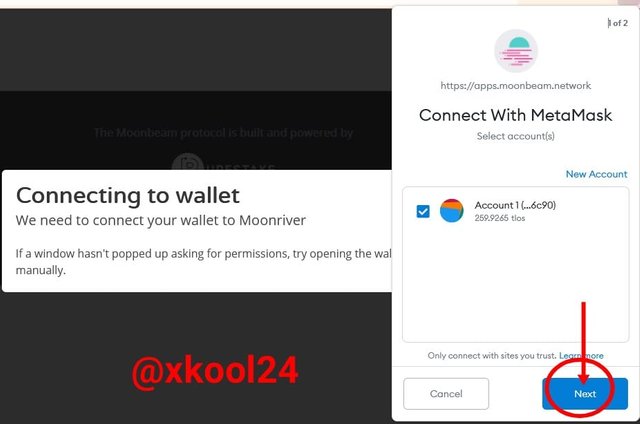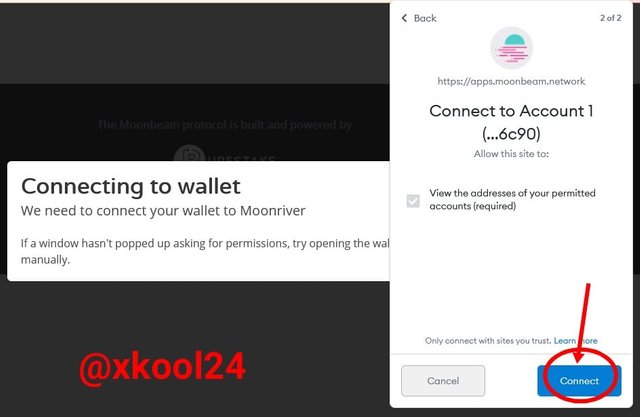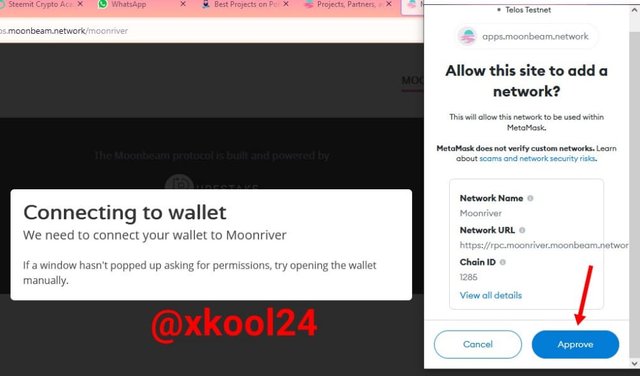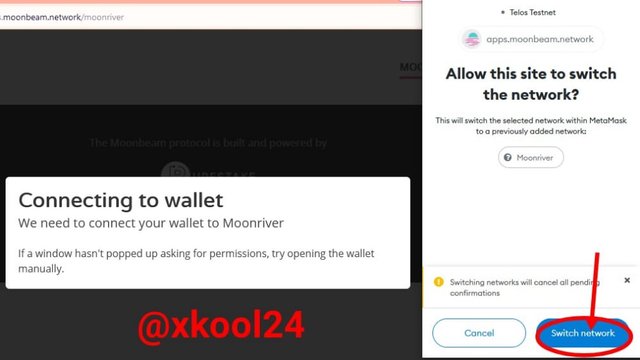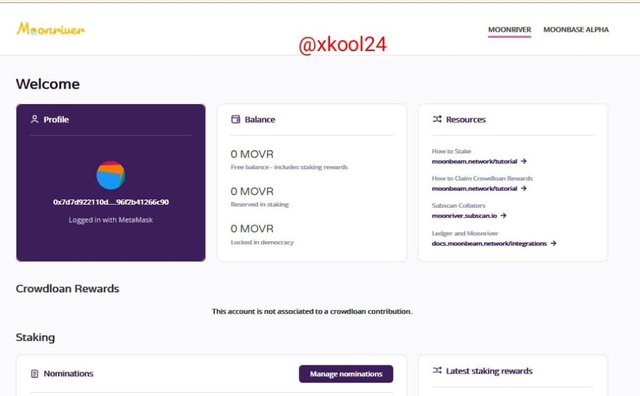 (All Screenshot from Moonbeam site)
How do I stake with Moonbeam through the Launched App

From the landing page, scroll down and click on "Manage Nomination"
Select a collator by clicking on the search box
Enter Amount to be staked ( Minimum of 5 MOVR)
Then click on the nominate button
( This is observed to take effect immediately but for reward purposes, it takes a minimum of 2 rounds which is approximately 2hrs.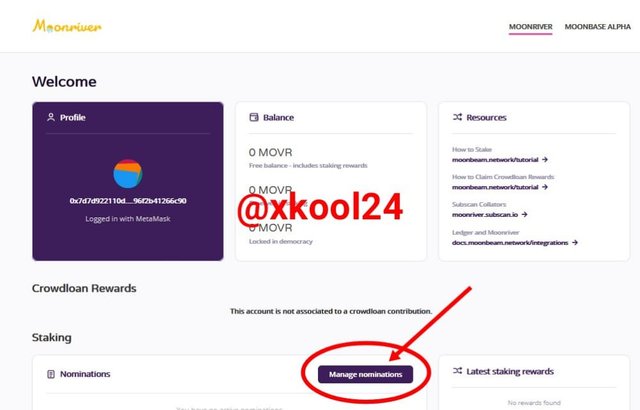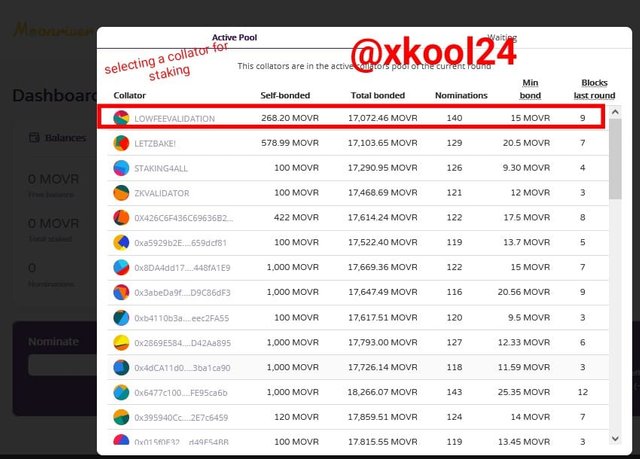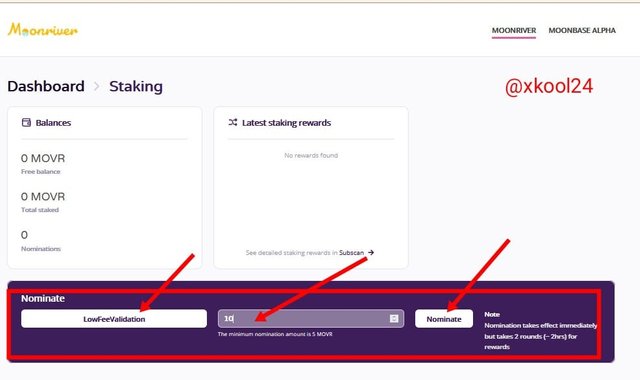 (All Screenshot from Moonbeam site)
Technical Analysis of Moonriver (MOVR)

The Moonriver token at the time of this post is valued at $299.91 with a circulating supply of 2,023,550.00 MOVR. It has a Market Cap of $606,880,050 with a market Dominance of 0.02% and a Market Rank of #224 which is based on traded volume.
We can see that the Moonriver is well valued in the market and traded as well with a Price peak of $306 and Low peak of $250.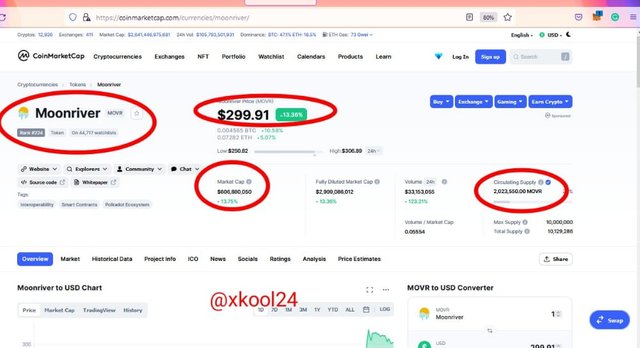 (Screenshot from coinmarketcap site)
It can be traded in this following listed exchanges below and pairs with USDT, ETH, USD, and EUR;


(Screenshot from coinmarketcap site)
Purchasing the MOVR Token

I will be illustrating how to purchase the Moonriver token (MOVR) using the KuCoin exchange platform.
I already have my 19USDT coin in my wallet and it happens that the USDT is a pair to the MOVR Token. Therefore I will be selecting the Pairs.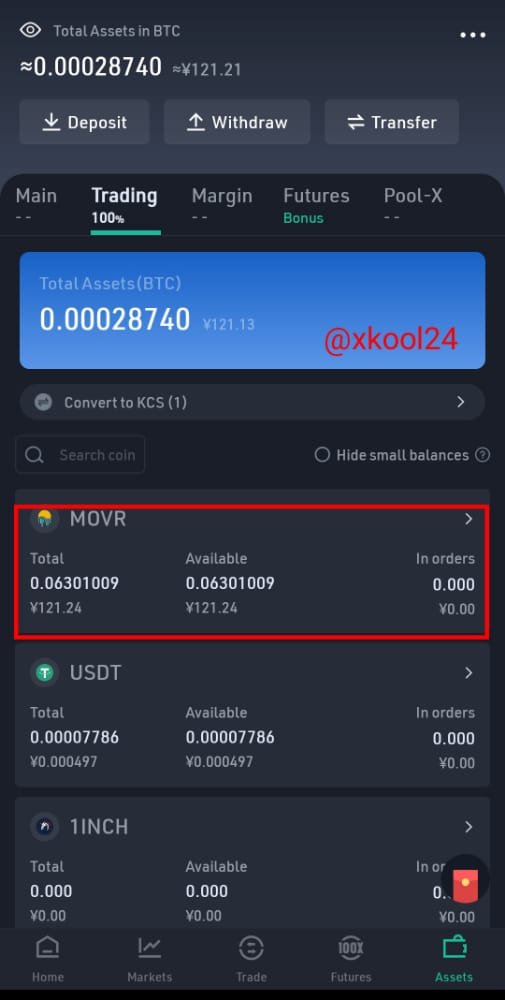 From the landing page, click on the Trade icon below the screen to start up this process
Then from the trade interface, click on the BUY option, select the Market option, as well Enter the Amount (19USDT) required. Then click on the "BUY MOVR" button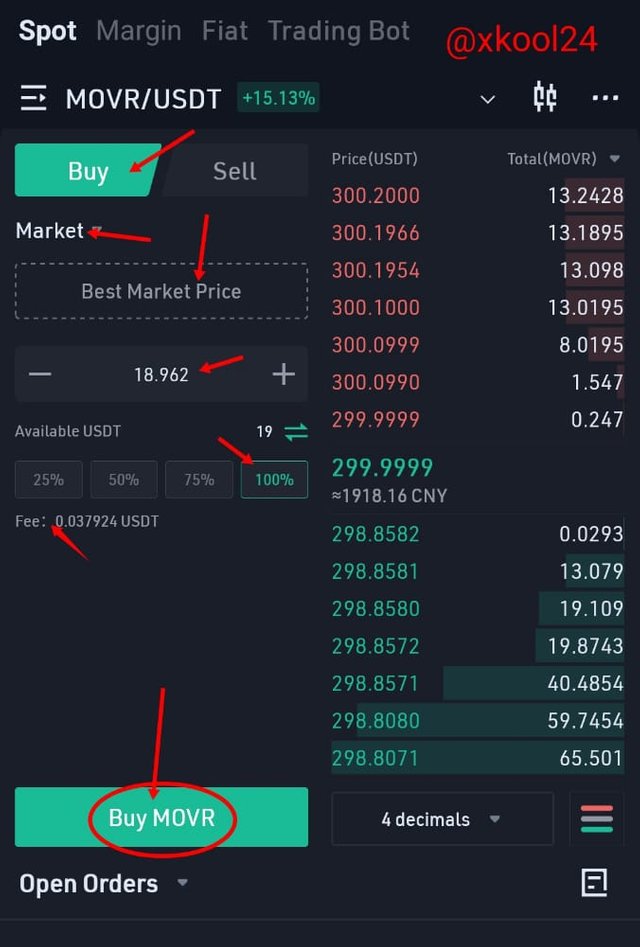 (Note before going to spot Trading, I will have to move my coin from the Main wallet to Trading Wallet)
Trading fee charged - 0.037924USDT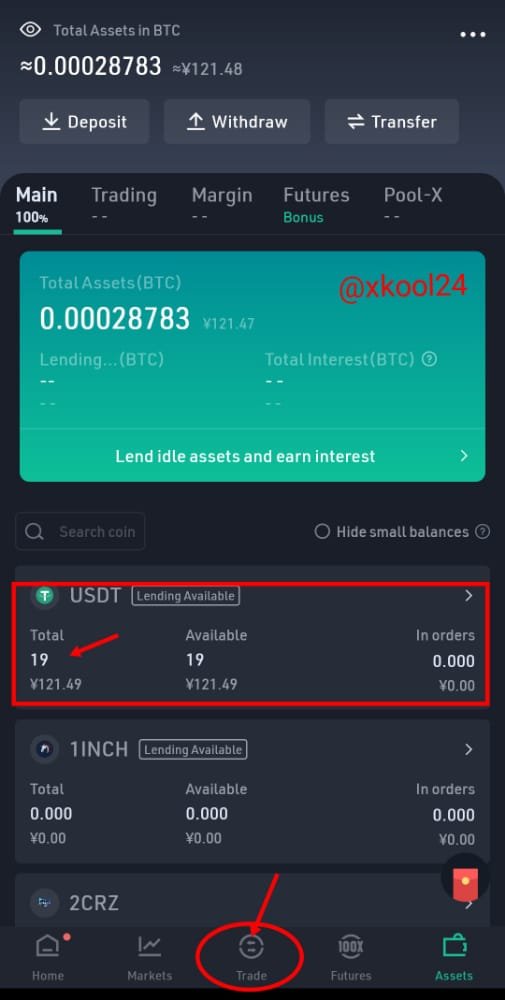 (Screenshots from KuCoin site)
MOVR Trading using the tradingview site
Using the RSI Indicator, It was easy for me to observe when the asset was approaching the Overbought levels at bands >70. Immediately I observed a strong valid breakout, I made my trade position and anticipate a market correction.
Best levels to take profit is at that point market shows signs of reversal.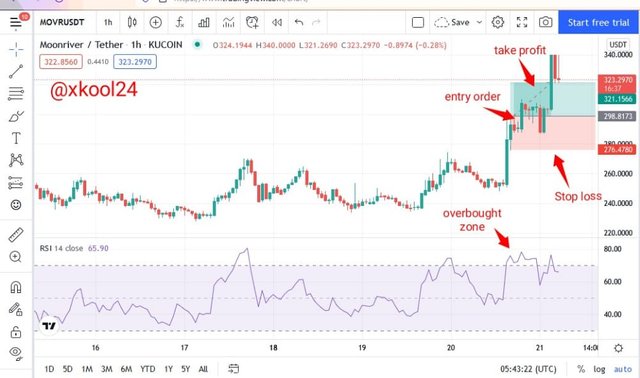 (Screenshot from tradingview site)
Entry Order - 298.8173
Take Profit - 321.9000
Stop loss - 276.4780
Expected profit - 23.0827
Conclusion

Indeed Polkadot emergence in the cryptocurrency space was an all import concept that has wholly improved the Interoperability amongst Blockchain. Now, Blockchains can be built on the Relay Chain of the Polkadot using its Substrate framework. which guarantees improved scalability, Interoperability, and transaction throughput.
This is a real contender to the Ethereum Ecosystem as it has received a massive adoption on its protocol, with projects, APIs, Bridges, etc already active and functional on its ecosystem.
Thank you professor @allbert for this great piece of knowledge.