Good day Guys, nice having us back again in the community as we participate in the intermediate session and lessons presented by prof @imagen.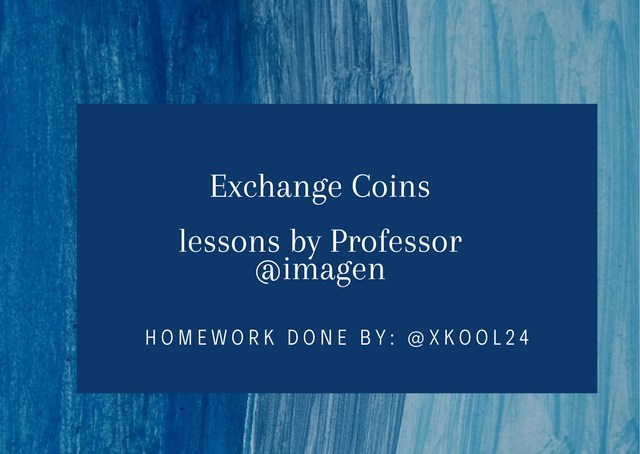 1.) Perform a complete analysis of the currency of some exchange. Not allowed: BNB, KuCoin, Cake and Uniswap
The Huobi Token (HT)
The Huobi Token (HT) is a decentralized digital asset built in the Ethereum Blockchain as well compliant with the REC-20 standard token. It's relatively a young project which came into emergence in 2018 by CEO Leon Li. It is a native token of the Huobi Global Exchange which is partly influenced or impacted by the Huobi Exchange reputation though still dependent on other factors in the cryptocurrency space.
As soon as the Exchange was launched, it came with ye release of its native token "the Huobi Token" which allows it to build the Huobi system over a flexible marketing strategy to impact the general user of those that engage it's a system.
The Token serves as a utility token in the ecosystem. It allows in commission payments during trading activities. In extension, holders of this token can acquire plans that offer discounted transaction fees during trade activities, engage in governance activities & Decision making (Voting), use them as buyback rewards during the seasonal periods, and also be traded with other cryptocurrencies in the exchange.
The Uniqueness of Huobi Token (HT)
The Huobi Token being the Exchange's native token is used in the rewarding program that offers a loyalty program with various degrees of discounts therein. It uses the HT to confer voting rights to holders of its token which gives them direct governance participation in the ecosystem.
In keeping this unique task, the value of the HT has been relatively stable using curbing inflationary rates as well devoting 20% of its profits to burn in a Token buyback schedule.
Moreso, it comes with lots of other advantages that it leverages.
Offers reduced transaction fees relative to the use of VIP plans which brings onboard discounts.
promotes convenience in exchange activities
Offers holders/users a chance in governance activities
it uses the anti-DDoS protection system to ensure its security with over 95% of its tokens stored in a multi-sig cold wallet.
In addition, it uses a risk-controlled mechanism that provides optimal safety of user accounts code-named "Don't Be Evil".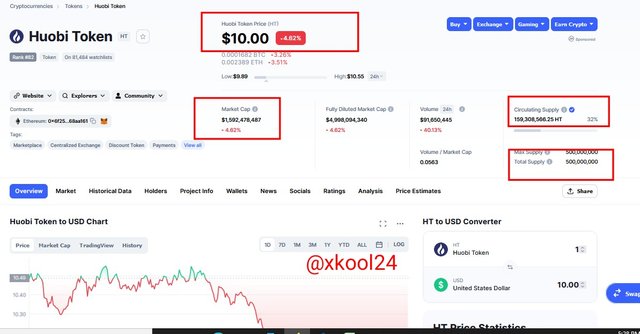 (Screenshot from coinmarketcap)
From Coinmarketcap, the Huobi Token (HT) current standing as at time of this report is valued at $10.00 with a Market Cap of $1,592,478,487 and Market dominance of 0.06%. Other details are circulating supply of 159,308,566.25HT, Max, and Total Supply of 500,000,000 respectively.

2.) Make a purchase equal to at least US $ 10 of the currency you explained above. You must make some movement with that currency within the exchange that created that currency. Show screenshots and explain in detail the steps to follow. Example: transfer of funds, Staking, participation in a Launchpad, trading in futures, etc. Indicate the reasons why you chose that option (operation) on that platform.
Steps in buying the Huobi Token (HT)
For this task, I will be buying some fractions of the Huobi Token (HT).
I will be using my Huobi Exchange for this trade. Therefore I will be Launching my Binance app on my device.
Click on Wallet and select the Token of interest. I will select the TRX/USDT pair to swap my TRX coins to USDT Which happens to be the mediating token between Most listed tokens.
Therefore I will convert my TRX to USDT to buy the HT with the USDT
Click on the Pair to launch you into the spot Trading platform
click on Max/100% and then on the Sell TRX button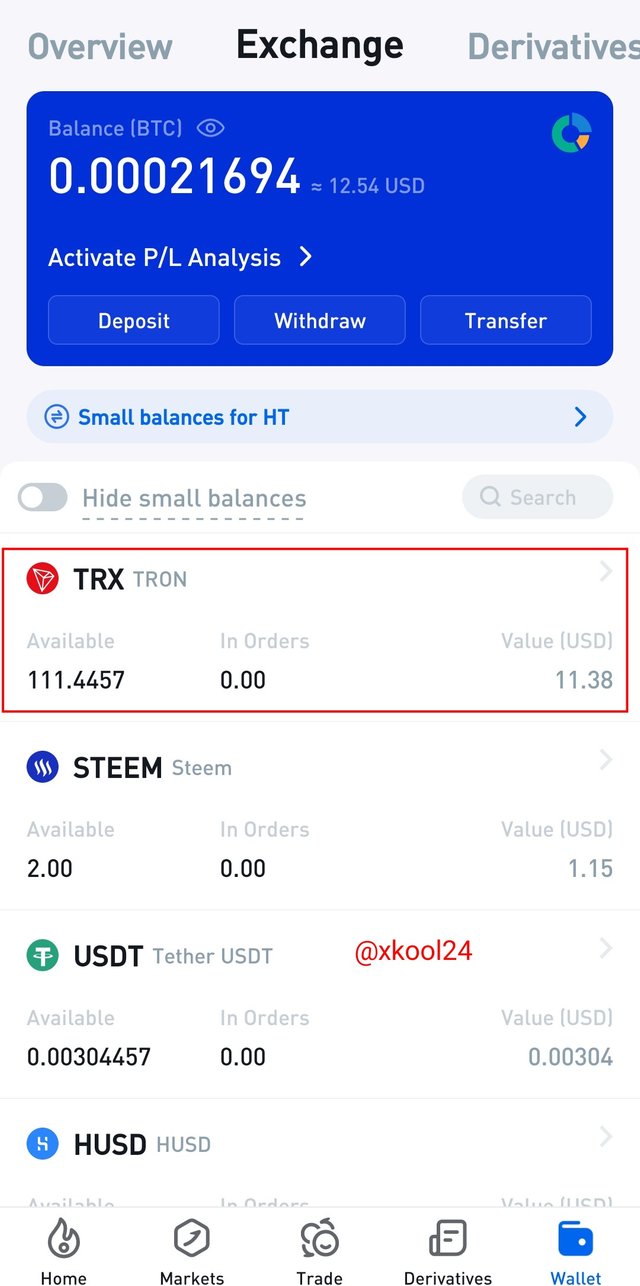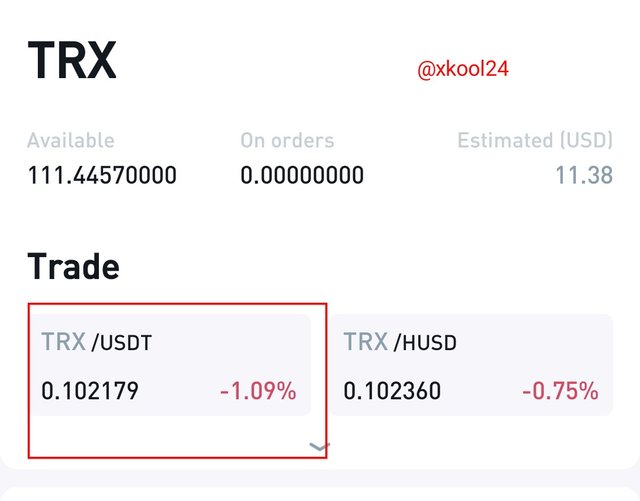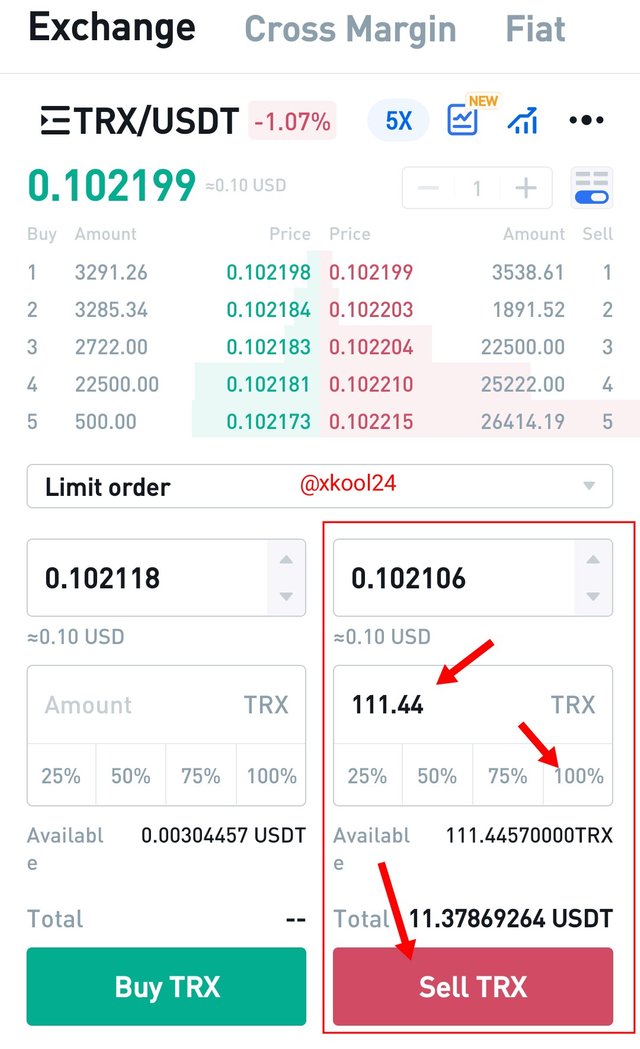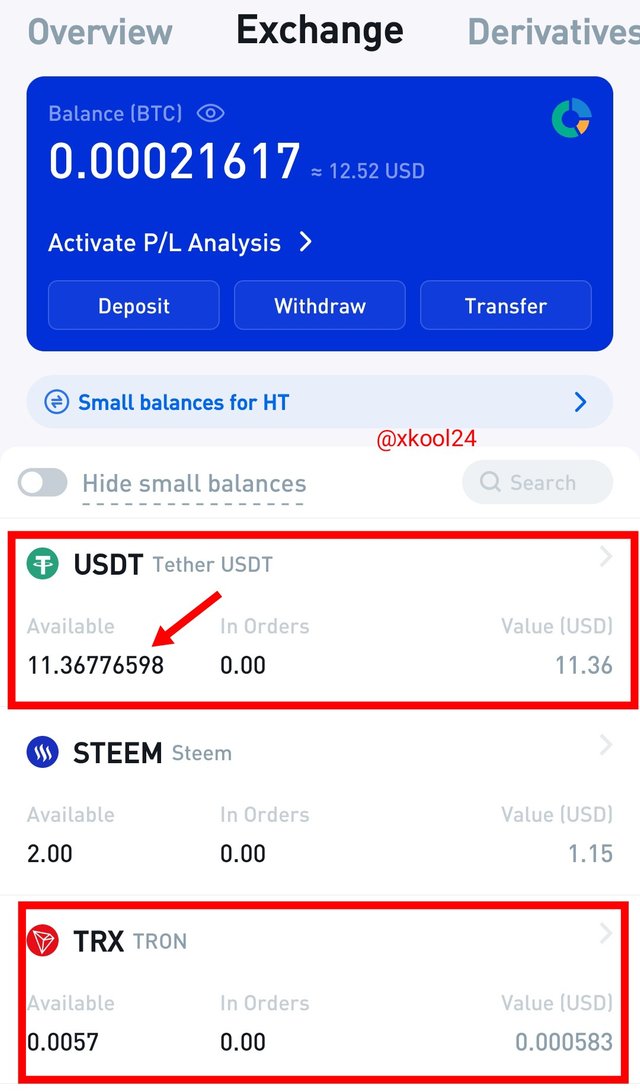 Go back to the wallet to confirm the transaction.
Then click on the HT/USDT pair to launch the spot trade
select Max/100% and then click on the BUY HT button.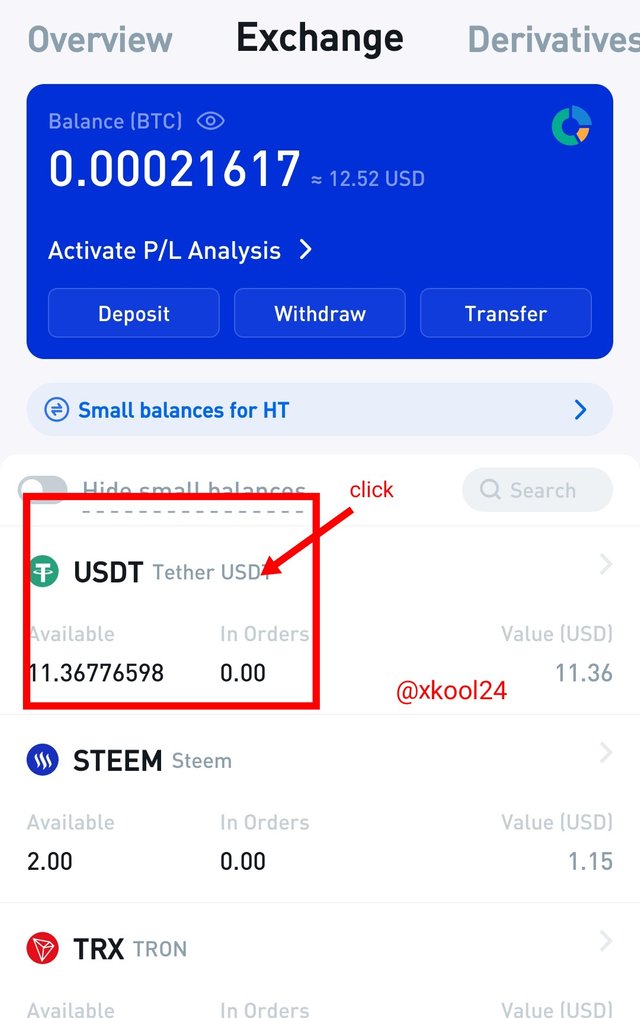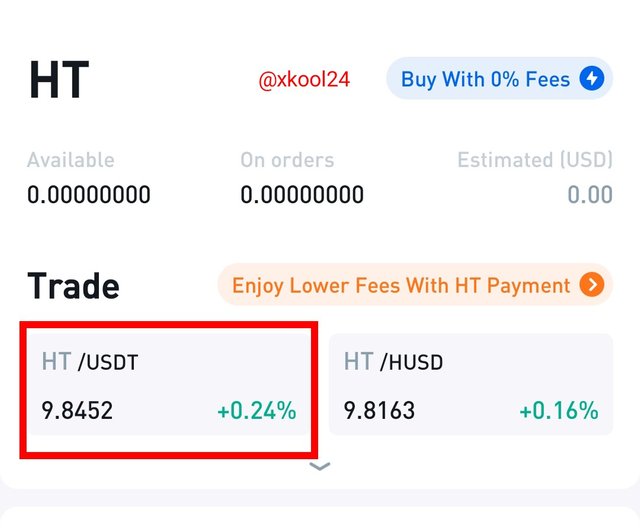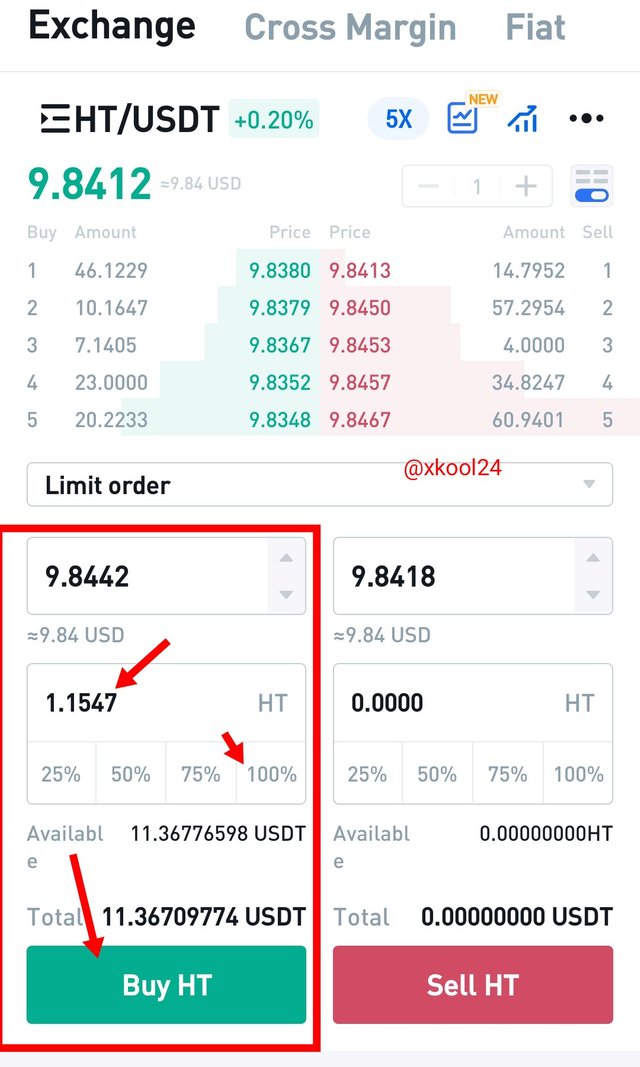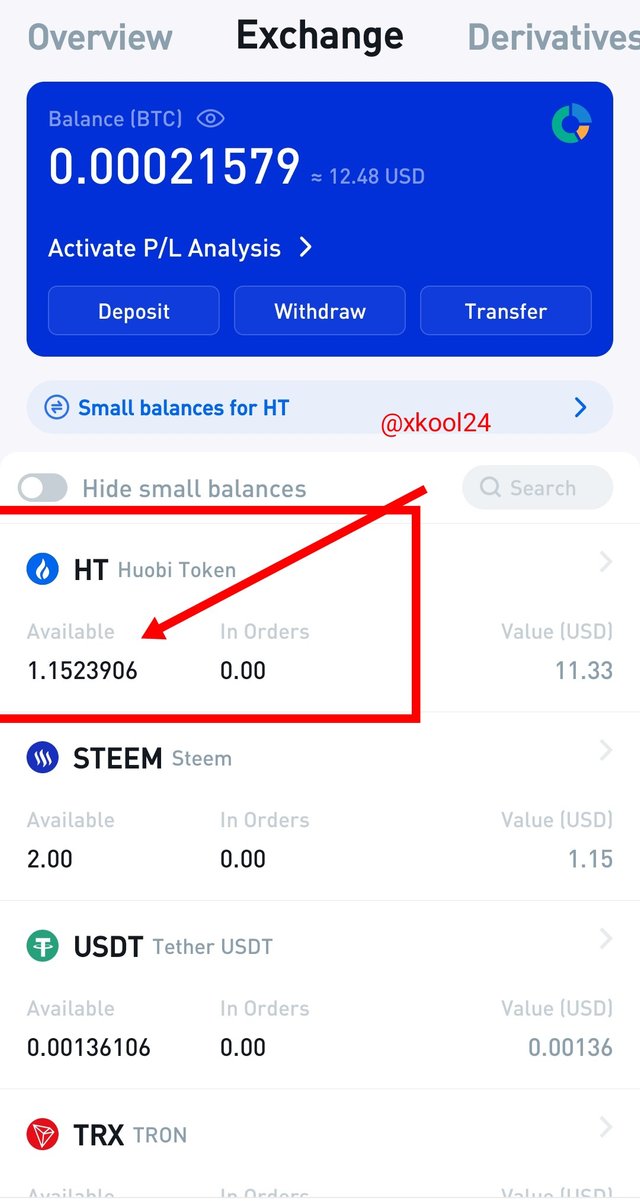 Screenshots used for this question are from the Huobi Global site.

3.) Show the return on investment in time frames of 0, 24, and 48 hours from the moment you bought. Take screenshots where you can see the price of the asset and the date of capture.
HT asset at 0 hrs
The HT was worth $11.33 at the point of purchase. Just as requested, I will be rechecking this value in the next 24hrs to ascertain the return on investment.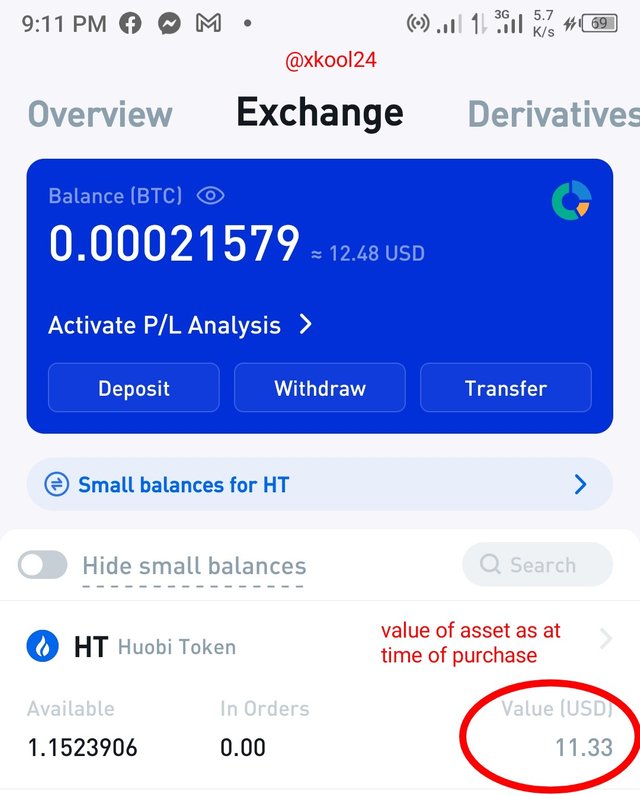 HT asset at 24 hrs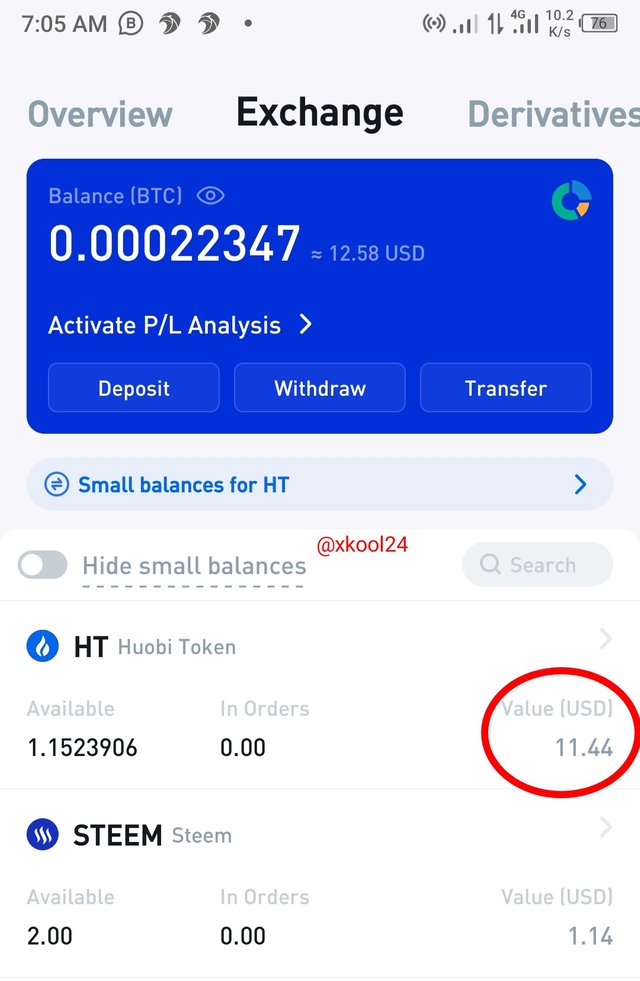 The return of investment for this asset over a given period of 24hrs was captured as $0.11

3.1) Has the asset's price acted independently or does its price strictly follow the correlation with Bitcoin?
Price trend Observed correlating with Bitcoin
Just at 0 hrs when this asset was purchased, I noticed the chart analysis of the HT/USDT as well the BTC/USDT were undergoing a bear trend. This simply tells us that there is a corresponding effect observed on that duo. The volatility experienced in the BTC with an observed downtrend trend is also applicable in the HT, hence loss of value is anticipated to accept there is a market correction.
24 hrs later, when there was an observed Uptrend in BTC, I quickly checked to know the effect on HT, I noticed that the HT token has also appreciated.

Observations captured at 0 hrs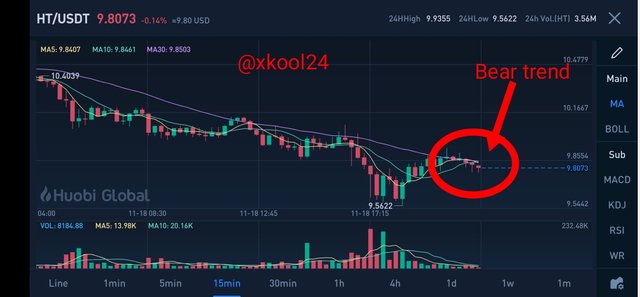 (HT/USDT trading Pair_Image from Huobi site)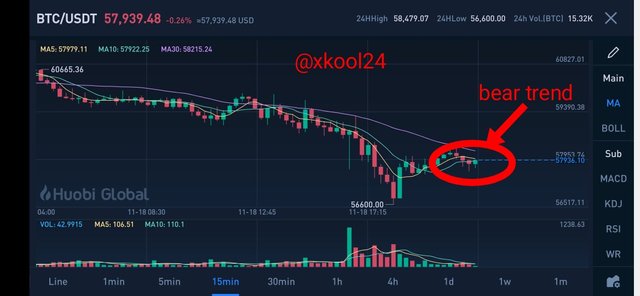 (BTC/USDT trading Pair_Image from Huobi site)

Observations captured at 24 hrs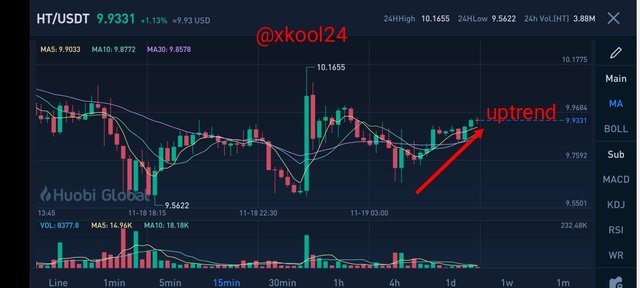 (HT/USDT trading Pair_Image from Huobi site)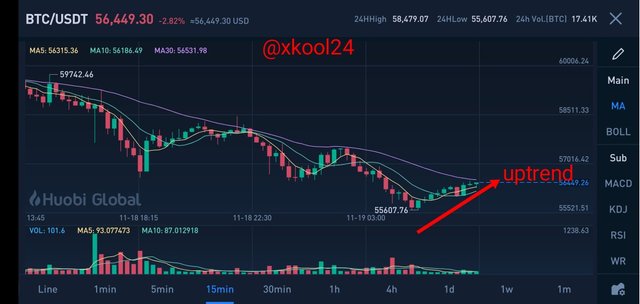 (BTC/USDT trading Pair_Image from Huobi site)

4.) What is futures trading?
Futures Trading just as the name implies gives us an idea of what kind of financial contract an investor or trader is engaging. Futures are simply derivative contracts that derive it's the value from an underlying asset to be delivered. Some may see it as a form of speculating the future prices of an asset with a greater intent of making profits.
Futures trading also involves transacting on an asset by opening positions that would bring about profit-taking in the future when it goes in our favor or loses when it goes against our favor. Before this is done, traders/investors must have done a technical analysis to ascertain the future trend of a given asset.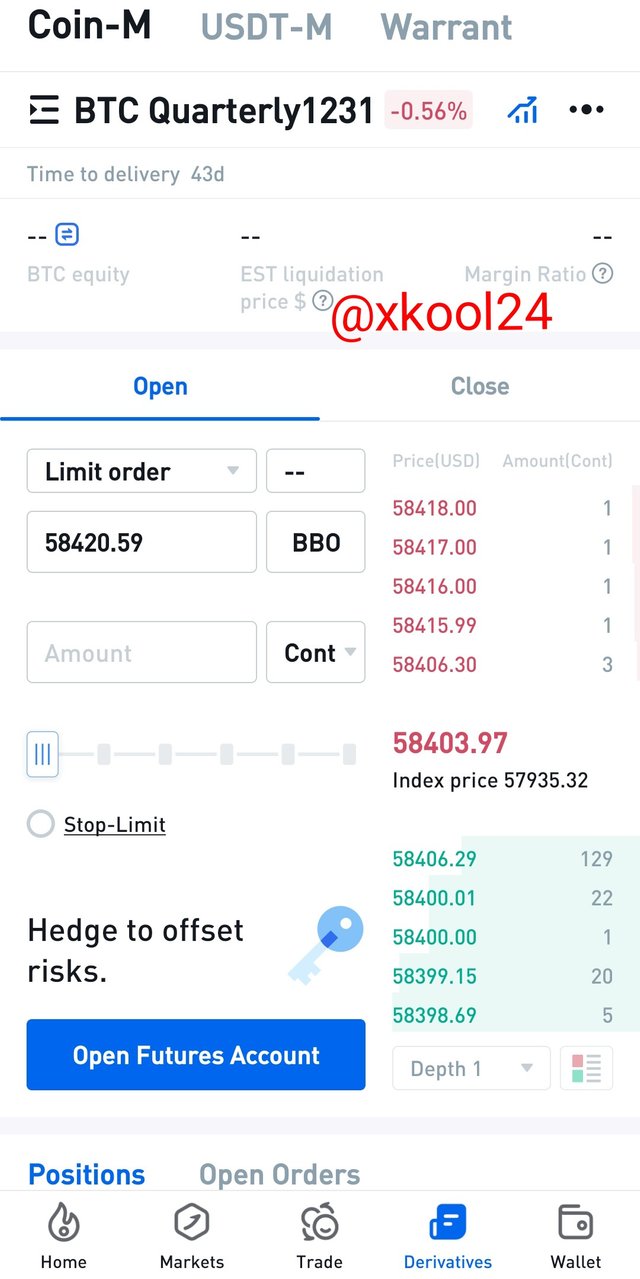 (Image from Huobi Global site)
Therefore when we start forecasting and predicting future positions of an underlying asset by making trade positions, we can say we are engaged in "futures trading".

5.) What is the margin market?
This is also another important feature in the stock or cryptocurrency space. Each time I hear about that word margin, it reminds me of Extra, an advantage over the usual availability. Margin trading entails using third-party funds in trade activities. Traders or investors who would ordinarily don't have enough funds to engage trade and open positions are observed to leverage on the large sims made available via Margins to make trade positions with anticipated profits.
It helps boost the trading capacity and results of users/traders as they open positions in trade. It is simple here, the more the funds staked in a position that goes in its favor, the bigger the returns anticipated. It provides more trade options and expansion when taking trade positions.
In Margin Market, funds are provided by other traders who also earn interest on their borrowed funds. Also, exchanges are observed in providing margin funds that are available for Borrowing.
Highlights of Margin Market
it brings about diversification of assets given to the large available funds within traders' control.
Potentials to draw more returns as more stakes made with large sims are likely to bring more rewards if in favor
Efficiency of placing open positions quickly given to the use of Margin accounts.
Just as we said it increases the potential of making gain, so is the loss factor due to the large staked funds.
Margin Markets comes with a lot of risks, hence considered a risk method of trading.

6.) What happens to the cryptocurrencies of exchange when they suffer from a hack or it turns out to be a fraud? Present at least 2 real-life examples.
Information Hacks and Data compromise are an everyday phenomenon in Man's environment but when it happens in the cryptocurrency space, it is a lot damaging as thousands are observed to be affected and funds in Form of digital assets lost.
A report from the State of the Industry sometime in Feb 2020 report stated that $292K worth of cryptocurrencies has been stolen with about 500K users affected. These continuous barbaric acts have continued with at least an exchange hacked each year. But the disturbing trend here is, who has the jurisdiction to control the activities of Cryptocurrency space.
The Upbit 342,000 ETH Hacks
The first case scenario is the hack that happened in November 2019 which involved the Upbit*. South Korea's exchange was massively compromised and the ETH token worth $51 million was stolen. This hacker was purported to have moved these funds from wallet to wallet.
Just as this took place, up it was observed to be operational and existed. Thereafter, the Upbit exchange was observed to launch major security checks and updates for it.
From the coinmarketcap site, Upbit pops up when searching with a Trading volume of $10,289513,940.31 which is an equivalent of 183,359BTC. Also on display are some of its currency and pairs with which it trades.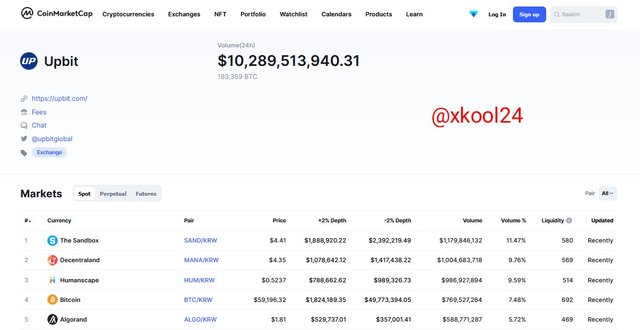 (Screenshots from coinmarketcap)
The VinDAX $500,000 Crypto Hacks
On the other hand, VinDAX hacks that occurred in a relatively small exchange firm that specializes more in conducting token sales for Blockchain projects. Despite their size, they were still hacked as these hackers are only interested in what they can earn or get. In this case, a whopping worth of $500K cryptocurrency was stolen from VinDAX.
Details from the coinmarketcap site has that VinDAX has a trading volume of $167,719,145.04 which is equivalent to 2972 BTC.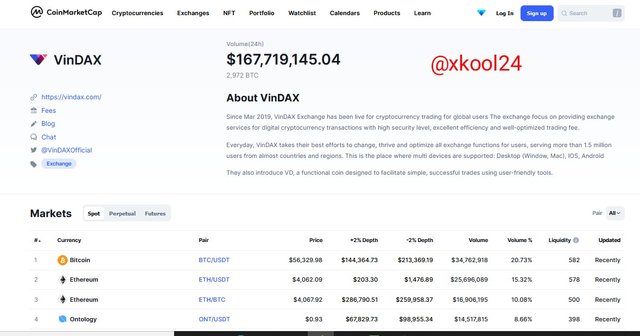 (Screenshots from coinmarketcap)
Therefore in both situations, though the hacks were successful, it did not stop the existence of those platforms to date. Those 24H trading volumes captured in their activities still showcase the investment therein observed from investors who still believed in the growth of the coin.

Conclusion
The essence of native tokens in exchanges is as important as its substantive existence as they play a utility function in the daily transactional activities of the exchange which ranges from payment of commissions, participation in governance and another decision making on board, execution of the transaction, means of rewards and discounts to its loyal users, etc.
Notwithstanding, I have always wanted to know more about Futures and Margin Trading practically and wish that professor could come up with this in the next lecture.
Thank you Professor @imagen for your lessons