ENGLISH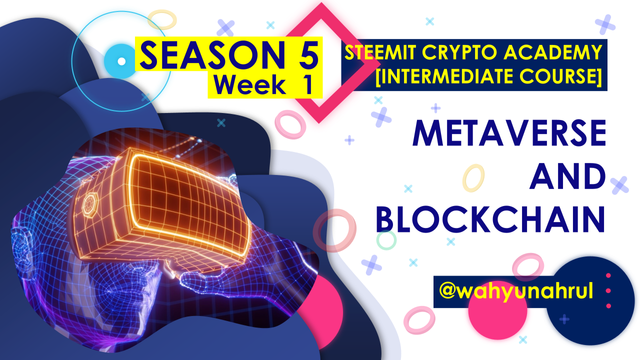 Hey Guys...!!!
Meet again with me Wahyu Nahrul in the Steemit Crypto Academy community. Before we get into the topic of discussion, I would like to welcome all of you to this fifth season. Hopefully, you will continue to be enthusiastic about learning various things about blockchain and cryptocurrencies in this community.
This week, I take a topic regarding something that is currently viral in cyberspace, namely the virtual world which is being discussed at the moment.
Alright, let's get straight into the discussion. Happy reading!!

Background
The development of the world of technology has begun to increase very quickly and can not be dammed anymore. We can see this from the development of technology, which was originally discovered by the internet where many people almost thought of it as a magic that would never be realized. How not, people at that time thought it would be impossible to find all the information and we could also contact relatives who were far from our location using only an internet-connected device.
Another example we can see is how amazed people were when Steve Job presented a cellphone product from the Apple company, namely at the launch of the iPhone in 2007, he could control his cellphone just by touching the screen. Me, when I was in junior high school, I had a dream where we could select a menu on our mobile phone by simply touching the icon directly without having to use the manual navigation buttons on the keyboard, and now it is all around us which is called a "Smartphone".
The two examples above can illustrate how the world of technology has developed rapidly over the past 20 years or so. However, technological developments do not end here. Technology-producing companies have started competing to "level up" the existing Internet, maybe some of you already understand the concept of IoT where is one of the advanced levels of the internet. But what I will discuss this time is not IoT, but a technology that has a level far above that, this technology is called " Metaverse".

Metaverse Introduction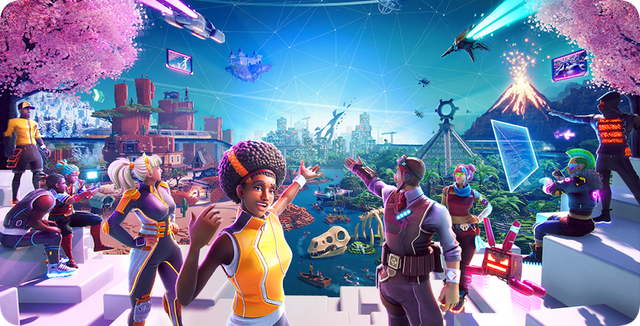 SOURCE
Metaverse is a technological concept that will allow humans to enter the internet and feel it directly with all of their senses, so we can no longer only see the internet from a glass screen but we can directly enter into it and interact in real-time with fellow users who are on the internet with the exact same interaction experience as we speak directly in front of them.
The concept of the Metaverse was first introduced by Neal Town Stephenson who was born on October 31, 1959, he is a science fiction novelist from the United States. He introduced the concept of Metaverse in a novel entitled "Snow Crash" which was published in 1992 where in the novel it tells a situation where humans have started to interact with each other in a 3D virtual world using the avatars they created. with their own characteristics.
As we can see, the Metaverse concept is not a new concept, because it has been created by humans for a long time even before 2000. This concept then resurfaced to the public and caused a stir in the internet world when one of today's tech giants, Facebook announced the replacement of the company name is "Meta".
The CEO of Meta, Mark Elliot Zuckerberg, announced the change of his company name from Facebook to Meta by posting a Youtube video from the official Meta account. In the video, he explains that the goal of Meta is to bring people into a new world where they can interact like talk and see directly just like in the real world even though they are in a different location at that time.
If we look at Mark's statement, we will be a little surprised how humans can enter directly into a new world that can usually only be seen through the screens of the devices we use every day. In order for all of that to happen, we need a device that will connect all human senses with the internet, so we need a tool called Virtual Reality (VR). This tool is able to stimulate all human senses so that whatever is felt by humans in the virtual world can be felt as in the real world.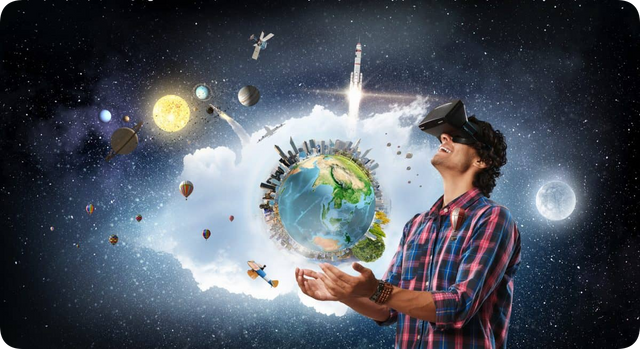 SOURCE
Until now, we still cannot use Metaverse directly because Metaverse is still a concept that has not been realized in real terms. However, if we look at the technology that has been created so far, we can see that the Metaverse concept is not just wishful thinking and can be realized in the not too distant future.

Metaverse and Blockchain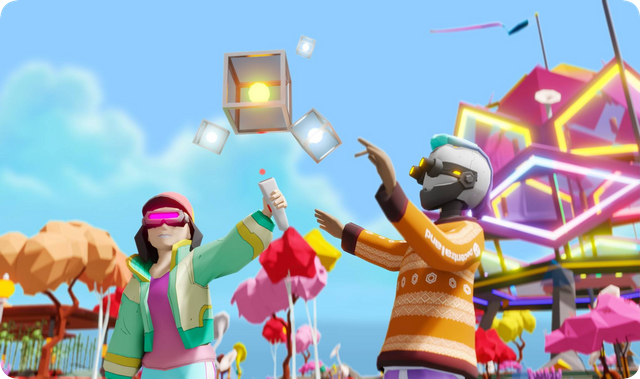 SOURCE
From the previous discussion, we have understood what the Metaverse is and where the concept of this virtual world came from. But did you know that the Metaverse that is being created by technology manufacturers is very closely related to Blockchain technology which we have often used in every cryptocurrency transaction that we have done so far.
To explain the relationship between Metaverse and Blockchain, we must first look at the image below.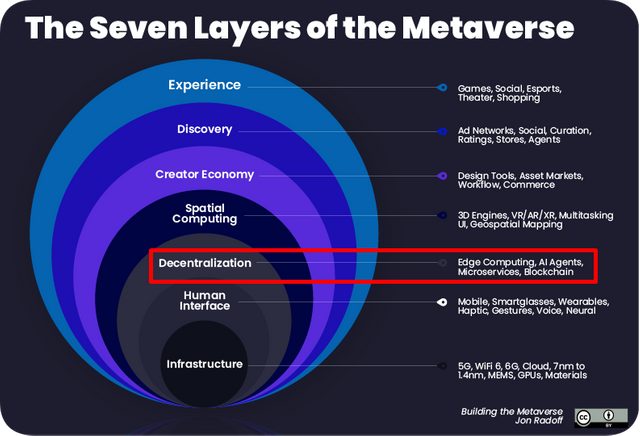 SOURCE
The picture above is an image that I got from an article made by Jon Radoff on his Medium account. According to him, the virtual world of Metaverse is made up of seven layers, each of which has different levels, each of which has different functions and interests.
At the fifth level, we can see that there is a "Decentralization" layer which is one of the important layers in a Metaverse. This layer is a layer that shows where the entire Metaverse system will be carried out independently by the communities who are members of the Metaverse and will be free from centralized authority control, this will cause the Metaverse ecosystem to be easier to develop because no one party is in control full of the Metaverse and community members can be free to create without any restrictions from any party.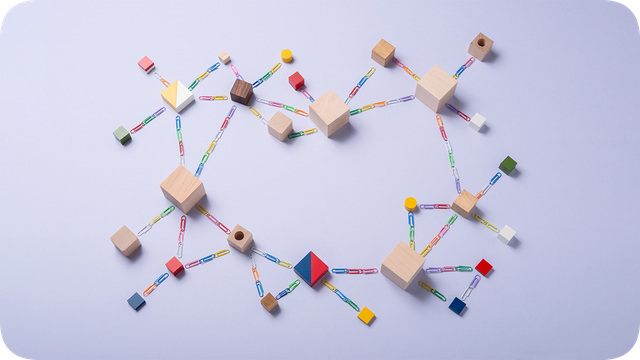 SOURCE
By using Blockchain as the foundation on which the Metaverse runs, all transactions and activities in a Metaverse will all be recorded on the Blockchain network and cannot be changed by anyone. This way we can get a virtual world where no manipulation can be done because everything will be recorded and can be seen by anyone on the Blockchain.
And as we already know that Metaverse is a virtual world that is created so that all tools and assets in the Metaverse World will be digital.
Likewise, the certificate of ownership of an asset that is in Metaverse, the certificate that will be used on Metaverse must also use a digital-based certificate and can be recognized as authentic by the entire community. And Blockchain technology already has a solution to this problem by having "Non-Fungible Tokens (NFT)".
Maybe some of you already know what NFT is because it was discussed previously on Steemit Crypto Academy in season 2. For those of you who don't understand what Non-Fungible Tokens (NFT) are, simply NFT is proof of ownership of someone or a digital asset. which is where the evidence will be stored in the Blockchain network and will not be changed by anyone, so the proof of ownership or certificate is valid proof.
As an example of the relationship between NFT and Metaverse, if you decide to buy virtual land in one of the Blockchain-based Metaverses after you have successfully purchased the land, the entire transaction process will be recorded in the blockchain and it will be shown that you are the owner of the land. that you have bought. So if someone claims that the land belongs to him, then this will be automatically denied by the entire community because the Blockchain network system has recorded proof of ownership of the land that belongs to you.
In addition, all payments that will be made to purchase an asset on Metaverse will also use a digital currency called "Cryptocurrency".
In contrast to fiat currency which is a currency that has physical properties, cryptocurrency is a currency that uses Blockchain technology in the transaction process so it will be very suitable for use in all transactions on Metaverse.
From some of these things, we can see how the influence given by Blockchain technology to the Metaverse development process. With the Blockchain which was originally only used for cryptocurrencies, this technology could be a turning point for a rapid increase in the development of today's era.

Metaverse Project On Blockchain
As of the time this article was written, there have been a lot of blockchain-based Metaverse projects that have been created and running well, and there are even several Metaverse projects whose tokens have entered the Top 100 cryptocurrencies. This time I will explain 2 projects that can be used as examples of Metaverse projects in Blockchain technology.
1. Axie Infinity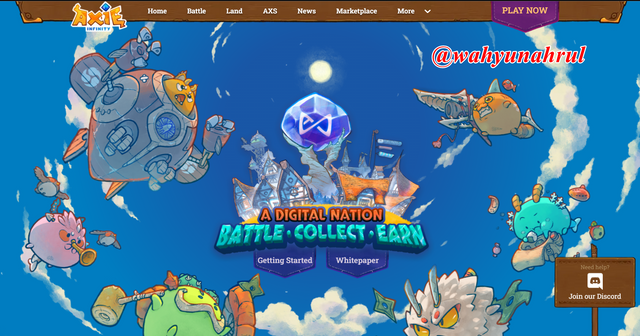 The first metaverse I will describe is Axie Infinity. This Metaverse is a game-based Metaverse that runs on the Ethereum Blockchain, this game is inspired by an anime called Pokemon where all the avatars in this game are similar to Pokemon. Each avatar character in this game is called "Axies".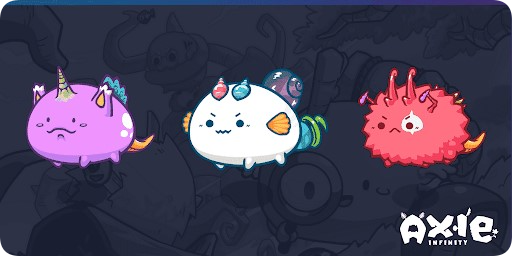 SOURCE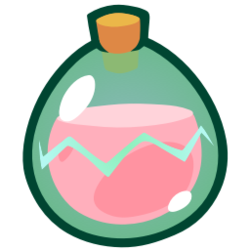 This game offers players an experience to experience how to raise Axies, raise them, and use them in battles between Axies. Every player who wins will get a reward called "Small Love Potion (SLP)" where this potion can be used to breed other Axies or can be sold in the marketplace on the official Axie Infinity website.
The token from Axie Infinity itself (AXS) at the time of writing this article had already touched $141.08 based on data from CoinMarketCap.

If we look based on the data available on the official website of Axie Infinity. The largest allocation of AXS Tokens was made for Staking Rewards of 29%, followed by Sky Mavis at 21% and Play to Earn 20%. And until now the Staking feature on Axie Infinity has not been officially launched so we can use this as momentum to participate early.
Then we can see that the total number of AXS tokens will be spread throughout the community in 2026, so we still have more than 5 years left before the price of AXS will go up a lot because the token supply circulation is already at its maximum.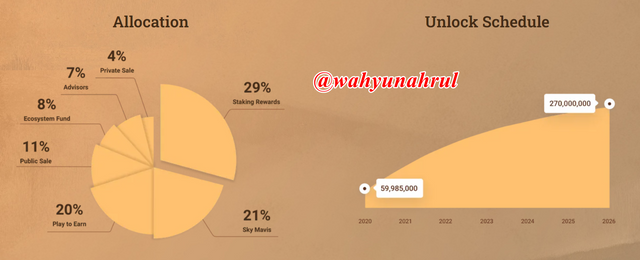 The Staking mechanism made by Axie Infinity is almost the same as the Liquidity Pool mechanism adopted in various DEXs. Every AXS staked by AXS Holders will be collected into the Community Treasury and the tokens will be used as prizes for the players who won each battle. Then the AXS Holders will get a reward for every vote they do because they stake the token and at the same time, they will also get a reward from the results of the games they play so that AXS Holders who stake the token will get a double reward.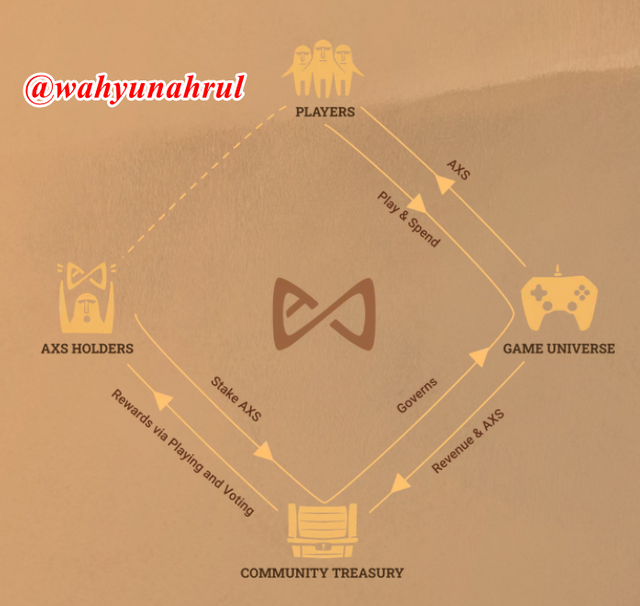 In Axie Infinity there is a Land feature that players use as a place for them to breed the Axies they have. This land feature can be owned by purchasing the marketplace on the Axie Infinity website. As an illustration of how much the price of a Land in Axie Infinity, you can see in the image below which is shown by the red box the price of a Land can reach $13,650 and that is the cheapest Land price at the time this article was made.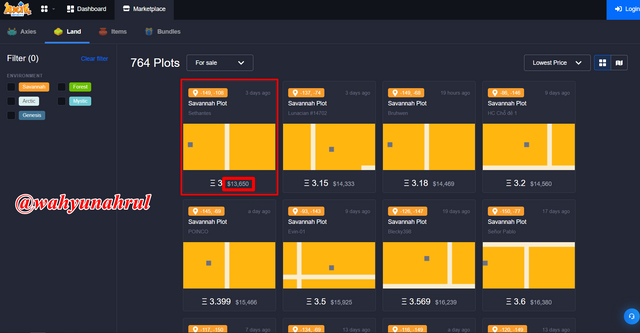 As I explained earlier, we can also sell our Axies in the marketplace, the price of Axies being sold can vary depending on the type and level of rarity of the Axies. In the example below, we can see that there is an Axie that even sells for $1,410 for only 1 Axie.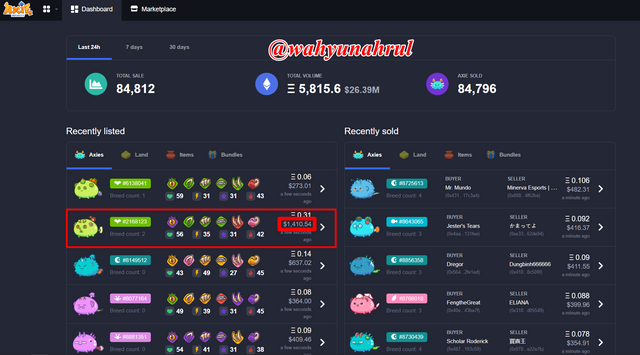 2. Sandbox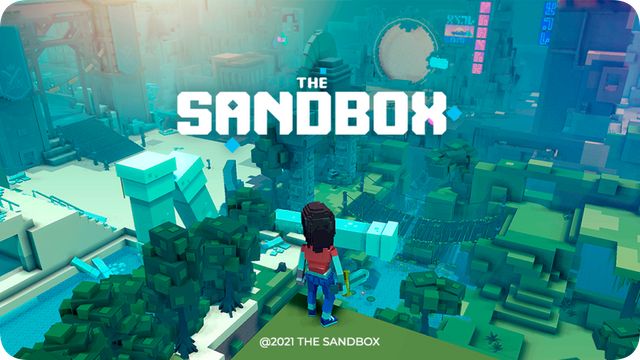 SOURCE
The next metaverse is Sandbox. Just like Axie Infinity that we discussed earlier, Sandbox is also a Metaverse that runs on the Ethereum Blockchain. However, unlike Axie Infinity, which offers experience in breeding Axies, in the Sandbox we will be offered the experience of living and interacting in a new world.
We can buy land and build our own houses in that world, and we can also meet and interact with the people who live there even though they are far away in the real world. At the time this article was written, the price of the Sandbox Token (SAND) had already touched the price of $2.81.

The Sandbox project is famous for the seriousness of its developers in developing their Metaverse, in fact, they have collaborated with several large companies and the world's top artists such as Snoop Dogg and Avenged Sevenfold in terms of promoting their Metaverse.

Sandbox has launched its virtual world and we can see it through the map on the Sandbox website. In the image below you can see a map of the virtual world in the Sandbox's Metaverse.
In several places, we can see that most of the land has been bought by big companies such as Binance, CoinMarketCap, Atari, Socios.com, etc. From this we can see that Sandbox has a very good Metaverse project that can even bring investors from these big companies.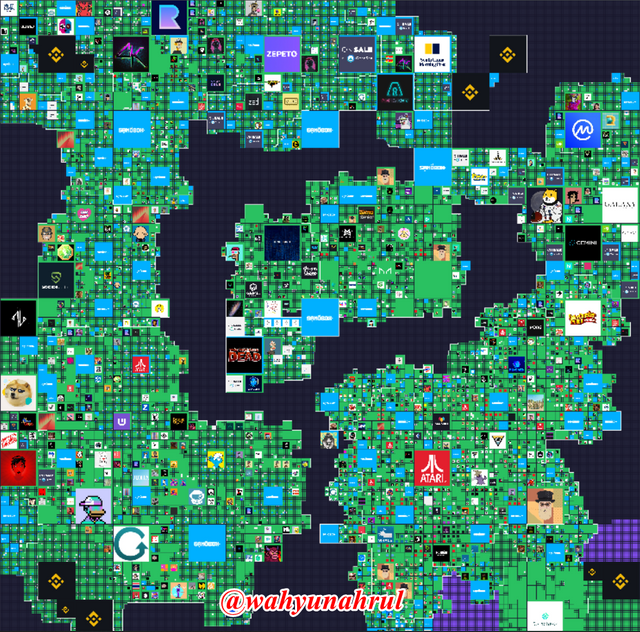 For example, we see in the picture below, in the picture we are shown the land that is owned by Snoop Dogg, and all the details of the land starting from the coordinates and others are clearly shown.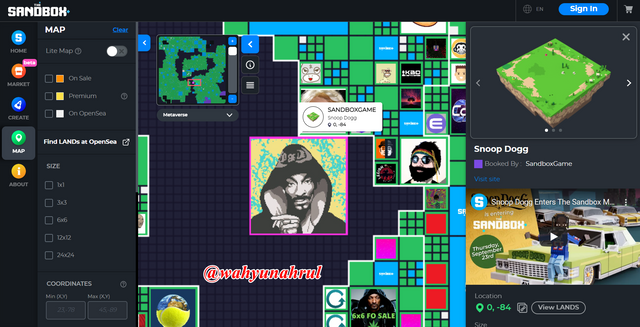 In addition, we can also make NFT purchases on the marketplace on the Sandbox website directly by connecting our wallets. We can save the NFT and if one day the VR tool from the Sandbox has been launched, we can see it directly with the NFT we bought on the Metaverse Sandbox.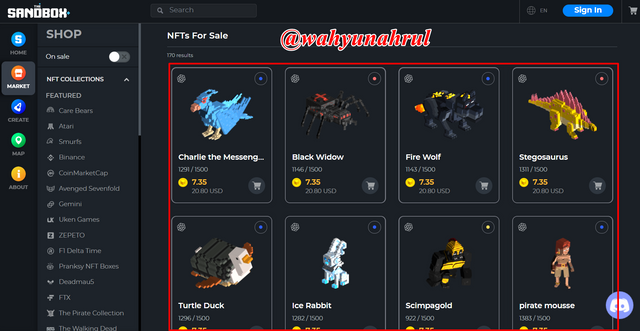 The Advantages of Metaverse on Blockchain Network
Indeed, the virtual world of Metaverse is not only one like the real world, so that everyone can choose their own Metaverse world according to their own wishes. However, if we compare the Metaverse created by a company that uses its own technology compared to the Metaverse project that uses Blockchain technology, then we will be able to get some striking differences from the Metaverse project that was created using Blockchain technology compared to those that don't. Some of the differences include:
Decentralized System

As I discussed earlier, Blockchain technology is a technology that adheres to the principle of decentralization where no single authority should have full control over a network.

This way everything in the world will run independently along with the activities of the people in it, a Metaverse will not take sides and will be fair so that everyone in it can freely carry out all activities in the Metaverse world. the.

In addition, this decentralized system will open up opportunities for all people in the Metaverse to participate in making positive changes in the Metaverse. Metaverse that uses the Blockchain network system will carry out a voting system where the choice of changes that get the most votes is approved by the entire community, this way all changes that occur in the Metaverse will be more democratic and fair.
As Investment Asset

Because all trading activities on the Metaverse will use cryptocurrencies, everyone who manages to earn from the assets he owns in a Metaverse will be able to cash out through exchanges. In this way, Metaverse can be said as an investment asset.

For example, if we win the battle in the Axie Infinity game so that we get AXS Tokens, we can sell these tokens on exchanges, either CEX or DEX so that we convert them into fiat currency and we can use them for our daily needs.

Another example is if we buy land on Metaverse Decentraland and then we decide to build a building on that land, then we can charge a fee if someone wants to buy or rent the building and land that we own.
Valid Property Rights Registration

With the NFT on the Blockchain, it will be very easy for everyone to own any asset on Metaverse without having to worry about their assets not having a valid certificate. Because the Blockchain network will continue to store ownership of the NFT asset at any time and will not change if the owner of the NFT decides to sell it, and every owner that has been recorded on the Blockchain is the result of community approval so that the certificate is not only validated by one authority.

Conclusion
Metaverse will be an opening gate from the future, with the realization of this virtual world concept, it will answer many people's dreams into a reality. If previously we could only see what was on our gadget, now we will be able to directly feel it with our own body and be able to interact with all the objects in it.
Indeed, until now the world of Metaverse is still not fully felt as it is told in films or fiction novels. But with the existence of many Metaverse projects in blockchain technology, it seems to tell us all that it will not belong. We as people who have been in the Blockchain Technology industry for a long time should be one of the first to join the Metaverse so that we can take advantage of this momentum as a place where we can profit from the world we are working on.
That's all from me, thank you for reading my article to the end. If there are errors in writing, please let me know in the comments column 😁.

Note:
All unsourced images are the author's property and screenshots from the Axie Infinity, Sandbox, and CoinMarketCap websites.


Homework Problems
1). Do you think the Metaverse is "the next level of Future Technology"? Explain your personal opinion by showing some evidence.
2). Explain why Metaverse and Blockchain are compatible technology pairs.
3). Choose a Blockchain-based Metaverse project and do a fundamental analysis of the project (Don't choose projects that have been discussed in the discussion above). (Screenshot Required)
4). Explain the steps for connecting a crypto wallet with a Metaverse project that you chose in question number 3. (Screenshot Required)
5). Explore the Metaverse of your choice and show the various features, advantages, and other unique things of the Metaverse project. (Screenshot Required)
6). Conclusion.
Homework Rules and Guidelines
Please pay attention to all the rules and guidelines provided. Failure to follow the rules and guidelines will result in reduced grades or no grades at all.
Homework assignments must be posted in the community Steemit Crypto Academy.

PLAGIARISM, SPINNING, AND SPAMMING WILL NOT BE TOLERATED AT STEEMIT CRYPTO ACADEMY.

According to the latest rules, only people who are actively participating in the #club5050 are eligible to take part in Crypto Academy homework assignments.

Post title must be written in the format "Metaverse and Blockchain - Crypto Academy / S5W1 - Homework Post for @wahyunahrul"

Minimum reputation to take this class is 60.

Minimum Steem Power that must be owned is 600 SP. (Not including delegated)

Accounts that are powering down are not allowed to take this class.

The minimum number of words in the post 500 words.

Use images that are Copyright-free and list the source of these images.

All screenshots taken must be given a watermark that includes your username.

For steemians from Indonesia, Homework posts can be written in Indonesian.

Put the tag #wahyunahrul-s5week1, and #cryptoacademy in the first 5 tags of the post.

You can add other tags relevant to this discussion, such as #metaverse, #blockchains, etc.

Put the task link in the comments column if it has not been rated for 2 days or more.

Homework assignments deadline is until November 20th 2021 at 23:59 UTC.
CC:
@steemitblog
@steemcurator01
@steemcurator02

BAHASA INDONESIA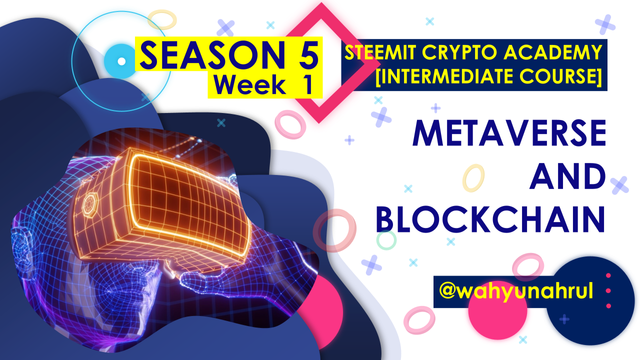 Hey Guys...!!!
Jumpa lagi dengan saya Wahyu Nahrul pada komunitas Steemit Crypto Academy. Sebelum kita masuk ke topik pembahasan, saya ingin mengucapkan selamat datang kepada kalian semua di Season kelima ini semoga kalian tetap semangat dalam mempelajari berbagai hal mengenai blockchain dan cryptocurrency pada komunitas ini.
Pada minggu ini saya mengangkat sebuah topik yang berkenaan dengan sesuatu yang sedang viral saat ini di dunia maya yaitu mengenai dunia virtual yang sedang ramai diperbincangkan saat ini.
Baiklah, mari langsung kita masuk ke pembahasannya. Selamat Membaca!!

Kata Pengantar
Perkembangan dunia teknologi sudah mulai mengalami peningkatan yang sangat cepat dan tidak bisa dibendung lagi. Hal ini bisa kita lihat dari perkembangan teknologi pada awalnya ditemukan internet dimana banyak orang yang hampir mengganggapnya sebagai sebuah sihir yang tidak akan pernah terealisasikan. Bagaimana tidak, orang-orang dimasa itu berpikiran tidak akan mungkin bisa mencari semua informasi dan kita juga bisa mengubungi kerabat yang berada jauh dari lokasinya dari kita hanya menggunakan sebuah perangkat yang terhubung internet.
Contoh lainnya bisa kita lihat bagiamana terheran-herannya orang pada saat Steve Job mempersentasikan produk handphone dari perusahaan Apple yaitu pada peluncuran iPhone di tahun 2007, ia bisa mengendalikan handphonenya hanya dengan menyentuh layarnya saja. Saya sendiri pada masa kecil pernah berkeinginan dimana kita bisa memilih sebuah menu di handphone dengan hanya menyentuh ikonnya secara langsung tanpa harus menggunakan tombol navigasi manual yang ada pada keyboradnya, dan sekrang hal tersebut sudah ada di sekitar kita yang disebut dengan "Smartphone".
Dari kedua contoh diatas bisa memberikan penggambaran bagaimana dunia teknologi berkembang pesat selama kurang lebih 20 tahun ini. Akan tetapi, perkembangan teknologi tidak hanya sampai disini saja. Perusahaan-perusahaan produsen teknologi sudah mulai berlomba-lomba untuk "menaikkan level" dari Internet yang sudah ada saat ini, mungkin dari kalian sudah ada yang memahami konsep IoT dimana ini merupakan salah satu tingkat lanjutan dari internet. Tetapi yang akan saya bahas kali ini bukanlah IoT, melainkan sebuah teknologi yang memiliki tingkat level yang jauh diatas itu, teknologi ini disebut dengan "Metaverse".

Pengenalan Metaverse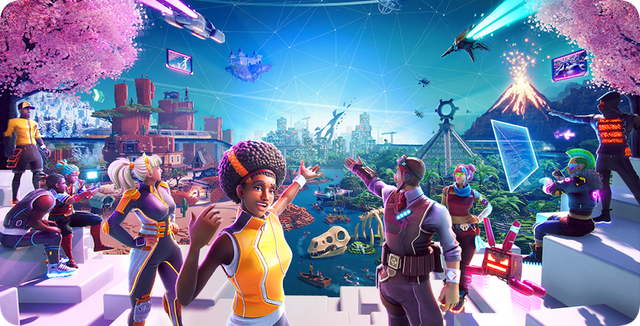 SUMBER
Metaverse merupakan sebuah konsep teknologi yang akan membuat manusia bisa masuk kedalam internet dan merasaknnya secara langsung dengan seluruh indra ditubuhnya, jadi kita tidak lagi hanya bisa nmelihat internet dari layar kaca tetapi kita bisa langusng masuk kedalamnya dan berinterkasi secara real-time terhadap sesama pengguna yang berada pada internet dengan pengalaman interaksi yang sama persis seperti kita berbicara langsung didepannya.
Konsep Metaverse pertama kali diperkenalkan oleh Neal Town Stephenson yang lahir pada 31 Oktober 1959, ia merupakan seorang penulis novel fiksi ilmiah yang berasal dari Amerika Serikat. Ia memperkenalkan konsep Metaverse pada sebuah novelnya yang berjudul "Snow Crash" yang diterbitkan pada tahun 1992 dimana pada novelnya tersebut menceritakan sebuah keadaan dimana manusia-manusia sudah mulai berinteraksi satu sama lain pada sebuah dunia virtual 3D dengan menggunakan avatar yang mereka buat dengan karakteristik mereka masing-masing.
Seperti yang kita lihat, bahwa konsep Metaverse bukanlah sebuah konsep yang baru, karena memang sudah lama diciptakan oleh manusia bahkan sebelum tahun 2000. Konsep ini kemudian mencuat kembali ke publik dan membuat heboh dunia internet saat salah satu perusahaan raksasa teknologi saat ini yaitu Facebook mengumumkan penggantian nama perubsahaannya menjadi "Meta".
CEO dari Meta yaitu Mark Elliot Zuckerberg mengumumkan penggantian nama perusahaannya dari Facebook menjadi Meta melalui postingan video Youtube dari akun resmi Meta. Pada video tersebut ia menjelaskan bahwa tujuan dari Meta adalah untuk membawa orang-orang kedalam sebuah dunia baru dimana mereka dapat berinteraksi seperti berbicara dan melihat langsung sama seperti pada dunia nyata walupun mereka berada di lokasi yang berbeda pada saat itu.
Jika melihat berdasarkan pernyataan dari Mark maka kita akan sedikit terheran bagaimana bisa manusia bisa masuk secara langsung kedalam sebuah dunia baru yang biasanya hanya bisa dilihat lewat layar perangkat yang kita gunakan sehari-hari. Agar semua itu bisa terjadi, dierlukannya sebuah perangkat yang akan menghubungkan seluruh indera manusia dengan internet maka dibutuhkan sebuah alat yang bernama Virtual Reality (VR). Alat ini mampu merangsang seluruh indera manusia sehingga apapun yang dirasakan oleh manusia didalam dunia virtual maka bisa dirasakan seperti halnya di dunia nyata.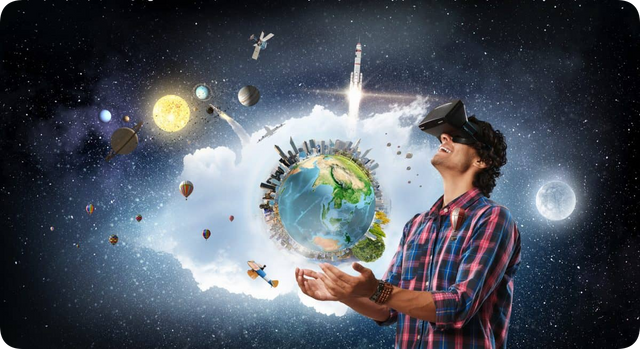 SUMBER
Sampai saat ini, Metaverse masih belum bisa kita gunakan secara langsung karena Metaverse masih merupakan sebuah konsep yang belum terealisasikan secara nyata. Akan tetapi, jika kita melihat berdasarkan teknologi yang sudah di buat sampai saat ini, kita bisa melihat bahwa konsep Metaverse bukanlah sebuah angan-angan belaka dan bisa di realisasikan dalam waktu yang tidak lama lagi.

Metaverse dan Blockchain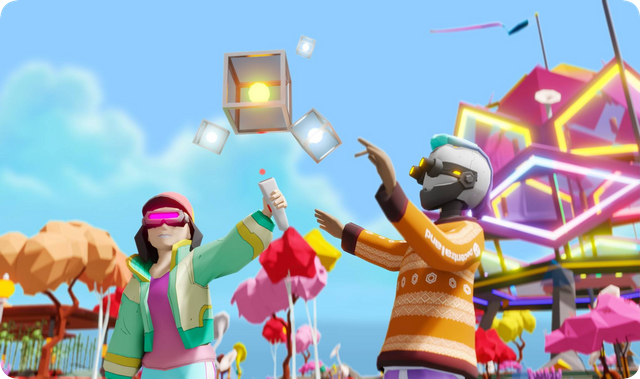 SUMBER
Dari pembahasan sebelumnya kita sudah memahami apa itu Metaverse dan darimana konsep dunia virtual ini berasal. Tapi apakah kalian tahu bahwa Metaverse yang sedang diciptakan oleh produsen teknologi sangat berhubungan erat dengan teknologi Blockchain yang sudah sering kita gunakan pada pada tiap transaksi cryptocurrency yag kita lakukan sampai saat ini.
Untuk menjelaskan hubungan Metaverse dengan Blockchain kita harus melihat gambar terlebih dahulu gambar dibawah ini.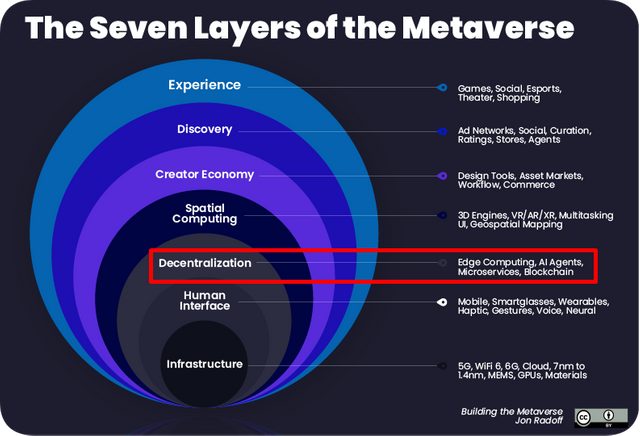 SUMBER
Gambar diatas merupakan sebuah gambar yang saya dapatkan dari artikel yang dibuat oleh Jon Radoff pada akun Mediumnya. Menurutnya dunia virtual Metaverse tercipta atas tujuh layer yang memiliki tingkatan masing-masing yang tiap tingkatan memiliki fungsi dan kepentingan yang berbeda-beda.
Pada tingkatan kelima bisa kita lihat ada layer "Decentralization" yang merupakan salah satu layer penting pada sebuah Metaverse. Layer ini merupakan layer yang memperlihatkan dimana seluruh sistem Metaverse akan dikerjakan secara mandiri oleh komunitas yang tergabung dalam Metaverse tersebut dan akan terbebas dari kontrol yang otoritas yang terpusat, hal ini akan menyebabkan ekosistem Metaverse tersebut akan semakin mudah berkembang karena tidak ada satupun pihak yang memegang kendali penuh atas Metaverse tersebut dan anggota komunitas bisa bebas berkreasi tanpa ada batasan dari pihak manapun.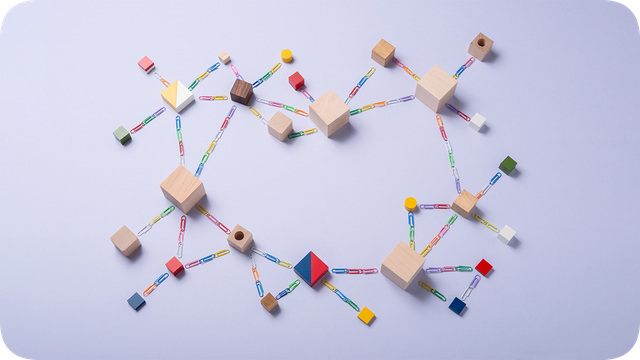 SUMBER
Dengan menggunakan Blockchain sebagai landasan tempat berjalannya Metaverse, maka seluruh transaksi dan kegiatan yang ada di sebuah Metaverse akan seluruh terkeam pada jaringan Blockchain dan tidak bisa akan diubah oleh siapapun. Dengan begini kita bisa mendapatkan sebuah dunia virtual dimana tidak ada manipulasi yang bisa dilakuakn karena semuanya akan terekam dan bisa dilihat oleh siapapun dalam Blockchain tersebut.
Dan seperti yang sudah kita ketahui bahwa Metaverse merupakan sebuah dunia yang dibuat berbasis virtual sehingga seluruh alat dan aset yang ada pada Dunia Metaverse akan berbentuk digital.
Begitu pula surat kepemilikan sebuah aset yang ada didalam Metaverse, sertifikat yang akan digunkaan pada Metaverse juga harus menggunakan sertifikat yang berbasis digital dan bisa diakui keasliannya oleh seluruh komunitas. Dan teknologi Blockchian sudah memiliki solusi atas masalah tersebut dengan memiliki "Non-Fungible Tokens (NFT)".
Mungkin beberapa dari kalian sudah mengetahui apa itu NFT karena memang sudah dibahas sebleumnya pada Steemit Crypto Academy pada season 2. Untuk kalian yang belum memahami apa itu Non-Fungible Tokens (NFT), secara sederhana NFT merupakan sebuah tanda bukti kepemilikan seseorang ata suatu aset digital yang dimana bukti tersebut akan tersimpan dalam jaringan Blockchain dan tidak akan bisa diubah oleh siapapun, sehingga bukti kepemilikan atau sertifikat tersebut merupakan tanda bukti yang valid.
Sebagai contoh hubungan antara NFT dengan Metaverse, jika kalian memutuskan untuk membeli sebuah tanah virtual di salah satu Metaverse yang berbasis Blockchain, setelah kalian berhasil melakukan pembelian tanah tersebut maka seluruh proses transaksi itu akan terekam dalam blockchain dan disitu akan diperlihatkan bahwa kalian merupakan pemilik dari tanah yang sudah kalian beli tersebut. Jadi jika ada seseorang yang mengklaim bahwa tanah tersebut adalah miliki ia, maka hal tersebut akan dibantah secara otomatis oleh seluruh komunitas karena pada sistem jaringan Blockchain sudah mencatat bukti kepimilikan tanah tersebut adalah milik kalian.
Selain itu, seluruh pembayaran yang akan dilakukan untuk membeli sebuah aset pada Metaverse juga akan menggunakan mata uang digital yang bernama "Cryptocurrency".
Berbeda dengan mata uang fiat yang merupakan mata uang yang memiliki fisik, cryptocurrency merupakan sebuah mata uang yang menggunakan teknologi Blockchain dalam proses transaksinya sehingga akan sangat cocok untuk digunkaan dalam seluruh transaksi yang ada pada Metaverse.
Dari beberapa hal tersebut kita bisa melihat bagaimana pengaruh yang diberikan oleh teknologi Blockchain terhadap proses perkembangan Metaverse. Dengan adanya Blockchain yang awalnya hanya digunakan untuk cryptocurrency, teknologi ini bisa menjadi titik balik dari sebuah peningkatan pesat dari perkembangan zaman saat ini.

Proyek Metaverse Pada Blockchain
Sampai saat artikel ini dibuat, sudah ada banyak sekali proyek Metaverse yang berbasis blockchain yang sudah dibuat dan berjalan dengan baik, bahkan ada beberapa proyek Metaverse yang tokennya sudah masuk Top 100 cryptocurrency. Kali ini saya akan menjelaskan 2 proyek saja yang bisa dijadikan sebagai salah satu contoh proyek Metaverse di teknologi Blockchain
1. Axie Infinity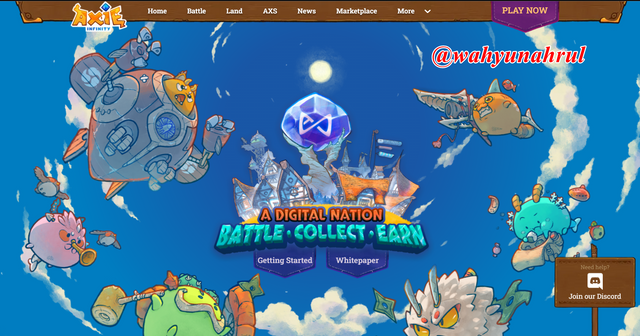 Metaverse pertama yang akan saya jelaskan adalah Axie Infinity. Metaverse ini adalahs ebuah Metaverse yang berbasis game yang berjalan pada Blockchain Ethereum, game ini terinspirasi oleh salah satu anime yang bernama Pokemon dimana seluruh avatra yang ada pada game ini mirip seperti pokemon. Setiap karakter avatra yang ada pada game ini disebut dengan "Axies".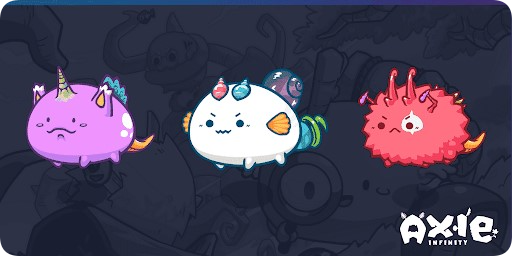 SUMBER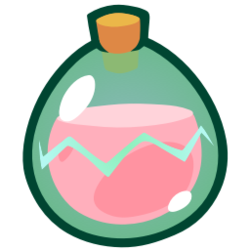 Game ini menawarkan pengalaman kepada para pemain agar bisa merasakan bagaimana memelihara Axies, membesarkannya, dan memakainya dalam pertempuran antar sesama Axies. Setiap pemain yang menang akan mendapatkan reward yang disebut dengan "Small Love Potion (SLP)" dimana potion ini bisa digunkan untuk mengembangbiakkan Axies lainnya atupun bisa dijual di marketplace pada website resmi Axie Infinity.
Token dari Axie Infinity sendiri (AXS) pada saat artikel ini dibuat sudah menyentuh $141.08 berdasarkan data dari CoinMarketCap.

Jika kita melihat berdasarkan data yang ada pada website resmi Axie Infinity. Alokasi terbesar dari Token AXS dibuat untuk Staking Reward sebesar 29% baru disusul Sky Mavis sebesar 21% dan Play to Earn 20%. Dan sampai saat ini Fitur Staking yang ada pada Axie Infinity belum resmi diluncurkan sehingga ini bisa kita jadikan sebagai momentum untuk berpartispasi lebih awal.
Lalu bisa kita lihat total keseluruhan token AXS akan tersebar keseluruh komunitas diperkiran pada tahun 2026 sehingga kita masih ada waktu kurung lebih 5 tahun lagi sebelum harga AXS akan jauh meninggi karena Sirkulasi Suplai tokennya sudah maksimum.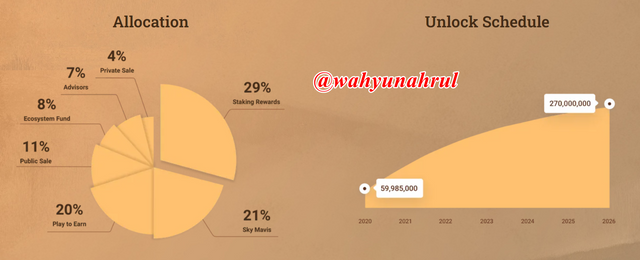 Mekanisme Staking yang dibuat oleh Axie Infinity sebenarnya hampir sama dengan mekanisme Liquidity Pool yang sudah didopsi di berbagai DEX. Setiap AXS yang di stake oleh para AXS Holders akan dikumpulkan kedalam Community Treasury lalu token-token tersebut akan dijadikan sebagai hadiah untuk para pemain yang menjadi pemenang pada setiap pertempuran. Lalu para AXS Holders akan mendapatkan imbalan dari setiap voting yang ia lakukan karena menstake tokennya sekaligus ia juga akan mendapatkan reward dari hasil permainan yang ia lakukan juga, sehingga para AXS Holders yang menstake tokennya akan mendapatkan double reward.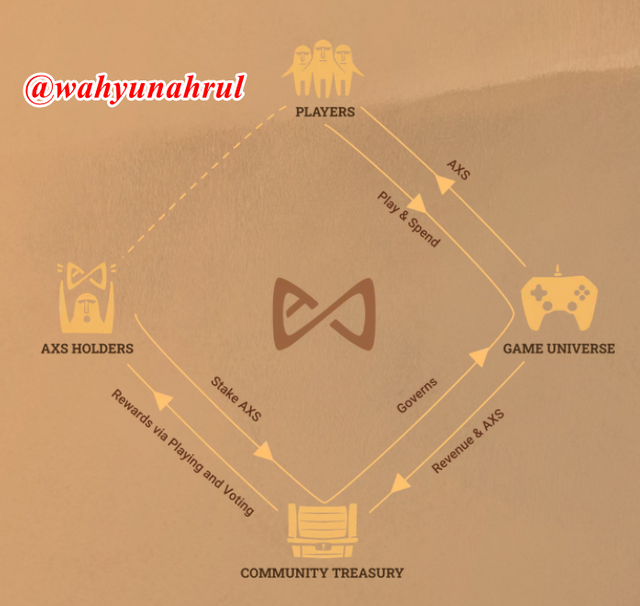 Pada Axie Infinity ada terdapat fitur Land yang digunakan para pemain sebagai tempat mereka mengembakbiakkan Axies yang mereka punya. Fitur land ini bisa dimiliki dengan melakukan pembelian pada marketplace yang ada pada website Axie Infinity. Sebagai sebuah gambaran berapa harga dari sebuah Land yang ada di Axie Infinity bisa kalian lihat pada gambar dibawah yang ditunjukkan oleh kotak berwarna merah harga dari sebuah Land bisa mencapai $13,650 dan itu merupakan harga Land termurah pada saat artikel ini dibuat.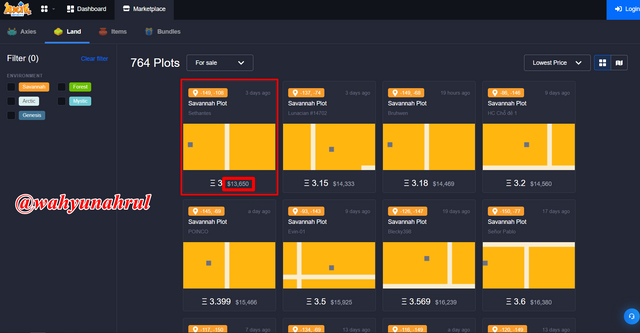 Seperti yang sudah saya jelaskan sebelumnya juga bahwa kita bisa menjual Axies yang kita miliki pada marketplace, harga dari Axies yang dijual ini bisa bermacam-macam tergantung jenis dan tingkat kelangkaan dari Axies tersebut. Pada contoh dibawah bisa kita lihat ada sebuah Axies yang bahkan dijual dengan harga $1,410 untuk hanya 1 Axie.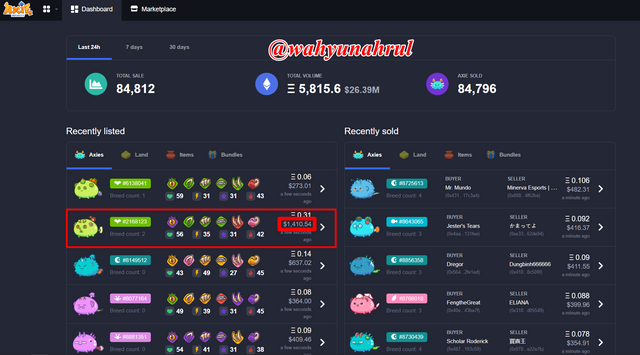 2. Sandbox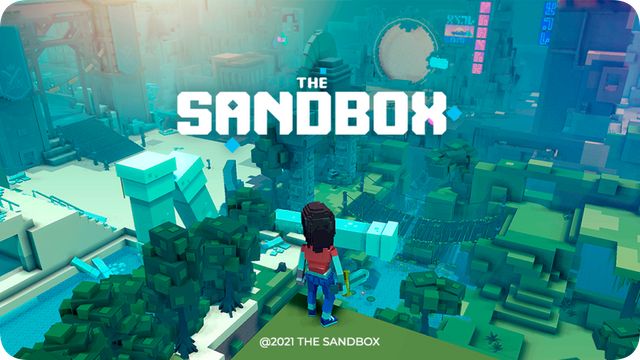 SUMBER
Metaverse selanjutnya adalah Sandbox. Sama seperti Axie Infinity yang sudah kita bahas sebelumnya, Sandbox juga merupakan sebuah Metaverse yang berjalan pada Blockchain Ethereum. Akan tetapi, berbeda dengan Axie Infinity yang mewarkan pengalaman dalam mengembangbiakkan Axies, pada Sandbox kita akan ditawarkan pengalaman hidup dan berinteraksi pada sebuah dunia yang baru.
Kita bisa membeli tanah dan membangun rumah milik kita sendiri pada dunia tersebut, dan kita juga bisa bertemu dan berinteraksi dengan orang-orang yang ada didalamnya secara langsung walau mereka berada pada jarak yang jauh di dunia nyata. Pada saat artikel ini dibuat, harga dari Token Sandbox (SAND) sudah menyentuh harga $2.81.

Proyek Sandbox terkenal dengan keseriusan pengembangnya dalam mengembangkan Metaversenya, bahkan mereka sudah bekerjasama dengan beberap perusahaan besar dan artis-artis top dunia seperti Snoop Dogg dan Avenged Sevenfold dalam hal mempromosikan Metaversnya.

Sandbox sudah melaunching dunia virtualnya dan kita bisa melihatnya memalui peta yang ada pada website Sandbox. Pada gambar dibawah kalian bisa melihat penampakan peta dari duani virtual yang ada di Metaverse milik Sandbox.
Pada beberapa tempat bisa kita lihat sebagian besar tanah tersebut sudah dibeli oleh perusahaan-perusahaan besar seperti Binance, CoinMarketCap, Atari, Socios.com, dll. Dari sini bisa kita lihat bahwa Sandbox memiliki proyel Metaverse yang sangat bagus bahkan bisa mendatangkan investor dari perusahaan-perusahaan besar tersebut.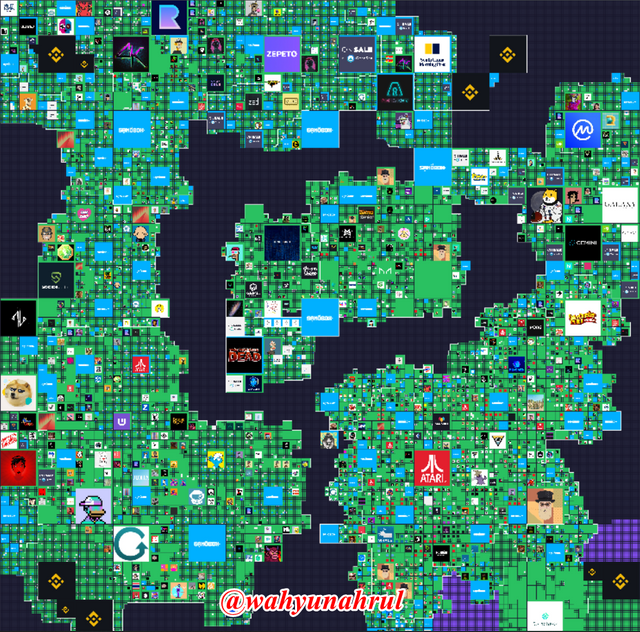 Untuk contohnya kita melihat pada gambar dibawah, pada gambar tersebut kita diperlihatkan tanah yang sudah dimiliki oleh Snoop Dogg dan seluruh detail tanah tersebut mulai dari titik koordinat dan lainnya diperlihatkan dengan jelas.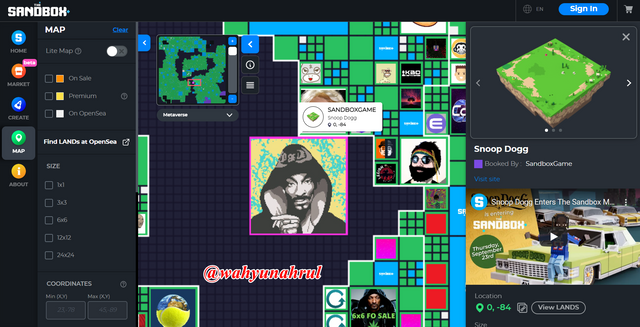 Selain itu, kita juga bisa melakukan pembelian NFT pada marketplace yang ada di website Sandbox secara langsung dengan menghubungkan wallet kita. NFT tersebut bisa kita simpan dan jika suatu saat alat VR dari Sandbox sudah diluncurkan maka kita bisa melihat langsung dengan NFT yang kita beli tersebut pada Metaverse Sandbox.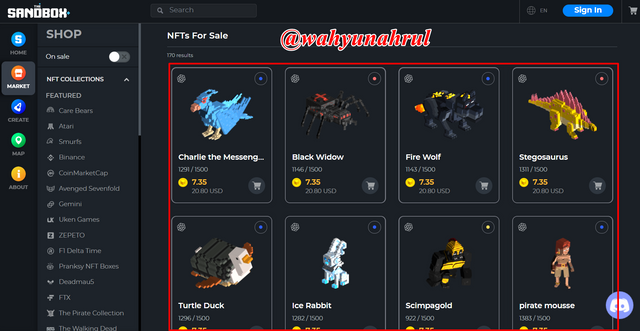 Kelebihan Metaverse Pada Jaringan Blockchain
Memang dunia virtual Metaverse tidak hanya satu seperti halnya dunia nyata, sehingga setiap orang bisa memilih dunia Metaverse sendiri sesuai dengan keingannya masing-masing. Akan tetapi jika kita membandingkan Metaverse yang dibuat oleh sebuah perusahaan yang menggunkaan teknologinya sendiri dibandingkan proyek Metaverse yang menggunakan teknologi Blockchain, maka kita akan bisa mendapatkan beberapa perbedaan mencolok dari proyek Metaverse yang dibuat dengan menggunkan teknologi Blockchain dibandingkan dengan yang tidak. Beberapa perbedaannya antara lain:
Sistem Desentralisasi

Seperti yang sudah saya bahas sebelumnya bahwa teknologi Blockchain merupakan sebuah teknologi yang menganut asas desentralisasi yang dimana tidak boleh ada satupun pihak otoritas yang memegang kendali penuh atas sebuah jaringan.

Dengan begini segala hal yang ada pada dunia tersebut akan berjalan secara mandiri seiring dengan aktivitas dari orang-orang yang ada didalamnya, sebuah Metaverse tidak akan berpihakan ke manapun dan akan bersikap adil sehingga setiap orang yang ada didalamnya bisa leluasa dalam melakukan seluruh kegiatan dalam dunia Metaverse tersebut.

Selain itu, dengan sistem desentralisasi ini akan membuka peluan bagi seluruh orang yang ada pada Metvaerse tersebut untuk ikut berpartisipasi dalam melakukan perubahan-perubahan positif yang ada di Metaverse tersebut. Pada Metaverse yang memakai sistem jaringan Blockchain akan melakukan sistem voting dimana pilihan perubahan yang mendapatkan suara terbanyak yang distujui oleh seluruh komunitas, dengan begini seluruh perubhaan yang terjadi pada Metaverse tersebut akan lebih demokratis dan adil.
Sebagai Aset Investasi

Karena seluruh aktivitas perdangan yang ada pada Metaverse akan menggunakan cryptocurrency, maka setiap orang yang berhasil mendapatkan penghasilan dari aset yang ia miliki pada sebuah Metaverse akan bisa diuangkan melalui exchanges. Dengan begini Metaverse bisa dikatakan sebagai salah satu aset investasi.

Sebagai contoh, jika berhasil memenangi pertempuran pada game Axie Infinity sehingga kita mendapatkan Token AXS, token tersebut bisa kita jual pada exchanges baik itu CEX atapun DEX sehingga kita mengubahnya menjadi mata uang fiat dan bisa kita gunkaan untuk keperluan sehari-hari.

Contoh lainnya seperti jika kita membeli sebuah tanah pada Metaverse Decentraland lalu kita memutuskan untuk membangun sebuah bangunan diatas tanah tersebut, maka kita bisa mengenakan biaya jika ada orang yang ingin membeli ataupun menyewa bagunanan dan tanaha yang kita miliki tersebut
Pencatatan Hak Kepimilikan yang Valid

Dengan adanya NFT pada Blockchain akan sangat emmudahkan semua orang untuk memiliki aset apapun pada Metaverse tanpa perlu takut aset mereka tidak memiliki sertifikat yang valid. Karena jaringan Blockchain akan terus menyimpan kepemilikan aset NFT tersebut sampai kapanpun dan tidak akan berubah jika pemilik dari NFT tersebut memutuskan untuk menjualnya, dan setiap kepilikan yang sudah tercatat pada Blockchain merupakan hasil persetujuan komunitas sehingga sertifikat tersebut tidak hanya divalidasi oleh satu otoritas saja.

Kesimpulan
Metaverse akan menjadi sebuah gerbang pembuka dari masa depan, dengan terealisasikannya konsep dunia virtual ini akan menjawab mimpi banyak orang menjadi sebuah kenyataan. Jika sebelumnya kita hanya bisa melihat ada yang ada pada gadget kita, sekarang kita akan bisa langsung mersakannay dengan tubuh kita sendiri dan bisa berinteraksi dengan segala objek yang ada didalamnya.
Memang sampai saat ini dunia Metaverse masih belum sepenuhnya bisa dirasakan seperti yang diveritakan pada film ataupun novel-novel fiksi. Tetapi dengan sudah adanya banyak proyek Metaverse yang ada didalam teknologi blockchain seakan memberitahu kepada kita semua bahwa hal tersebut tidaklah lama lagi. Kita sebagai orang yang sudah lama di dalam industri Teknologi Blockchain seharusnya menajdi salah satu dari orang-orang pertama yang tergabung dalam Metaverse, sehingga kita bisa memanfaatkan momentum ini sebagai tempat kita meraup keuntungan dari dunia yang sedang dikerjakan ini.
Sekian dari saya, terimakasih telah membaca artikel saya sampai habis. Jika ada kesalahan dalam penulisan, tolong beritahu saya pada kolom komentar 😁.

Note:
Semua gambar yang tidak memiliki sumber merupakan milik penulis dan screenshot dari website Axie Infinity, Sandbox, dan CoinMarketCap


Soal-Soal Homework
1). Apakah menurutmu Metaverse merupakan level selanjutnya dari "Teknologi Masa Depan"? Jelaskan pendapat pribadimu dengan memperlihatkan beberapa bukti.
2). Berikan penjelasanmu mengapa Metaverse dan Blockchain merupakan sebuah pasangan teknologi yang serasi.
3). Pilihlah satu proyek Metaverse yang berbasis Blockchain dan lakukan analisa fundamental terhadap proyek tersebut.(Screenshot Dibutuhkan)
4). Jelaskan langkah-langkah menghubungkan wallet kripto dengan sebuah proyek Metaverse yang kalian pilih pada sola nomor 3. (Screenshot Dibutuhkan)
5). Jelajahilah Metaverse pilihan kalian dan perlihatkan berbagai fitur, kelebihan, dan hal unik lainnya dari proyek Metaverse tersebut. (Screenshot Dibutuhkan)
6). Kesimpulan.
Peraturan dan Panduan Homework
Mohon perhatikan seluruh peraturan dan panduan yang diberikan. Jika tidak mengikuti peraturan dan panduan akan mengakibatkan berkurangnya nilai atau bahkan tidak mendapatkan nilai sama sekali.
Tugas Homework harus diposting di komunitas Steemit Crypto Academy.

PLAGIARISME, SPINNING, DAN SPAMMING TIDAK AKAN DITOLERANSI DI STEEMIT CRYPTO ACADEMY.

Sesuai dengan peraturan terbaru, hanya orang yang aktif dalam berpartisipasi inisiatif #club5050 yang memenuhi syarat untuk mengambil bagian dalam tugas pekerjaan rumah Akademi Crypto.

Judul postingan harus ditulis dengan format " Metaverse and Blockchain - Crypto Academy / S5W1 - Homework Post for @wahyunahrul"

Reputasi minimum untuk mengikuti kelas ini adalah 60.

Minimal Steem Power yang yang harus dimiliki adalah 600 SP. (Tidak termasuk yang didelegasikan)

Akun yang sedang melakukan power down tidak diperbolehkan mengikuti kelas ini.

Jumlah kata dalam postingan minimal 500 kata.

Gunakan gambar yang bebas Copyright dan cantumkan sumber dari gambar tersebut.

Semua hasil screenshot yang diambil harus diberikan watermark yang mencantumkan username masing-masing.

Untuk steemian dari indonesia, postingan Homework dapat ditulis dalam bahasa Indonesia.

Masukkan tag #wahyunahrul-s5week1, dan #cryptoacademy pada 5 tag pertama postingan.

Kamu bisa menambahkan tag lain yang relevan dengan pembahasan ini, seperti #metaverse, #blockchains, dll.

Taruh link tugas pada kolom komentar jika belum diberi penilaian selama 2 hari atau lebih.

Tugas Homework dapat dikerjakan hingga 20 November 2021 pukul 23:59 UTC.