Hello @imagen. Attending your class this first week of Season 5 is truly positive and instructive. I will review the Gate Token related to your topic because it has quite a lot of users in Turkey. I am one of them.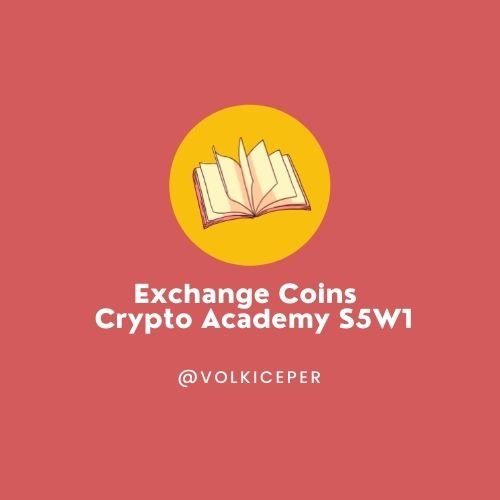 According to CoinMartekCap data, there are 308 central-semi-centralized exchanges and 121 decentralized exchanges. This variety is good for traders. As an investor, I use the Gate.io exchange as it has many coins and tokens. It also offers passive income and high transaction volumes. For these reasons, I find the Gate.io exchange reliable.

Q 1.) Perform a complete analysis of the currency of some exchange. Not allowed: BNB, KuCoin, Cake and Uniswap.


Gate Token is the token of the Gate.io exchange. Exchanges create their own tokens and market them to their customers. Customers holding exchange tokens in their exchange accounts receive certain benefits. Traders holding Gate Tokens in their exchange accounts also get some benefits.
First of all, I have to give numerical information about the gate token. This information is the data at the time of writing.
---
---
| Circulating Supply | Total Supply | Maximum Suppy |
| --- | --- | --- |
| 77.756.079 GT | 300.000.000 GT | No Data |
---
---
One Gate Token is $5.98 USD.
One Gate Token is 0.0001035 BTC.
One Gate Token is 0.001475 ETH
---
---
Gate Token has a one-day trading volume of $18,207,557.03. It has a 0.02 percent dominance in the entire market. It ranks 154th in the ranking of Coins and Tokens.
The lowest price in the history of Gate Token lived on Jun 14, 2021. One Gate Token that day was only $0.09838.
The highest price in Gate Token history was experienced on May 12, 2021. A Gate Token was $13.09 that day.
---
---
Preferring the token created by the stock market as an investment tool can be a very profitable business. Holding Gate Token on the Gate.io exchange considerably reduces the fee fees paid in trading. Actually, Gate.io exchange has a tier system. In this system, the Gate Token, which is kept in certain numbers, reduces the fee paid according to the rank. Holding Gate Token on the Gate.io exchange affects daily withdrawal limits.
Below is the screenshot I took from the Gate.io stock market's own page, and it says how much fee will be paid in which tier rank.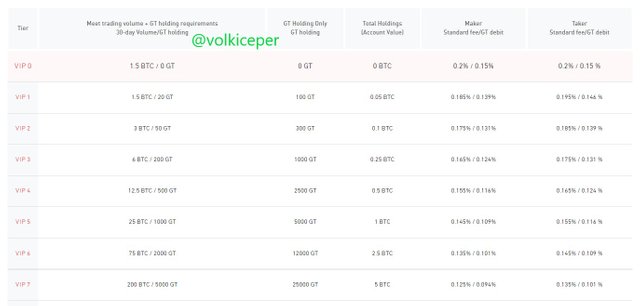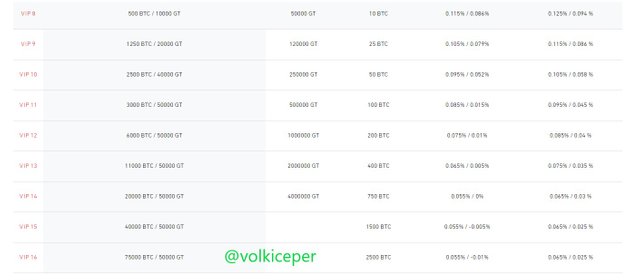 Q 2.) Make a purchase equal to at least US $ 10 of the currency you explained above. You must make some movement with that currency within the exchange that created that currency. Show screenshots and explain in detail the steps to follow. Example: transfer of funds, Staking, participation in a Launchpad, trading in futures, etc. Indicate the reasons why you chose that option (operation) on that platform.

In the screenshot I shared below, there is a record of the transaction where I bought 5,773 Gate Tokens for 34,103 USDT on November 17, 2021 at 17:51 local time.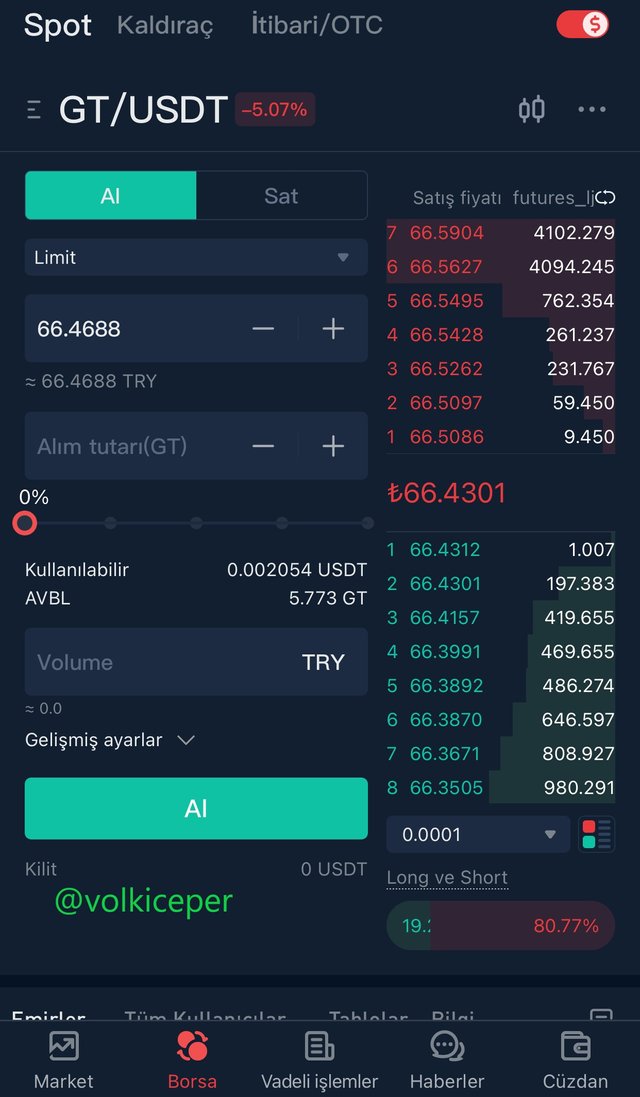 [Gate.io - Mobile App]
However, I had a misfortune here and forgot to take a screenshot while trading. I just have a screenshot where you can see the total Gate Token at the end of the transaction. I offer my apologies for this.
There are many things that can be done with Gate Token on the Gate.io exchange.
For example, if we hold 100 Gate Tokens for 14 days, we become Tier 1 and we can participate in Start-up projects. It is possible to hold more Gate Tokens and reach higher Tier levels. By doing this, we can obtain more purchase rights in Start-ups.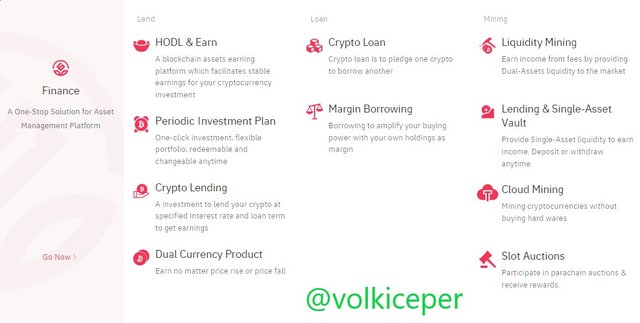 I have not made any other investments with the Gate Tokens I have purchased. Because;
I need a lot of Gate Tokens for staking.
I could join Launchpad, but the Lunchpad weight would be very small since I have 5 or so Gate Tokens.
I could have put it in any liquidity pool, but it wouldn't mean anything because my Gate Token count was very low.
For these reasons, I sold my Gate Tokens 2 days after purchasing them. At least I got it for the subject of the article. In such cases, you need to have a lot of tokens on hand for the investment to be worthwhile.

Q 3.) Show the return on investment in time frames of 0, 24 and 48 hours from the moment you bought. Take screenshots where you can see the price of the asset and the date of capture.

| 17.11.2021 (Date I bought) | 18.11.2021 | 19.11.2021 |
| --- | --- | --- |
| 5.90 $ | 5,74 $ | 6.19 $ |
According to this calculation, at the end of two days, I made a profit of 4.91% from my Gate Token transactions.
Due to some misfortune I lost the screenshots and I only have two screenshots. The first is the transaction summary of my purchase. The second is the screenshot before I sold my Gate Tokens. Since I shared these screenshots in part 2, I do not share them in this question again.

Q 3.1) Has the asset's price acted independently or does its price strictly follow the correlation with Bitcoin?
You can add the information you want, creativity will be taken into account.

| Dates | 17.11.2021 | 18.11.2021 | 19.11.2021 |
| --- | --- | --- | --- |
| Gate Token | 5.90 $ | 5,74 $ | 6.19 $ |
| Bitcoin | 59.599 $ | 58.615 $ | 57.312 $ |
As I shared in the table above, Gate Token price decreased on the 1st day from the date of purchase and increased on the 2nd day. However, Bitcoin has been on a steady decline in recent days. Looking at the table I prepared according to CoinMarketCap data, there is no correlation between Bitcoin and Gate Token.
Bitcoin may drag other altcoins after it, but Exchange tokens can resist it. Since launchpads on exchanges use tokens they have created for start-ups, exchange tokens can experience abnormal rises in ordinary times.

Q 4.) What are futures trading?

A type of agreement to maintain the price of an asset in the future. For example, you were afraid that the price of your wheat would decrease in the future. You negotiate the price today and buy or sell it in the future. This is futures trading.
However, in the cryptocurrency market, futures are not made that long. Since Cryptocurrency Markets are very risky, maturities are at most one day.
We can trade futures on Gate.io exchange and many other exchanges. However, in order to be able to trade futures, the crypto money must be in the futures wallet, not in the spot wallet.

Q 5.) What is the margin market?

Margin trading is also known as leveraged trading. This type of transaction promises a lot of profit. However, since the market moves in both directions, a lot of loss can also be made. Therefore, if you have little knowledge of this type of transaction, you should be very careful because you can lose all of your capital in one go.
Traders expect to earn more profit on margin trading than spot trading. Traders take positions with more money than they have in this type of trade, so they can get more profit. In order to do this, they have to deposit collateral.
In this type of trade, profit can be taken in the two-way movement in the market. If the forecasts are correct for both the decrease and the increase expectation, profit is taken.

Q 6.) What happens to the cryptocurrencies of an exchange when they suffer from a hack or it turns out to be a fraud? Present at least 2 real life examples.

Exchange wallets are not reliable places to store Cryptocurrencies. Any exchange can be hacked. Your assets can be stolen. You may lose all your assets, never to be returned.
One of them happened to me too. You will surely remember Cryptopia exchange. It was a New Zealand-based cryptocurrency exchange. It was reassuring until it was hacked in 2019. It offered many trading pairs and a wide variety of coin trading opportunities. Transaction volume wasn't bad either. You could get many coins from Cryptopia that you couldn't find in the normal market. Cryptopia exchange was hacked and hacked in 2019.
In the market conditions of that period, 17 million dollars of ETH AND Erc-20 tokens were stolen. ETH was worth $100 back then, but now it's over $4000.
1.2 million of my DAPS Coins were stolen in that exchange.
Of course, me and the other victims could not get our crypto assets back. Yet:)
Another example is the Binance theft on May 7, 2019. On that day, it was announced that 7000 BTC was stolen from Binance, the world's number one exchange. However, I have positive opinions about Binance. Binance has an insurance fund for such bad situations. This insurance fund is growing day by day because some of the fees paid by the customers are added to the insurance fund.

Conclusion

It is very wise to invest in cryptocurrencies. The future is in Cryptocurrency and blockchain technology. Ignoring this technology is like opposing gunpowder and the printing press in ancient times.
Keeping our investments long-term in the stock markets where we make our investments may not yield very good results. Centralized exchanges in particular are in danger, even Binance.
It would be good for us to store our long-term investments in cold wallets, usb ledgers or decentralized wallets with the key ourselves.
In addition, exchange tokens such as Gate Token can offer huge earning opportunities. If you paid attention in my answer to the first question, it seems that a great opportunity has been missed. Imagine that you bought $100 Gate Tokens on June 14, 2021 at a price of $0.098.
The opportunity for Gate Token seems to have been missed. You can write in the comments for us to review the newly opened and promising exchanges.
Thanks for reading..