Hello, dear Steemians.
At first, I would like to make a brief introduction about myself. My name is Seam Mahmud. I'm from Dhaka, Bangladesh. I'm studying Computer Science at Tejgaon University College, Dhaka. I'm also a freelancer and youtube marketer since 2016. In 2018, I attended a conference on Stock Trading at Bashundhara Convention Hall. Then I realized that Trading is not only buying or selling, it is a perfect carrier-building opportunity with financial freedom.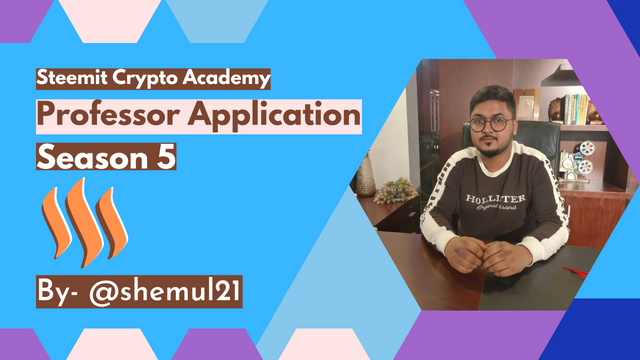 Image designed in Canva Pro | by @shemul21
---
I had limited knowledge about the crypto world. But in this season 4, I have learned a lot about blockchain and cryptocurrencies by completing the homework tasks on this great platform. Though my reputation is not higher, I have read several weekly advanced courses, some books, and blogs for acquiring more knowledge about blockchain and crypto trading.
Now, I think I have gained a lot of experience and could be the best candidate to be considered as a professor for the next seasons in Steemit Crypto Academy.

SUMMARY OF MY EXPERIENCE
---
I have joined the Steemit platform in April 2021. After joining here, I have introduced myself at Newcomers' Community and completed all the Achievement Tasks & achieved the Pro Newcomer title. Along with this, I had made several posts on other communities. After a few months, I have joined the Crypto academy for the Beginners Introductory courses(Fixed). Though I have gathered enough knowledge to work with advanced courses I don't have the eligibility. But now I am working on the fixed courses and completed 9 out of 10 tasks with higher ratings.
Beyond that, I like to learn about new things that I have an interest in. Mainly, I am good at technical analysis. But when I was trading on stocks like Tesla or Amazon it mostly depends on fundamentals. Then I had applied my strategy to Crypto Trading. I was totally surprised. It works better than Stocks. I am loving Crypto day by day. I have achieved some good profit on Crypto. Buy on a deep & finding a perfect level is most important. I feel like a sniper specialist as a trader.
Brokers I am familiar with:
Exness
IC Market
Binance
Bittrex
Poloniex
Platforms:
My trading Technique:
Rsi over 50 for trend direction.
200 & 50 MA for strong level support & Trend.
Fibonacci retracement for perfect level.
Below I've included some of the Technical Analysis Charts that I used for different trading pairs.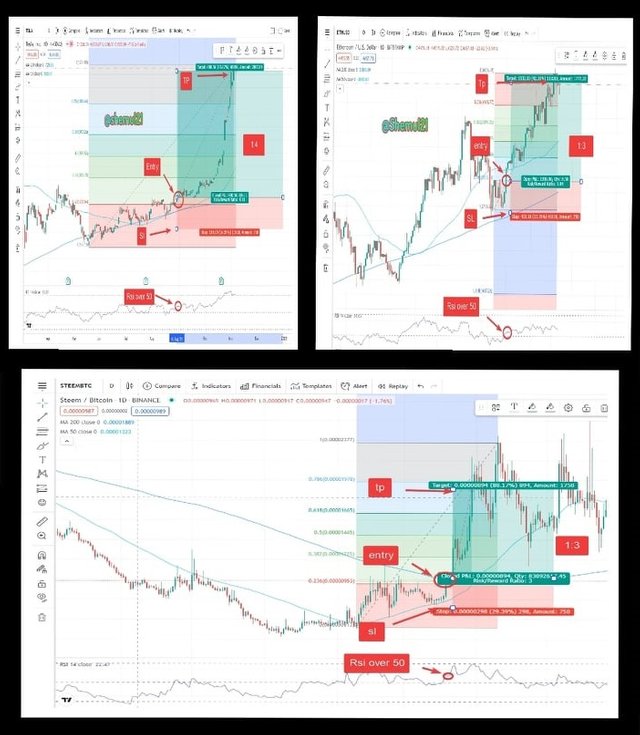 Illustration from Trading View | by @shemul21

WHY I'M SUITABLE TO BE A CRYPTO PROFESSOR
---
As I have gathered much experience in the blockchain and crypto world, I think I am qualified enough to be a Crypto Professor at Crypto Academy Season 5. And the Crypto Academy is looking forward to the recruitment of professors for next season. Here I'm describing some reasons for selecting me as a professor:
First of all, I am a student of computer science and also a freelancer. I have enough experience with crypto from the last 3 years. As I'm used to performing my subjective presentations in my varsity, I think I could give the easiest explanation on every lecture in such a way that anyone can understand it.

I've also worked as a graphics designer and video editor on Fiverr. I have well experience with Canva & Adobe software. So that I could make well-designed and easily understandable graphics for my students. And I'm also skilled in google sheets.

As I have mentioned above that I am a good learner, I will continue to gather more information about blockchain by researching in multiple ways. And I'll share the acquired knowledge with my students in this community by arranging informative courses.

I accepted the #club5050 event started on steemit. It is great for steem blockchain that is increasing the value of steem. I prefer everyone to follow this event as I'm following.

After my classes, I have enough leisure time. So, I think I could spend huge time creating essential lectures for my students through my experience. And I could able to check and grade my students' homework posts within 24 hours after submission.

OUTLINE OF TOPICS TO COVER IN 5 WEEK COURSES
---
If I am chosen as a Professor in this community, I will cover the following topics for my students.
Week 1: Blockchain Technology.
Every student should have an idea about Blockchain Technology. I want to organize a course on Blockchain Technology including the following sub-topics:
Definition of Blockchain Technology
History of Blockchain
Working fundamentals of Blockchain Technology
Security of Blockchain Technology
Advantages of Blockchain Technology
Disadvantages of Blockchain Technology
Conclusion
---
Week 2: Basics of Crypto Trading.
Buying and Selling the coins or tokens via an exchange is called Crypto Trading. The sub-topics of Crypto Trading basics are including these:
What is trading?
What is Crypto Trading?
Difference between a fiat currency and a cryptocurrency
Different types of cryptocurrency wallets and exchanges
Trading fundamental and technical analysis
Conclusion
---
Week 3: Moving Average of Crypto Trading
Moving average is very effective for trends and momentum. The sub-topics for understanding Moving Average:
What Is the Moving Average?
Types of Moving Averages
The Differences between EMA & SMA
Using Moving Average to Trade
Moving Average Breakdowns
The Limitations
Conclusion
---
Week 4: Applying RSI on Crypto Trading
RSI stands for Relative strength index that is a momentum indicator. The sub-topics for understanding Momentum indicators:
What is RSI?
What is RSI Divergence?
What Does RSI Indicate?
RSI Time Period
Secret Golden Nuggets of RSI
RSI Swing Rejection
Conclusion
---
Week 5: Understanding a Cryptocurrency Airdrop
Cryptocurrency airdrop is used to promote awareness of a new currency. I'm concluding the key topics for understanding a cryptocurrency airdrop:
What is a crypto airdrop?
Different types of airdrops
Advantages of crypto airdrops
Disadvantages of crypto airdrops
Tax implications of a crypto airdrop
Airdrop Identification (True/Scam)
Conclusion

BEST CRYPTO RELATED POSTS BY ME IN THE STEEMIT CRYPTO ACADEMY
---

CONCLUSION
---
I'm really grateful for getting a chance to apply for the Steemit Crypto Academy Professor. I am the only candidate from Bangladesh. I will try to do my best in this Crypto Academy whether I am selected or not. Thanks for reading my application.
Best Regards,
Seam Mahmud (@shemul21)