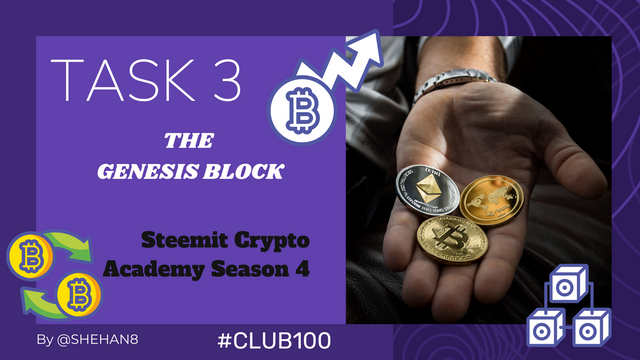 Cover Image - https://www.canva.com/

QUESTION 3 :-
a) What is a Cryptocurrency?
b) What is Cryptography and how does it make cryptocurrencies secure?
c) Explore the Steem Genesis Block and Sign in as proof of completion.

a) WHAT IS A CRYPTOCURRENCY?
---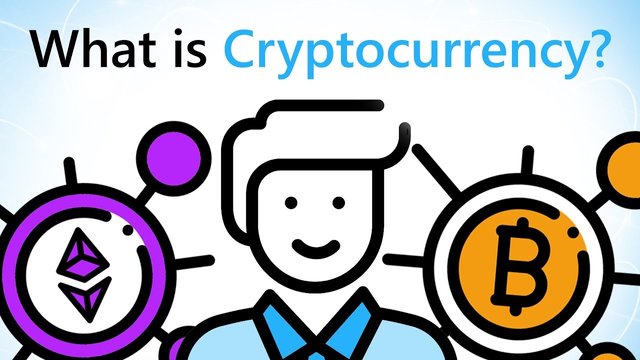 This is the Source of above image.

INTRODUCTION OF CRYPTOCURRENCY
---
When we talk about Cryptocurrencies, we should remind the first cryptocurrency in the world. It can be defined as Bitcoin which is created by a presumed pseudonymous person or persons Satoshi Nakamoto.
Basically, these cryptocurrencies are created as an alternative to traditional currency. Actually, it is the first digital currency in the world. They are digital currencies that are gaining popularity day by day and their value is increasing day by day.
The most important thing is that most of these cryptocurrencies are working in a decentralized network which means there is no owner to that network. It can be defined as blockchain technology and it is the most reliable option for the double-spending problem of Digital currencies. So, according to this technology, all decentralized cryptocurrencies are 100% safe. Therefore, it is impossible to change or erase the data by any external party.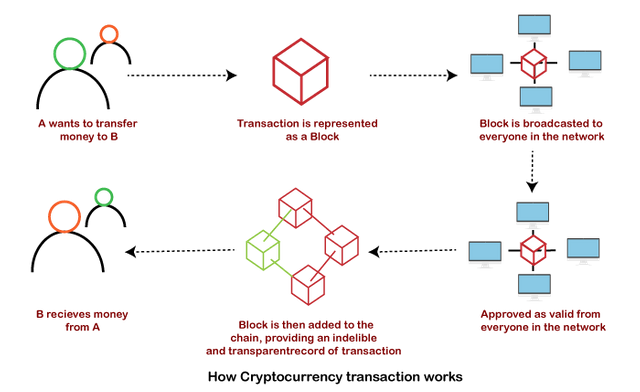 This is the Source of above image.
As I said earlier, most cryptocurrencies are working on a blockchain and all of these transactions are being recorded on blocks. If I explain it technically, transactions are being recorded on a leger according to a block. Then, these blocks are broadcast to the whole network. After that, these transactions are approved as valid transactions by the user or miner in this blockchain network. Then these blocks are converted as a transparent and unrecognizable record. Finally, the person who has the correct secret code (basically the active key) can convert these data back to the normal data.

b) WHAT IS CRYPTOGRAPHY AND HOW DOES IT MAKE CRYPTOCURRENCIES SECURE?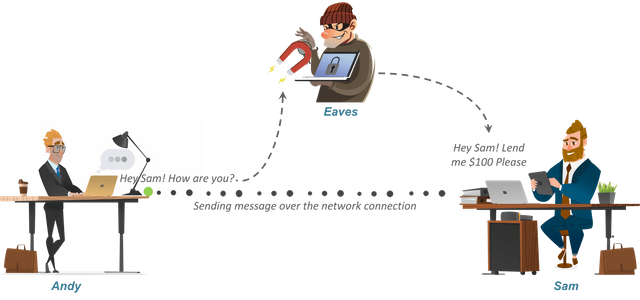 This is the Source of above image.
---
INTRODUCTION OF CRYPTOGRAPHY
Basically, Cryptography can be defined as the technology which provides for every cryptocurrency transaction to be safe and reliable. Therefore, without Cryptography technology, we can't communicate our data without acknowledging another party.
If I explain it simply, when we transmit data from one location to another location, there is a distance between two locations. So, if someone needs to get access to these data, he can try to access them from the middle of that transmission. So, if he was able to get access to that data, he can read them easily. But in cryptography, there is a system to convert these data to an unreadable format before transmitting it. Actually, the receiver has to reconvert these data to a readable format by a special key or program. Then, if a person needs to access these data from the middle of that transmission, he is unable to do that. This is the basic concept of cryptography.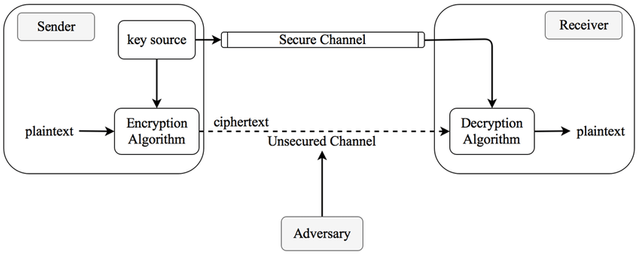 This is the Source of above image.
In Cryptography, we have to encode our message or data according to a specific algorithm. Technically, we have to convert our data into specific codes (unreadable to another party) using a specific key. Basically, this key is the public key of the receiver. When we enter the receiver's public key into this Cryptography algorithm, it automatically converts these data into randomly generated numbers or digits. Simply put, this encoded unreadable text can be defined as ciphertext.
Actually, these encrypted data can no read by another party. Even the sender can't read these data after the encryption. So, then the receiver needs to convert this ciphertext into normal data using his private key. This is how cryptocurrency secures itself using Cryptography technology.

c) EXPLORE THE STEEM GENESIS BLOCK AND SIGN IN AS PROOF OF COMPLETION.
---
As we learned before, Steem Genesis block can be defined as the first block of our Steem Blockchain and we can try to explore it using the https://steemworld.org site. Let's move to the steps one by one.

We can type https://steemworld.org in any web browser to open a useful website created by @steemchiller. Then I can select "Block Explorer".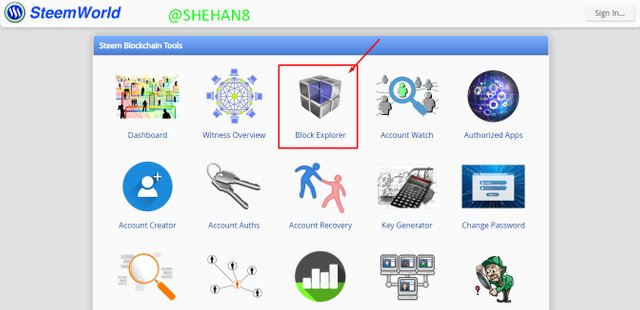 Screenshot - https://steemworld.org

Now we can see the popup window of Steem Block Explorer. Then I can search Block "1"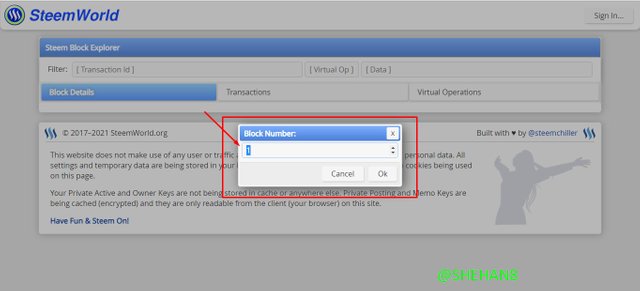 Screenshot - https://steemworld.org

Then, we can see all the detail related to Steem Genisis block including Timestamp, Block Id, Signing Key, Witness and Witness Signature.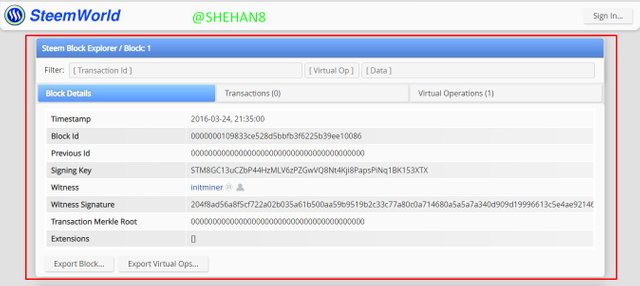 Screenshot - https://steemworld.org
Now I will Highlight the Main important data below.
Timestamp - 2016-03-24, 21:35:00

Block ID - 0000000109833ce528d5bbfb3f6225b39ee10086

Signing Key - STM8GC13uCZbP44HzMLV6zPZGwVQ8Nt4Kji8PapsPiNq1BK153XTX

Witness - initminer

Finally, I will sign in to the website as proof of completion.
To do it, I can click on the Sign-in icon from the top right corner. After that, I need to enter my steemit username and posting key.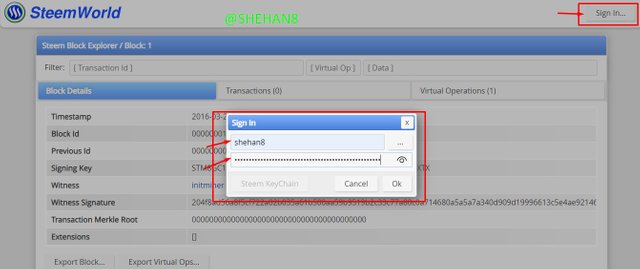 Screenshot - https://steemworld.org

Now I have successfully Signed in as proof of completion. You can see my username and profile picture has shown in the right top corner. (Near to the Sign Out icon)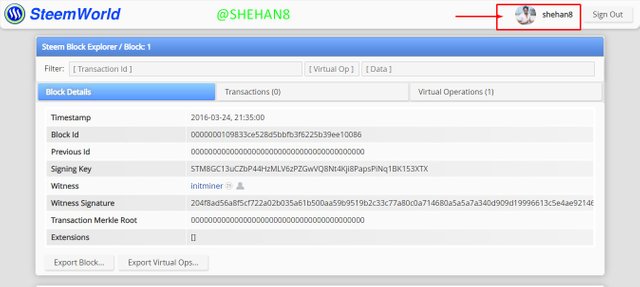 Screenshot - https://steemworld.org

This is all about my homework post and I thank you to professor @awesononso for such a valuable topic that was really very educational.