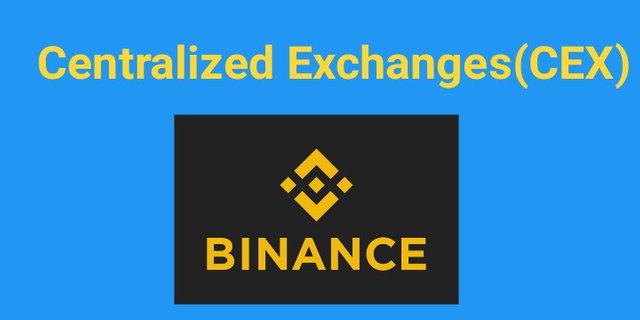 logo source


Greetings to my friends and lovers of good contents.The Steemit Engagement Challenge has continued to hold sway up until this second week and we hope it will get even better in the coming weeks.An Exchange is an online market place where users can buy,sell and swap cryptocurrencies or digital assets.It could be a centralized exchange or a decentralized exchange.

QUESTION ONE
Centralized Exchanges and its Benefits
An exchange is an online market where we can buy and sell digital assets.We can also swap tokens,or even use fiat to buy digital assets and also sell digital assets for fiat.
A Centralized Exchange(CEX) is a type of exchange which is owned by a company.This means that operation of a CEX is controlled by the owners of the exchange company.It has a central server where all data and transaction are stored or are processed.This is a big reason to worry,because hackers can easily harvest all the users data and steal funds since everything is at a place.
To explain further,the exchange company has the private keys of each account holder while the account holder only has the password and so the exchange company has control of the users activities anytime,anyday.It is just like the conventional banks where the bank authorities control our financial transactions.
One can buy,sell or even swap digital assets in a centralized exchange.One can also use local currency (fiat) to buy digital assets in a centralized exchange.It is also very possible to sell digital assets to our local currency (fiat) in centralized exchange.
In a centralized exchange (CEX) a user who wishes to join will have to create an account or download the app,register and fill details like name,bank account,address,identity card and other important personal details and then submit it to the exchange before he/she can trade on the exchange.This means that the privacy or anonymity of the user is not guaranteed.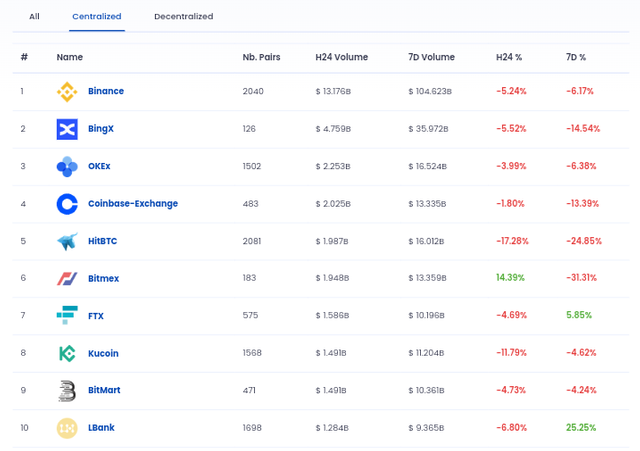 CEX
Examples of centralized exchanges are Binance, Kucoin,OKEx,Coinbase-exchange,FTX,BitMart etc.It now behoves on the an individual to register and trade on the ones that he prefer.
Benefits of Centralized Exchanges
I have defined centralized exchanges is that earlier paragraphs.Now let's look at the benefits of centralized exchanges.
•Buying and Selling
It is very easy to buy and sell crypto token in a centralized exchange.One can use one crypto to buy another or sell one crypto to get another.It is very easy to use usdt to buy btc,eth,trx,steem and other coins in a centralized exchange.
The sweetest part is that one can use his local currency (fiat) to buy usdt or other coins with ease.It allows a user,to sell crypto assets like usdt or btc to local currency through P2P trade.With this traders who have cash can easily use it to buy crypto and start trading on the CEX.
•High Trading Volume
This is another benefit of Centralized Exchanges.Here a user has the ability to person many transaction and at a higher volume when compared to the decentralized exchanges.This feature would encourage more investors to bring their funds since they are sure they trade at a very high volume each day.
•Transaction Speed and Reliability
Transactions in a centralized exchange is always faster and this is a great advantage.It is also important to note that users can trust/rely on a centralized exchange more because they are a company and can recieve complaints or be sued.It is the opposite of DEX where anonymity extends to even the DEX itself.
•May Reduce Criminality
In a decentralized exchange,the user is anonymous and can transact assets to fund war,crime or even transfer funds obtained through fraudulent means.
However,in a centralized exchange CEX the company has the users identity and so the user wouldn't like to involve in fraudulent transaction because his personal details are in the exchanges database.
•High Liquidity
Finally high liquidity is another benefit to be enjoyed in a centralized exchange.Interestingly,CEX provides liquidity for the DEX in most cases.

QUESTION TWO
What I look out for when Choosing an Exchange
Exchanges serves as market place for crypto users and it also serves as a wallet and so one has look well before choosing where to pitch his tent.
•Security and Organization
It is important to make research about the security details of any exchange before investing.Investors can lose their funds via hacking and theft especially when an exchange is not very secure.
An organised exchange company does not list anyhow coin on its platform because some coins are used for pump and dump purposes.So a secure and organized saves her users from this problems.
•Transaction Fees
This is another Important factor to consider.The lower the transaction fees,the better for the user.However,if the transaction fee is high,it does not favour the user.So friend,it is important to simulate a transaction and see the transaction fees so as to avoid loss.
•Trading Volume
The next thing I check is the 24-hour trading volume of the exchange.The higher the trading volume,the more reliable.This means that you aren't restricted from making high volume transactions.
•Number of Coins and Pairs
It is important to check the number of coins that can be traded on a particular exchange before registering.A good exchanges allows trading of not just BTC and ETH.They incorporate other altcoins like ADA,XRP,DOGE,SHIB,STEEM,TRX and other popular altcoins so that traders will have varieties.
Also the coin pairs is important to me example we have BTC/USDT,ETH/USDT pairs and more.I prefer exchanges that have more USDT pairs so that the user can enjoy easily swapping of coins to USDT and vice versa.
•Ranking and Wide Acceptability
The first thing I look out for before choosing an exchange is the ranking of the exchange in the lists of exchanges.It is good and safer to put your funds in a exchange that is popular,reliable and widely used.
•Transparency
The transparency of transaction is a factor for me.Some exchanges like Binance allow users to see the date,hash,and every detail of your transactions which you can use as proof in the event that the coin didn't get to the desired destination.
Sadly,some exchange although I wont like to mention the name,does not have this transparency features and so there is no proof of transaction in the event of loss.
•Fiat/Crypto Synergism
I will always check out the ease and possiblity of using fiat(local currency) to buy crypto and selling crypto to get fiat in any exchange platform that I wish to choose.This will make it easier for old ams new users to trade with comfort.

QUESTION THREE
Review Your Favourite Cryptocurrency Exchange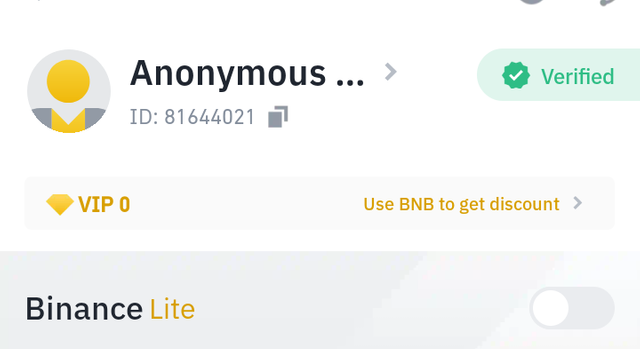 My favourite crypto currency exchange is Binance.It is a centralized exchange founded in 2017 in Hong kong.Binance doubles as a buying/seong market place as well as a wallet from storing crypto assets.This exchange is second to none when it comes to crypto exchanges.It allows trader to trade over 400 crypto aseets and it's headquarters is now in Malta.
Transactions on Binance is fast, reliable and safe.It is user-friendly and he ease of transaction is high.Apart from buying and selling of assets,a user can swap,stake,buy nft,deposit liquidity and earn passive income.This is indeed a proper market place.
Features of Binance Exchange
•Recieve and Deposit Feature
A user is can easily receive or transfer any of the assets listed on Binance from any other exchange or from another binance user.So one can recieve or transfer btc,eth,steem,usdt and others on Binance.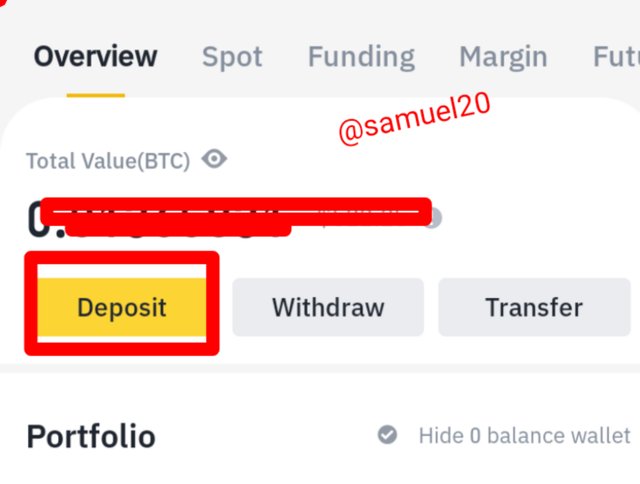 The user just have to click on Wallets below.Then select Deposit and chose the crypto that he wants to recieve.Then you select the network and then copy the recieving address and then send it to the person that wishes to transfer the fund to you.For example I selected usdt with trc-20 network.I will then copy the recieving address as displayed.Once the Usdt is sent to the address,I will get it in a few minutes.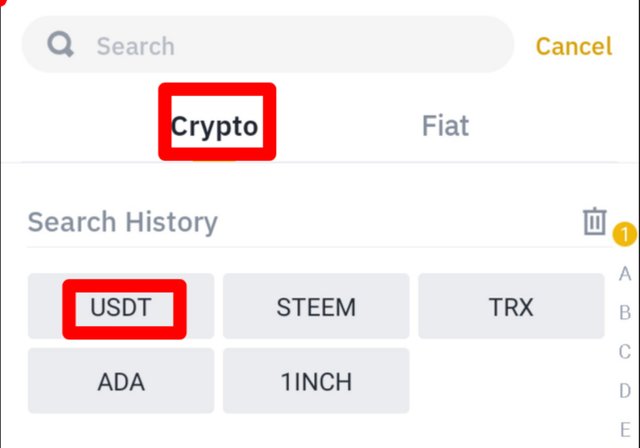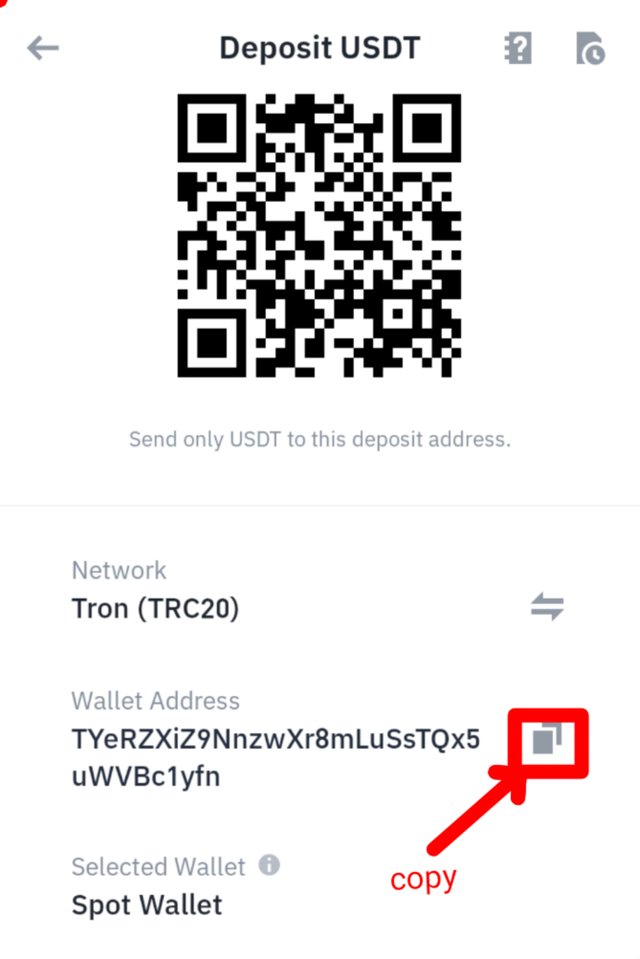 For Transfer,it is almost the same procedure,but the user will have to click on transfer instead of deposit and them enter the recipients address,amount and memo(if needed).
•Futures Trading Feature
This is one the feature I love most on Binance.It allows a user to trade futures at different leverages and thus can make a good profit when the market swings in the direction the trader predicted.
For example if you make a buy/long trade and price goes up,you will make a good profit depending on your chosen leverage.Also if the trader makes a sell/short trade and the price goes down,the trader would make profit depending on the chosen leverage.Some exchanges do not have this futures trading feature.
Interesting,the trader can decide on how much he can afford to lose and how much he wants to gain by setting stop-loss and take-profit for each trade whether buy/sell trade.
•Spot Trading Feature
This feature allows the user to use usdt to buy other tokens at a spot or use sell other token to get usdt at a spot.
Just click on Market,and choose the usdt/coin pair of choice and perform buy or sell trade.For instant trade,use the market order and not limit oder.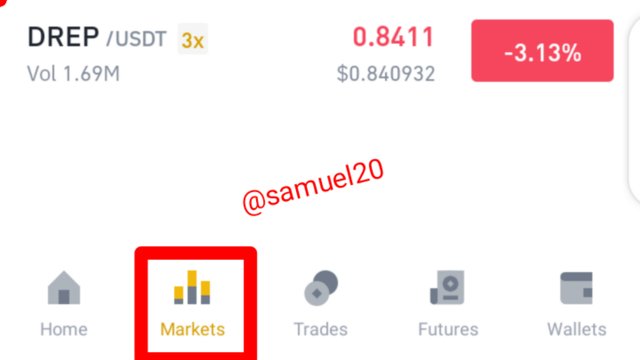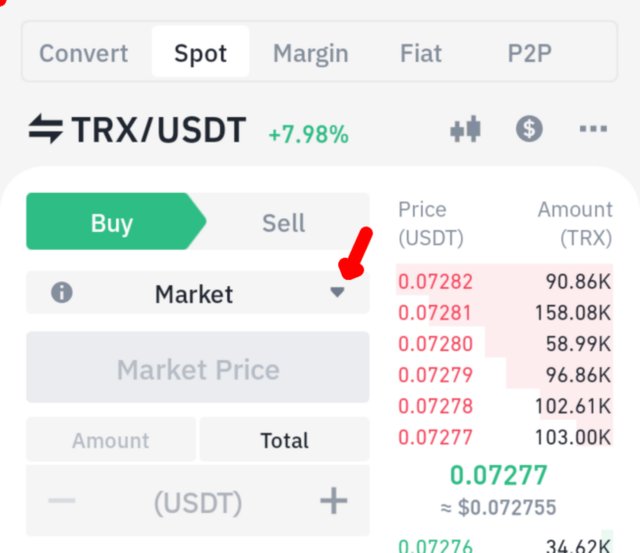 •Staking,Farming,Saving,Buy Nft,Auto-Invest,Earn Features
This unique features allows the user to make more money for practically doing nothing.Just click on Home.

Here you can stake your asset to earn passive income, you can provide liquidity for the liquidity pool and earn good rewards,you can save and lock up your assets to earn rewards too.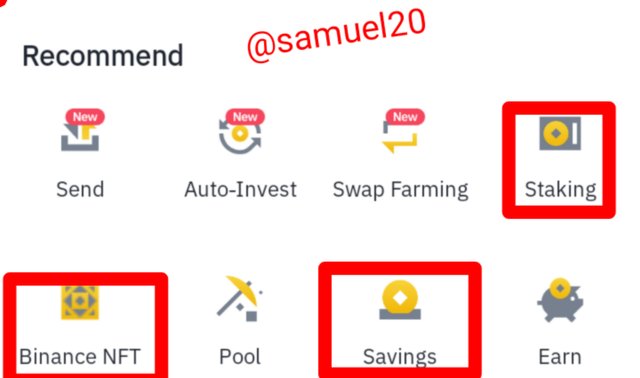 Buying non-fungible token(NFT) is also good feature that helps user to buy and make profit on Nfts.


QUESTION FOUR
Things I would like to change About Binance Exchange
There is no perfect system on earth.And so Binance is not left out.There area few things that I would lIke to change about Binance are:
•Verification Process
The verification process on Binance is very uneasy.Apart from filling your details,you upload an I.D and then the facial verification takes hours.The user would be asked to open his mouth,turn his neck,blink an eye and other difficult facial expressions.Most times, the verification fails.And the person gets furious.
•Suspension of Some Network
This is mostly felt on the steem network.Most times and even now,it is not possible to transfer steem from Binance.It has been suspended and even when it is lifted,it gets suspended after a short time.This is worrisome and is not good for the growth of Steemit and Steem because you can't bring on Steem from Binance to Steemit for power up purposes.

QUESTION FIVE
Shortcomings on Centralized Exchanges and How Users Funds could be Protected
The Shortcomings are that the data are on a central server and the owners of the exchange companies are in possession of the private keys.
This means that hackers can easily harvest the data and information of the users and so can steal their funds.The owners of the exchange companies can suspend,delay or even prevent transactions from coming or prevent a user from performing transactions of centralized exchanges.
Protection
Since users do not have access to their private keys,the way to protect users funds is for the exchange companies to tighten their security so that hackers cannot easily invade and steal funds.
Exchanges can also employ 2-factor authentication and demand authentication code from the user before transactions could be approved especially transfers.This is a good defense.
Exchanges should demand that codes which would be sent to the user's email and phone number in the event of initiating transfer be inputted in the course of making transfers.Without the code,the transfer would be suspended.

Conclusion
Centralized Exchanges are online markets that allow users to buy,sell,swap ams perform other actions involving digital assets.This central exchange are owned by a company and have the private keys of the users this making the CEX to have control of transactions on the platform.
The users details are also in the hands of the CEX although it is for security reasons.Transaction volumes are speed is higher here and conversation of crypto to fiat and vice versa is possible here.
The Shortcomings of inability of the users to have their private keys can me ameliorated if the CEX has strong security and protection for the users fund.
I am inviting @estyroberts @ngoenyi @anasuleidy @udyliciouz @nishadi89 @naddiyaatif @alegnita @crissanch @nadeesew @patience90 @nneoma08 @mvchacin